HC asked to hear Khaleda's plea against graft case verdict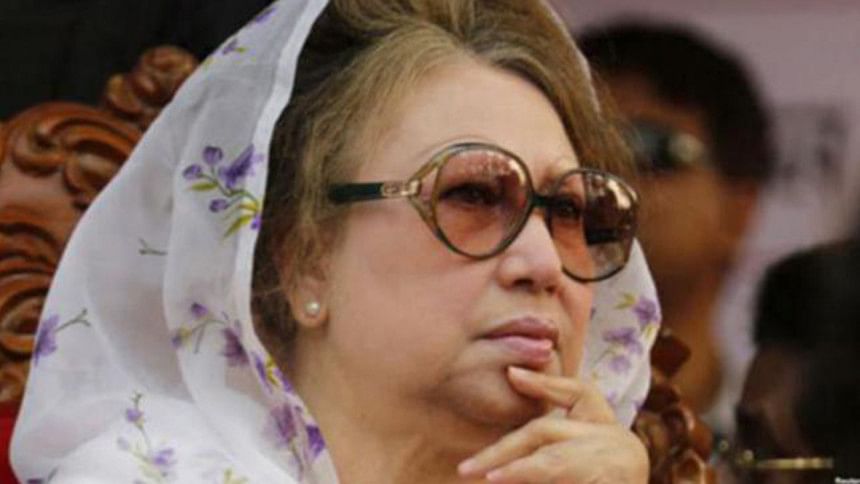 The Appellate Division of the Supreme Court today asked the High Court Division to start hearing on BNP chairperson Khaleda Zia's appeal challenging the lower court verdict that sentenced her to five years' imprisonment in Zia Orphanage Trust Corruption case.
The apex court said Khaleda's lawyer can seek time from this court if the High Court cannot finish the hearing on her appeal by July 31.
A four-member bench of the Appellate Division headed by Chief Justice Syed Mahmud Hossain passed the order following two separate petitions filed by Khaleda seeking review of its May 16 order that directed the High Court bench led by Justice M Enayetur Rahim to conclude hearing on the appeal of Khaleda Zia by July 31.
The apex court today kept the review petition of Khaleda Zia standover (pending) till July 31.
Of the four pleas, one was filed by the BNP chief seeking acquittal of the charges, a revision petition was filed by ACC seeking increase in Khaleda's jail term and two others were filed by convicts -- Qazi Saleemul Huq alias Qazi Kamal and Sharfuddin Ahmed -- seeking their acquittal of the charges in the case.
On February 8, the Special Judge's Court-5 of Dhaka sentenced Khaleda to five years' imprisonment after finding her guilty in the graft case filed by the ACC.
The court also jailed Tarique Rahman, now the acting chairman of BNP, and four others to 10 years imprisonment and fined them Tk 2.1 crore.
HC extends Khaleda's bail till July 19
The High Court today extended till July 19 its earlier order that granted bail to Khaleda in the Zia Orphanage Trust corruption.
The HC bench of Justice M Enayetur Rahim and MD Mustafizur Rahman passed the extension order following a petition filed by Khaleda seeking extension of her bail.
On March 12, the HC granted 4 months bail to the BNP chairperson in this case and the tenure of the bail expired today.
Meanwhile, the HC bench today adjourned till July 15 hearing on the appeal filed by Khaleda challenging the lower court verdict that on February 8 sentenced her to five years' imprisonment.