Going after editors AL's old habit: Hafiz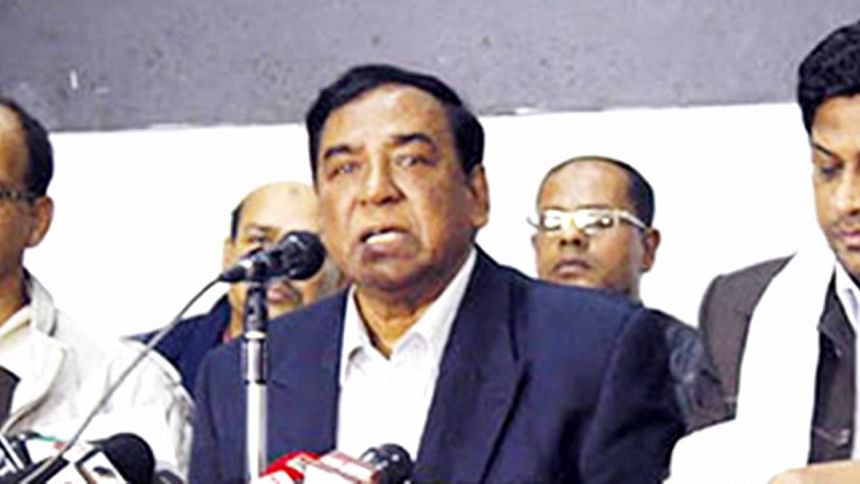 Reacting to the prime minister's yesterday's speech blasting editors of two top newspapers, BNP leader Maj (retd) Hafizuddin Ahmed today said going after editors is an old habit of Awami League.
"Going after editors is their old practice, a Bakshali habit. They are now planning to shut down newspapers like they did earlier," the BNP vice-chairman said at a discussion on International Mother Language Day.
Swadhinata Forum organised the discussion titled 'Glorious Ekushey's Ideology in Today's Perspective' at the Jatiya Press club.
After the Awami League government introduced Bakshal government in 1975, Newspaper Ordinance was promulgated under which the declarations of all but four newspapers – Dainik Bangla, Bangladesh Observer, Ittefaq and Bangladesh Times – were annulled.
"During the 2007-08 caretaker government regime, almost all the media outlets ran stories on Sheikh Hasina and other leaders. But only one freedom fighter editor has admitted his mistake. No-one else did so. Now he is being vilified unjustly," Hafizuddin added.
Mentioning names of several Awami League leaders, the BNP leader pointed out that many AL leaders made far more defamatory comments in mass media during 2007-08.
"The prime minister didn't say anything about these individuals who made such remarks on her and her party when she lambasted the Daily Star editor yesterday," he said.
Till yesterday, 79 lawsuits, including 17 sedition pleas and 62 defamation suits, were filed in 53 districts against Mahfuz Anam.