More cases, summons against Mahfuz Anam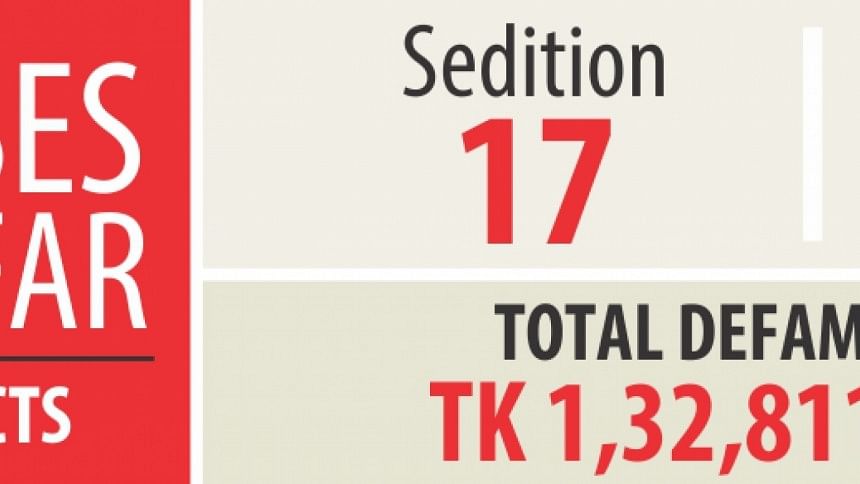 The Magura court that had earlier kept pending its decision on a Tk 50,000-crore defamation case against Mahfuz Anam yesterday ordered The Daily Star editor to appear before it on March 8.
On Thursday, Senior Judicial Magistrate Imtiazul Islam heard the complainant filed by Magura district Chhatra League Joint Secretary Sohrab Hossain Sabuj, but did not take the case into cognisance and set March 8 for hearing. 
The court issued the summons, as the plaintiff went to the court again yesterday and submitted a plea requesting it to take the defamation suit into cognisance and issue an order.
Elsewhere, three more defamation cases were filed on Thursday and yesterday. With these, Mahfuz Anam faces 79 lawsuits -- 17 sedition cases and 62 defamation suits.
The barrage of cases began days after the Star editor at a talk show on February 3 made an introspective comment about a lapse in his editorial judgement in publishing some reports, based on information given by the Task Force Interrogation (TFI) cell during the 2007-08 caretaker government's tenure, without being able to verify those independently.
During the period, almost all the media outlets, both print and electronic, ran similar stories.  
At the time, this newspaper published 11 such reports -- seven on alleged corruption of Khaleda Zia, her two sons -- Tarique Rahman and Arafat Rahman Koko -- and other BNP leaders. Three reports involved alleged graft of Sheikh Hasina and one involving the then chief conservator of forests, Osman Gani.
The reports were based on the statements of some top Awami League and BNP leaders and businesspersons, who were interrogated by the TFI cell. Numerous cases were filed against senior politicians, including Hasina and Khaleda, mostly based on those statements.
Khaleda and other BNP leaders still face many of those cases, but the cases against Hasina and most other AL leaders were either quashed or withdrawn after the AL took office in 2009.
Presently, the cases being filed against Mahfuz Anam allege that the reports run by this newspaper led to the arrest of AL chief Sheikh Hasina, thus defaming her.
THREE MORE CASES
In Chittagong, Ritu Das Babul, a member of Jubo League central committee, filed a defamation case on Thursday evening claiming Tk 100 crore in compensation.
The case was filed with Chittagong Metropolitan Magistrate Court (second) under section 500, 501 and 505 of the Penal Code, said court sources.
Acting judge of the court, Farid Alam, took the case into cognisance and summoned the editor to appear before it on May 10. 
Humayun Kabir, counsel for the complainant, said the defamation suit was filed against Anam as various reports published in The Daily Star following the 1/11 changeover tarnished the image of Hasina and her party Awami League.
In Faridpur, Zahid Bepari, joint convener of the district Jubo League, yesterday sued Mahfuz Anam for defamation and claimed Tk 50.05 crore.
Zahid, who is also an assistant public prosecutor in Faridpur court, said in his case statement that the Star carried a report headlined "Hasina regularly took money from magnets" without verifying independently. That report caused a Tk 50-crore damage to the Awami league and Tk 5,00,000 lakh to himself.
The court took the charge into cognisance and ordered Mahfuz Anam to appear before it on March 15.
In Chuadanga, Shafiqul Islam, joint convener of the district Awami Ainjibi Parishad, sued the Star editor in the cognisance court of Chuadanga Sadar upazila, seeking Tk 10 crore for defamation. Chief Judicial Magistrate ABM Mahmudul Haq took the case into cognisance and fixed March 8 for hearing.
'STOP HARASSING'
Communist Party of Bangladesh (CPB) President Mojahidul Islam Selim and General Secretary Syed Abu Jafar Ahmed and General Secretary of Bangladesher Samajtantrik Dal Khalequzzaman in a statement urged all to stop harassing Mahfuz Anam.
Expressing grave concerns, they said filing of cases all across the country against him amounts to harassment.
"We demand an immediate end to such activities," reads the statement.