Those who conspired to kill Joy won't be spared: PM
She also accuses BNP-Jamaat of carrying out killings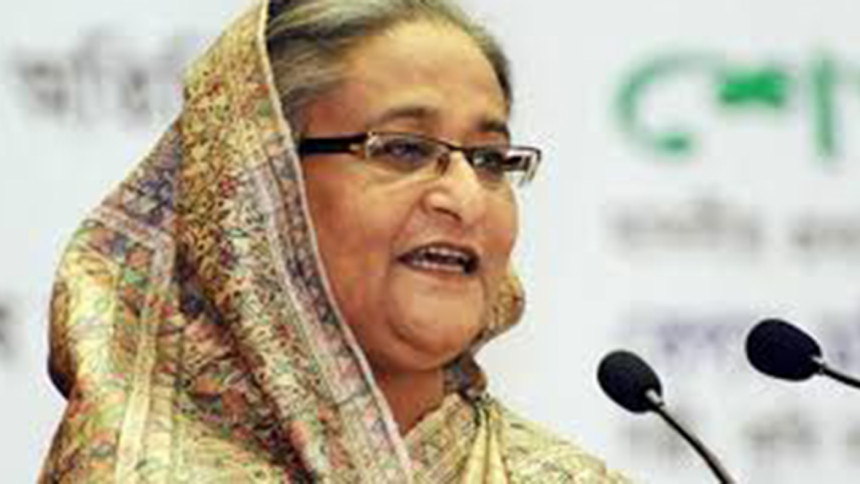 Prime Minister Sheikh Hasina today vowed to bring to justice those who conspired both at home and abroad to abduct and kill her son Sajeeb Wazed Joy in the USA.
"The conspiracy has been proved in the USA court," she told a civic rally arranged at Kotalipara Sheikh Lutfar Rahman Ideal Government College ground in the afternoon.
Referring to a USA court judgement, Hasina said an FBI official and a BNP leader have been sentenced to jail for their involvement in hatching a plot to abduct and kill Joy, also the PM's ICT Affairs Adviser.
Turning to the recent killings, the prime minister said those were 'planned murders' and warned that there is no room for terrorism in the country as her government wants to establish Bangladesh as a peaceful state in the world.
Plots are being hatched by the BNP-Jamaat clique is unlikely to stop unless the conspirators are brought to justice, Hasina said.
Having failed to unseat the government through its movement, the BNP-Jamaat nexus launched a secret killing mission by killing imams, priests, fathers and university teachers alongside common people to destabilise the country, she said.
The Prime Minister urged imams and guardians to convince people who are engaged in wrongdoings that Islam does not allow killings as it is a religion of peace and tolerance. "Our great Prophet (PBUH) didn't like excesses over religion...he used to advise not to hurt the religious sentiment of anybody."
She accused BNP-Jamaat of creating Bangla Bhai, unleashing terrorism and militancy in different parts of the country and said terrorism and militancy can never bring peace for the country and its people.
Sharply criticising military dictator Ziaur Rahman who illegally captured state power as well as other governments after 1975, she said they had tried to erase the name of Bangabandhu and distorted the history of the great Liberation War.

Pointing to some recent killings, Hasina said now parents and guardians can at least file cases and demand trial but her due right to demand trial of the killing of the Father of the Nation and his family members was snatched by the military dictator.

Returning to home after six years of exile, she as a daughter of a father and sister of brothers had taken the completion of the trial of the killers as a challenge.

She expressed satisfaction that the killers of Bangabandhu were hanged while the judgements in the cases of criminals are being executed in phases.
Former minister and Awami League presidium member Sheikh Fazlul Karim Selim, AL advisory council member Kazi Akramuddin Ahmed, former minister Muhammad Faruk Khan, MP, AL central leaders Sheikh Mohammad Abdullah and SM Kamal Hossain, Kotalipara Upazila chairman Mujibar Rahman Hawladar, Kotalipara Upazila AL president adv Subhash Chandra Joardar also spoke on the occasion.
Earlier, Sheikh Hasina distributed laptops and multimedia projectors to 100 primary and 14 secondary schools in Kotalipara upazila.