Protest continues demanding BSMRSTU VC's resignation
Students' fast-unto-death enters 2nd day, 1 falls ill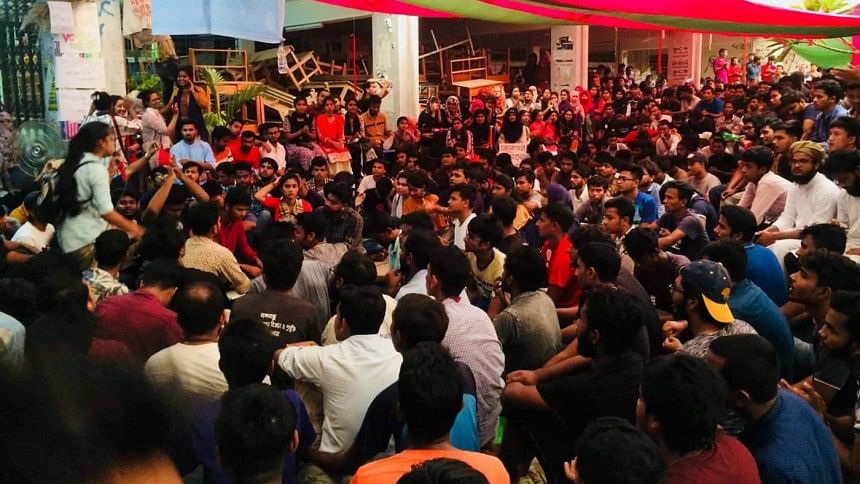 A student of Bangabandhu Sheikh Mujibur Rahman Science and Technology University (BSMRSTU) in Gopalganj fell sick during the second day of a fast-unto-death demanding resignation of the university's vice-chancellor for his alleged involvement in corruption and irregularities.
Murad, a first-year student of the English Department, was taken to hospital, one of the protesters, Shums Jabin, told The Daily Star.
The protesters went on the fast-unto-death programme in front of the administrative building yesterday to press home their one-point demand.
The agitating students also brunt effigy of BSMRSTU VC Prof Khondoker Nasiruddin in the afternoon and have been chanting the slogan "step down VC".
Several teachers also expressed their solidarity with the student's agitation. They also demanded resignation of the VC and demanded fresh enquiry against him.
Before the fast-unto-death programme, the students began their demonstration on Wednesday demanding the resignation of the VC. 
The protesters brought 20 allegations against the VC including sexual harassment, nepotism in recruiting teachers and other employees, and corruption in development projects like Shaheed Minar and Bangabandhu's mural.
While talking to The Daily Star, VC Prof Nasiruddin denied the allegations saying those are false and fabricated.
Fatema Tuz Zinia, a second-year student of the law department and a campus reporter of English newspaper The Daily Sun, was the latest victim of suspension for a Facebook post. Her suspension triggered countrywide protest and huge criticism.
Amid countrywide protest, the authority was forced to withdrew her suspension order on Wednesday.