BNP backs reform of quota system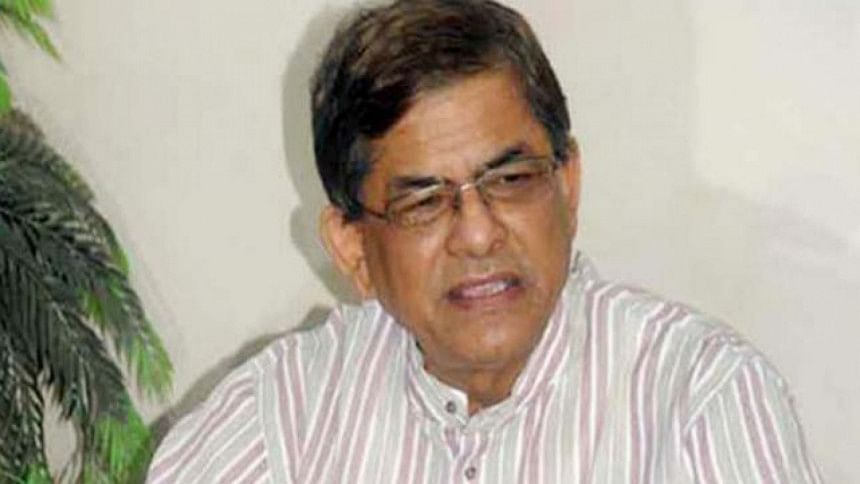 BNP today termed justified the demand of demonstrating students and job-seekers for reform of the existing quota system in civil service. 
Speaking at an emergency press conference at the party's Nayapaltan central office, BNP sectary general Mirza Fakhrul Islam Alamgir alleged that police attacked peaceful demonstrations without any provocation only to suppress the movement of hundreds of students and job-seekers.
"We strongly condemn and protest the barbaric and unprovoked attack by police on the students and job-seekers who were demonstrating to realise their justified demand," Fakhrul said.
He also demanded the government immediately release those demonstrators who were detained by police.
Fakhrul also assured that their party, if it returns to power, will revoke the quota except those kept for freedom fighters' children, women and ethnic minority.
"We know there's no alternative to evaluating merits to truly build the country. Taking it into consideration, we declared in our Vision 2030 that the recruitment system will properly be reformed for ensuring the evaluation of merits. All the quota systems, except those for freedom fighters' children, women and marginalised ethnic groups, will be abolished," he said.
The BNP leader said the current situation over quota system would not have emerged had the government taken into consideration their party's idea on it declared through the 'Vision 2030' two years back.
He alleged that the country's people, especially the meritorious students, are being subjected to injustice by government activities as it does not have any respect for democratic system.
Fakhrul said the ongoing movement for reform in quota system is involved with the livelihood of the country's four crore educated youths. "The BNP policymakers are fully aware of the issue, and they're also concerned over it."
BNP standing committee members Khandaker Mosharraf Hossain, Mirza Abbas, Gayeshwar Chandra Roy, Abdul Moyeen Khan, Nazrul Islam Khan and Amir Khasru Mahmud were, among others, present.
On February 17, students and job-seekers started the movement to press for their five-point demand that include introduction of unified age limit in government jobs, review of quota system in government recruitment process, including Bangladesh Civil Service (BCS) examination, stopping taking benefit by job-seekers under the same quota, filling vacant posts from merit list if the candidates from quota are not found and fixation of 10 percent quota instead of existing 56 percent.
The Dhaka University areas turned into a battle field early Monday as a fresh protest started again on Sunday.