I have no desire to be lawmaker or minister: Joy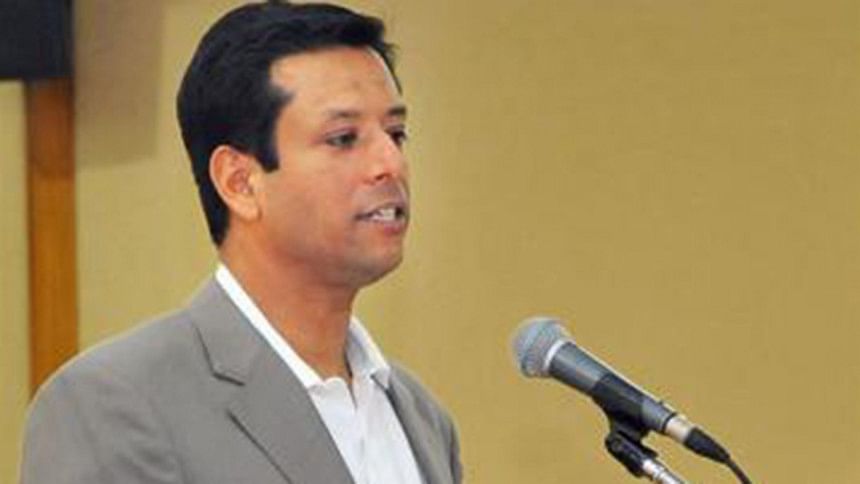 Prime Minister's ICT Affairs Adviser Sajeeb Wazed Joy said today that he has no desire to be a lawmaker or a minister, but would love to help the Awami League (AL) stay in power.
"I will not be a candidate in the upcoming election as I am not intending to be a MP (Member of Parliament) or a minister. My goal is to keep the Awami League in power," he told a press conference after attending a view-exchange meeting at the AL president's Dhanmondi political office.
Central working committee of the AL, Dhaka City North and South units, presidents and general secretaries of the associate bodies of the AL, took part in the view-exchange meeting.
Among others, AL General Secretary Obaidul Quader, Office Secretary Dr Abdus Sobhan Golap, and Prime Minister's Deputy Press Secretary Ashraful Alam Khokon, were present on the occasion.
Joy, also a grandson of Father of the Nation Bangabandhu Sheikh Mujibur Rahman and only son of Prime Minister Sheikh Hasina said "The trust and support of the people on the AL have been increased manifold due to huge development works carried out by the present government and it is a must that the AL will be voted to power again".
He said, "There is no doubt that the AL will be voted to power again. But, the BNP-Jamaat clique has been hatching conspiracies centering the election. It will be a big challenge to resist BNP from the act of killings by resorting to arson attacks anymore."
Replying to another question, he also said, "It doesn't matter at all which party takes part in the election. The central focus of the next election should be to hold it in a free, fair and neutral manner."