Bangladesh firm on cross border terror: Quader
Kanchpur bridge to be opened on March 10, he says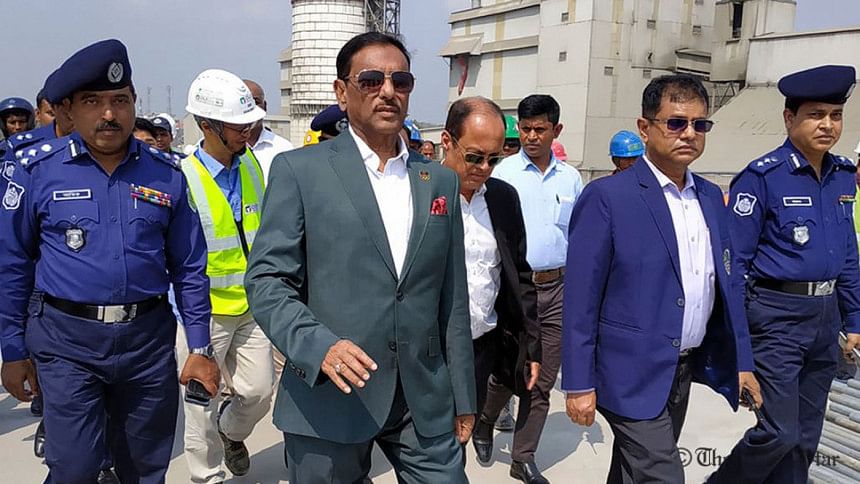 Road Transport and Bridges Minister Obaidul Quader today asserted the government's zero tolerance stance regarding cross border terrorism and terror groups in bordering areas.
Quader, also the general secretary of ruling Awami League, said this while replying to queries by journalists on the ongoing conflict between India and Pakistan.
He addressed the journalists while visiting the construction work of the second bridges of Meghna and Kanchpur in Narayanganj's Sonargaon.
Reiterating the Prime Minister Sheikh Hasina's zero tolerance policy on terrorism, Quader said "We don't want war and we want peace."
His comment came in the wake of the escalating tensions in Pakistan-India border over the February 14 Pulawama attack in Kashmir and later developments between the two nuclear-armed neighbours.
WHAT DID HE SAY ON DNCC BY-POLLS?
Commenting on the ongoing DNCC mayoral by-elections, which saw low turnout rate, Quader said, "The election despite being less competitive will end peacefully."
He also said the election also progressing peacefully and they have not received any complaints of irregularities from anywhere.
Meanwhile, Prime Minister Sheikh Hasina is set to inaugurate the Kanchpur bridge on March 10, Quader added.