3 upcoming city polls likely to be held in Khulna style: Shujan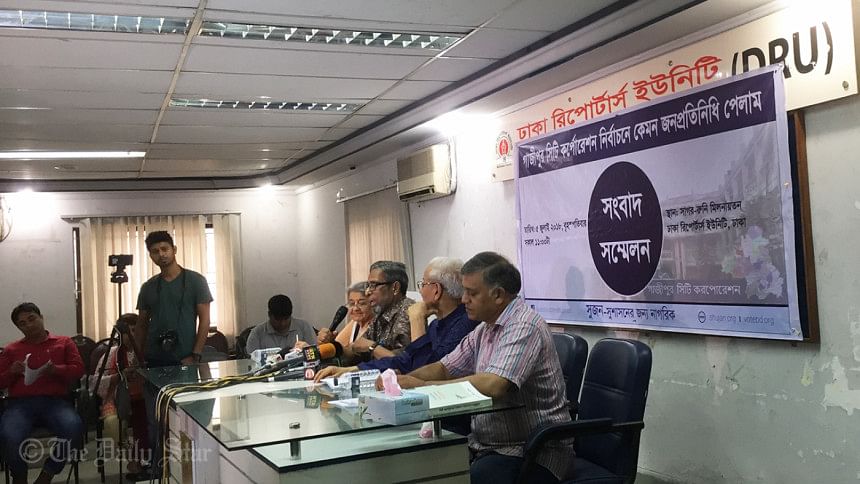 Terming the recently held Gazipur City Corporation (GCC) election "Khulna style", citizen's rights platform Shushashoner Jonno Nagorik (Shujan) today apprehended that the three upcoming city polls in Rajshahi, Sylhet and Barisal will be held in the similar fashion.

While explaining the term "Khulna style" election, Shujan upheld following aspects of Khulna City Corporation (KCC) election taken place in May:
1. Removing the main opponent from the field with help of law enforcers

2. Obstructing polling agents of BNP candidates

3. Use of muscle power during the polls

4. Inaction by the Election Commission (EC)
These patterns of irregularities first took place in Khulna city polls and Gazipur was a step ahead as those irregularities were implemented there in a large scale, Shujan's President Hafiz Uddin said at a press briefing in Dhaka Reporters' Unity (DRU) of Dhaka today.

If the EC does not take necessary measures, then the rest of the three city corporation elections in Rajshahi, Sylhet and Barisal will be held in the same style, Hafiz Uddin alleged.

On May 15, Awami League mayor candidate Talukder Abdul Khaleque won big in the KCC polls, marred by irregularities such as heavy showdown by the ruling party in and around polling stations, ballot stuffing and driving out polling agents of rival group.

The Election Commission did not conduct the election in Gazipur in the manner which it is responsible to, Dr Badiul Alam Majumdar, secretary of SHUJAN: Citizens for Good Governance, told journalists in his speech.

The civic right platform came up with an eight-point recommendation for the EC to make the upcoming three city polls acceptable.