Khaleque wins
Khulna city polls see irregularities in many centres; BNP candidate demands re-polling in 101 centres; voting postponed in 3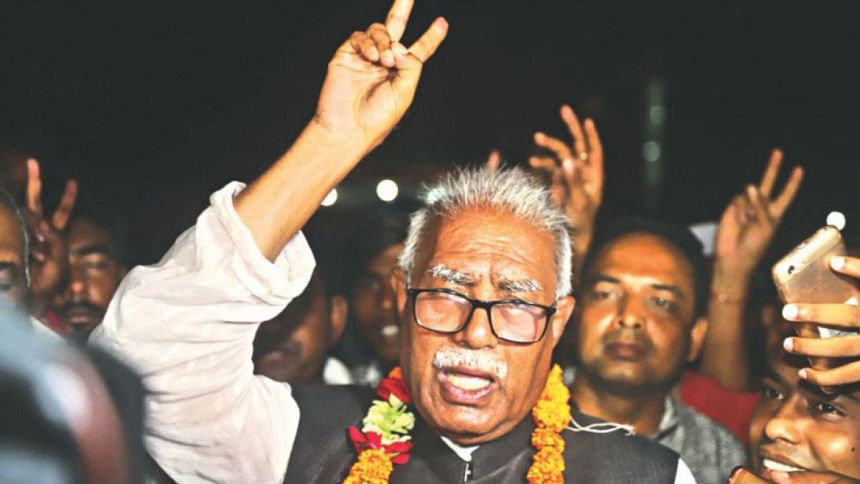 Awami League mayor candidate Talukder Abdul Khaleque has won big in yesterday's Khulna City Corporation polls, marred by irregularities such as heavy showdown by the ruling party in and around polling stations, ballot stuffing and driving out polling agents of rival group.
As of 2:30am today, results from all the 286 polling centres show Khaleque got 1,74,851 votes while his rival from the BNP Nazrul Islam Monju bagged 1,09,251 votes, according to the unofficial results announced by Returning Officer Yunus Ali.
Voters' turnout was 62.19 percent, Yunus said.
With this wins, Khaleque, who resigned as an MP to contest the polls, has sweep back as the city mayor for a second time. In the last polls in 2013, the AL leader lost to BNP-backed candidate Moniruzzaman Moni, the incumbent mayor.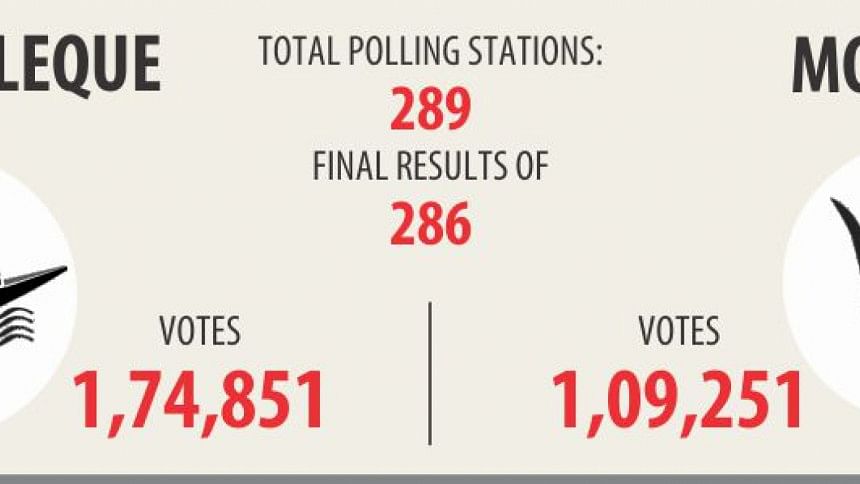 In the 2008 polls during the emergency rule, Khaleque won the mayor polls in Khulna city, considered a BNP stronghold. BNP leaders won three of the four mayoral polls there since the first election in 1994.
Soon after the voting ended, Monju alleged of "huge rigging" at 101 centres and demanded re-election there.
He made the call when Returning Officer Yunus Ali was announcing the unofficial results from the control room at Divisional Women's Sport Complex in the city's Sonadanga area.
Khaleque thanked the prime minister for his victory. "I will work for the development of the city people and resume the unfinished jobs on a priority basis."
SHOWDOWN, BALLOT STUFFING, INTIMIDATION 
No incident of major violence took place during the voting that lacked festivity because of an intimidating atmosphere created by the AL men soon after voting began at 8:00am.
Law enforcers were present in large numbers, but they mostly played the role of silent observers, as AL men in some stations violated election rules at will.
The day started high on hopes of a fair election. But before long, the optimism faded.
Four correspondents of The Daily Star visited at least 60 polling centres and saw how AL men exercised their power to influence voting in many of them.
Wearing badges of boat, the election symbol of Khaleque, the AL men took position outside, at the entrance and inside many polling stations. They barred voters from entering centres and openly asked them to vote for Khaleque.
At some stations, they snatched ballot papers from the voters and were seen casting votes on those. In some cases, presiding officers and assistant presiding officers helped them.
For example, at Platinum Secondary School centres in ward-11, a large number of people forcefully entered two voting booths around 12:45pm, and cast votes.
SM Morshed Ul Morshed, presiding officer of one of the voting centres, said, "We are trying to oust them. We informed the police about the matter."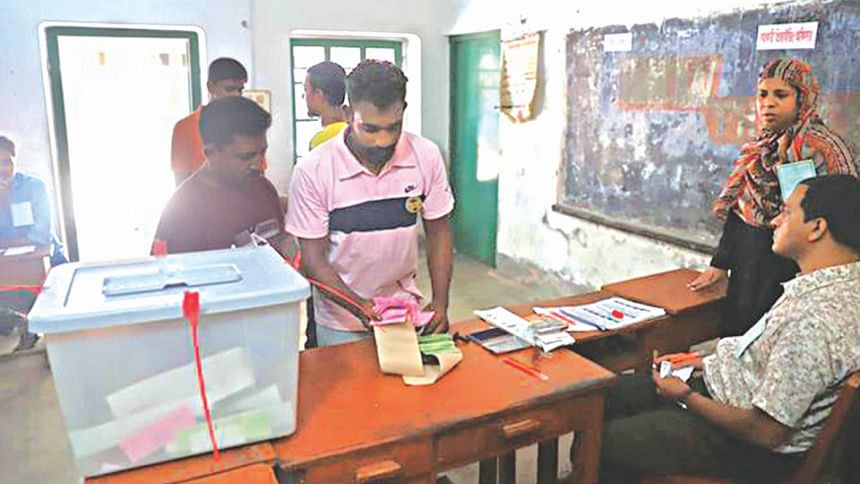 One reporter of The Daily Star was present at Maulana Bhashani Bidyapith centre in Khalishpur Residential Area under ward-10 for more than one hour from 11:30am. Voter presence was very thin at the time.
But the presiding officer said 60 percent of the 1,508 voters had already cast their votes by noon.
Around 3:00pm, a large number of AL supporters were chanting slogans at Mollapara Government Primary School centre.
Some of the slogans were: "Vote only for boat"; "voters of BNP go back home"; and "there will be no existence of sheaf of paddy" (electoral symbol of Monju).
At the entrance to the centre, one youth was heard saying: "We will bring an end to Monju's politics in Khulna."
Pioneer Higher Secondary School centre in ward-25 was teeming with AL men inside and outside, which is a violation of the electoral code of conduct.
Two reporters of this newspaper saw seven to eight youths enter one booth and put seal on ballot papers.
Presiding Officer Ataur Rahman said he was outside the centre at the time. "Let me look into the matter."
Shamim Mahmud, presiding officer of another centre in the same school, was indifferent to the presence of AL men in large numbers. No agents of the BNP candidate were in sight.
Similarly, a huge number of AL supporters were present at Panchtala Bayashka Madrasa centre. But no BNP agent could be seen. Even the presiding officer was not found during a visit to this centre around 11:00am.
At Siddikia Kamil Madrasha vote centre premises, Mahmuda Rahman, aged over 60, lamented that she could not vote.
"Some people wearing badges of boat snatched away my ballot paper and cast my vote," she said.
At Darul Quran Siddikia Kamil Madrasha polling centre in ward-25, Presiding Officer Shayamoli Bepari herself cast ballots, voters alleged.
Asked, Shayamoli said, "It was nothing like that. Voters were having difficulties casting ballots and I just helped them."
Law enforcers were seen gesturing the ruling party men to move away in silence when journalists were visiting the centre. There was only one agent of the BNP candidate.
At Nurani Multipurpose Madrasa, also in ward-25, an election official caught one AL supporter putting seals on the ballot paper, said Presiding Officer Mizanur Rahman.
At Khulna Newsprint High School (girls section) polling station, male voters were seen taking female voters with them to female polling booths "to help them cast their votes" at 12:30pm. 
Suresh Chandra Gain, presiding officer, said they requested the male voters to leave the polling station.
"But they didn't leave the polling centre. Instead, they harassed us."
Voting at Rupsha Bahumukhi High School centre stopped around 11:00am as the presiding officer said they ran out of ballot papers.
Asked why and how so, he could not give a satisfactory answer.
Shariful Islam, a voter of the centre, said he went to vote in the morning but he was told that his vote was already cast. "I went there again at noon and they told me the same."
In BK Union Institution polling station at Benibabu road, several people were seen wearing journalists' pass issued by the election commission and taking voters inside the polling booths around 2:00pm.
One of them was Anisur Rahman, who introduced himself as a reporter of Desh Songjog from Dhaka.
Pressed, he got angry and said, "Go outside the polling station, or you will be in trouble."
VOTING SUSPENDED IN 3 CENTRES
Voting was suspended in Iqbal Nagar Secondary Girls School, Lobonchora Govt Primary School (ground floor) and Lobonchora Govt Primary School (first floor) due to ballot stuffing allegedly by ruling party men, said Returning Officer Yunus Ali.
Khalilur Rahman, presiding officer of Iqbal Nagar Girls School, said some 25 to 30 youths stormed a booth and started stuffing ballots around 10:30am.
"Having failed to stop them, we had to suspend voting," he said.
Asked about the identity of the youths, he said they were wearing badges of boat.
The youths were stuffing ballots without the signature of the assistant presiding officer, he added.
"We have collected all the ballots and reported the incident to the election control room at the Election Commission."
The presiding officer said he did not get any support from police despite seeking help.
Contacted, Sonali Sen, additional deputy commissioner of Khulna Metropolitan Police, said they would investigate the incident.
Around 12:00noon, people who were wearing badges of boat distributed sweetmeats at this centre following the suspension of voting.
The returning officer said that fresh voting in the three centres was not necessary as there are only 5,831 voters in these centres. "It will not be a decisive factor anymore."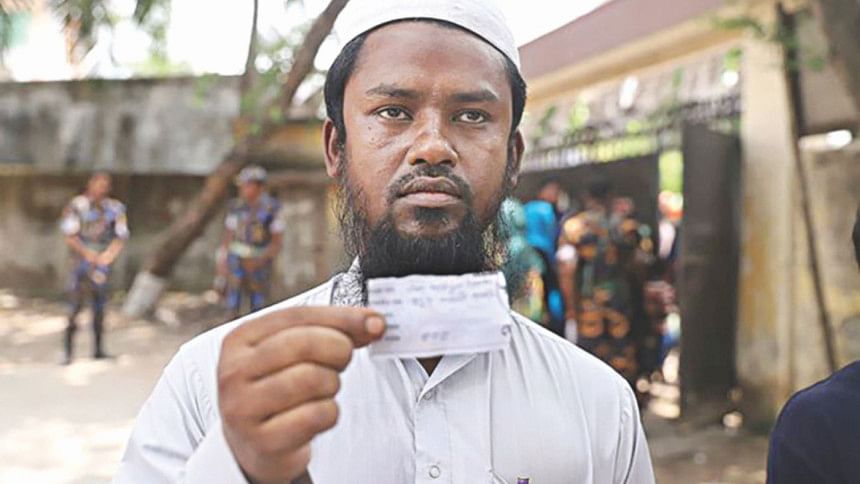 FEW BNP AGENTS
Polling agents of Monju were not seen in many of the 60 polling centres The Daily Star visited.
The BNP alleged their agents were not allowed into the centres. In some cases, they were driven out by AL supporters.
Monju alleged "mass vote rigging" by the ruling party men.
"They [AL men] occupied most of the voting centres and drove out our men. The Election Commission is silent in this regard."
Within the first hour, ruling party men threw out BNP's agents from at least 30 polling centres, he alleged.
He demanded re-election in 101 polling stations.
AL candidate Khaleque claimed voting was held peacefully.
Meanwhile, ruling party men allegedly vandalised several election camps of Monju.
A group of 40-50 AL men vandalised Monju's tent near Sonapota Government Primary School on Sher-e-Bangla road around 10:30am, Hafez Abul Bashar, special secretary of BNP, Khulna unit, told The Daily Star.
In another incident, an observer of the Election Commission from Dhaka was assaulted by supporters of Khaleque at a polling centre.
The EC official barely managed to come out of the Nurani Bahumukhi Madrasa Biddaloy polling centre after the assault, he told journalists at the spot around 9:50am.
The supporters also tried to vandalise the vehicle of the EC official, who requested anonymity, at the poling centre.
[Dipankar Roy and Partha Chakrabortty also contributed to this report]