Khaleque takes charge as Khulna city mayor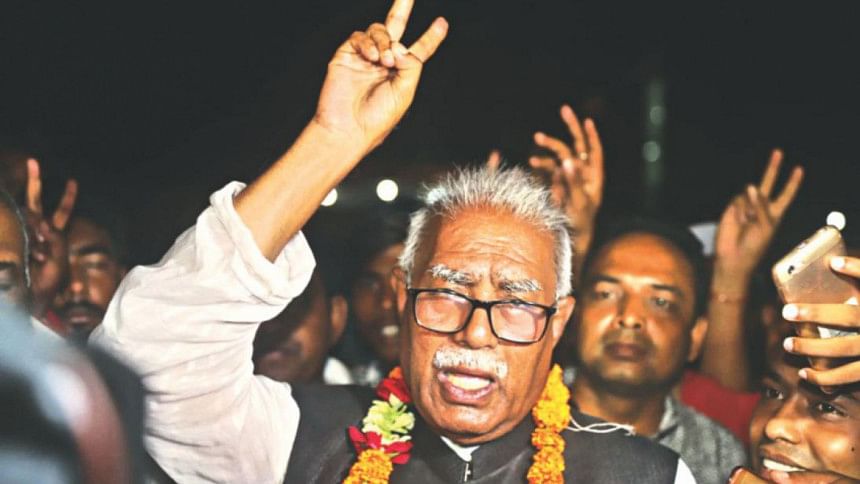 Newly elected mayor of Khulna City Corporation (KCC) Talukder Abdul Khaleque today took charge of his office.
KCC chief executive officer handed over the charge to Khaleque at the KCC premises in presence of thousands of city dwellers, government and non-government officials and dignitaries of elite society through a colourful function, reports our correspondent.
Parliament members, newly elected mayor of Rajshahi City Corporation, chairmen of Khulna and Bagerhat zila parishads, public representatives, different socio-cultural and political leaders attended the function. 
The newly elected 41 ward councilors under the KCC, including those of 10 reserved seats, also took charge of their respective posts today at the same venue. 
Outgoing KCC mayor Moniruzzaman Moni and six BNP-backed councilors, however, did not attend the programme.
Talukder Abdul Khaleque, president of city unit of Awami League and former lawmaker of Bagerhat -3 constituency, was elected as KCC mayor for a second term by defeating Nazrul Islam Manju, president of city unit of BNP, on May 15 this year. 
In the previous city corporation election held in 2013, the AL leader lost to BNP-backed candidate Moniruzzaman Moni.
Khaleque was elected as KCC mayor for the first time in the city corporation election held on July 15, 2008 during the emergency rule, defeating Moniruzzaman Moni.
Khulna city has long been considered a BNP stronghold. 
BNP leaders won three of the four mayoral elections held there since the first one in 1994.
Khaleque announced to recover eight canals in the city from grabbers. He also emphasised to solve problems with water and sewerage, expansion of city roads, and health facilities in the city, among others.
His key pledge was to ensure accountability and transparency of the KCC.