Neglected for 12yrs, bypass road being renovated by locals in Khulna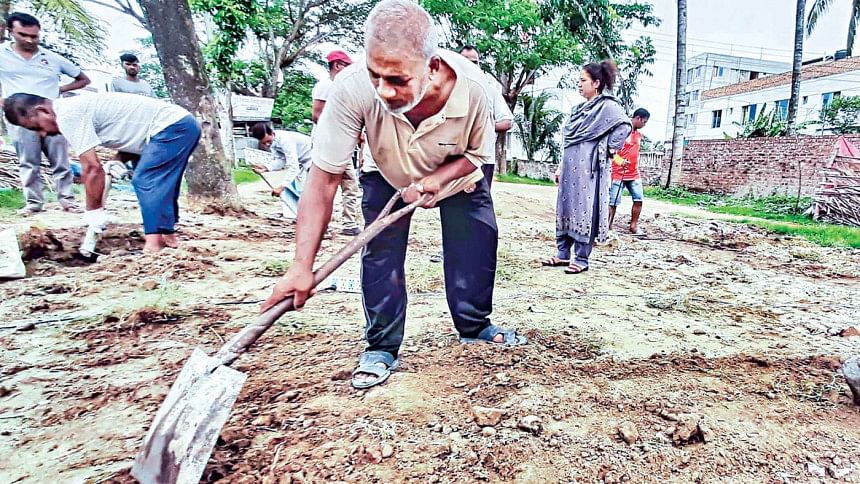 At least 3,000-3,500 people walk this road every day. There's not even a footpath. At least 50 businesses stand on both sides of the road.
A major road of the city, unfit due to lack of maintenance for 12 years. Multiple complaints were made to the authorities but to no avail.
Under such circumstances, locals have done what many might deem impossible in the first impression. Proving all of it wrong, they have started renovating the road on their own. Their determination has become the representation of what collective effort can do.
Khulna's Sheikh Abu Naser bypass connectivity road from Bastuhara intersection to City bypass was left unfit for use for 12 long years. The bricks were coming off the 2.37km road, creating numerous potholes on the way and giving in to dust in dry weather and mud during the monsoon.
According to KDA sources, a Tk 14 crore project started in 2003-2004 fiscal year and completed in 2008-2009 on the road. Since then, the road has seen no maintenance whatsoever.
Locals and affected traders beside the road have started the renovation work on their own from Sunday (May 15).
Md Hemayet Hossain, retired naval officer and president of Madinabagh Janakalyan Samiti, told this correspondent that around five thousand people reside in the surrounding areas in miserable condition for years.
"At least 3,000-3,500 people walk this road every day. There's not even a footpath. At least 50 businesses stand on both sides of the road."
"It's a timely need to fix the road, hence we voluntarily work here. Some house owners have donated bricks and sand," he added.
"We have been seeking a solution to this problem for years, but Khulna Development Authority (KDA), Khulna City Corporation (KCC), Local Government Engineering Department (LGED) and district administration are yet to repair the road," said Mrs Reshma, a local resident and activist.
During a recent visit to the area, this correspondent saw many parts of the road full of big potholes, loose bricks and scattered stones. The entire area is covered with dust, making it almost impossible to identify it as a city road.
Sheikh Ashraf Uz Zaman, president of the Greater Khulna Development Samgram Coordinating Committee, demanded immediate repair of the road as well.
Residents of Khalishpur, Daulatpur and Boyra areas are the worst sufferers of the condition as they have use the road fro commuting in and out of the town every day.
Montasir Mamun, KDA executive engineer (maintenance), told this correspondent that KDA usually constructs roads but doesn't look after the maintenance due to lack of budgets for the projects.
"One kilometre of the road falls under KCC's jurisdiction and the rest under LGED. We sent letters to both on March 28, 2010 and February 6 in 2014, but to no avail," he added.
Md Nuruzzaman Talukder, KCC state officer, said KDA's letter has no indication regarding the road's length and width.
"There are also no citable of illegal structures," he added.
Meanwhile, Md Robiul Islam, LGED upazila engineer in Dumuria, said, "We are yet to decide on taking over as it [the road] doesn't match with LGED's project criteria."