Is dual citizenship to blame for money laundering?
"Is Bangladesh a place of looters?" – this question was raised by the High Court last month.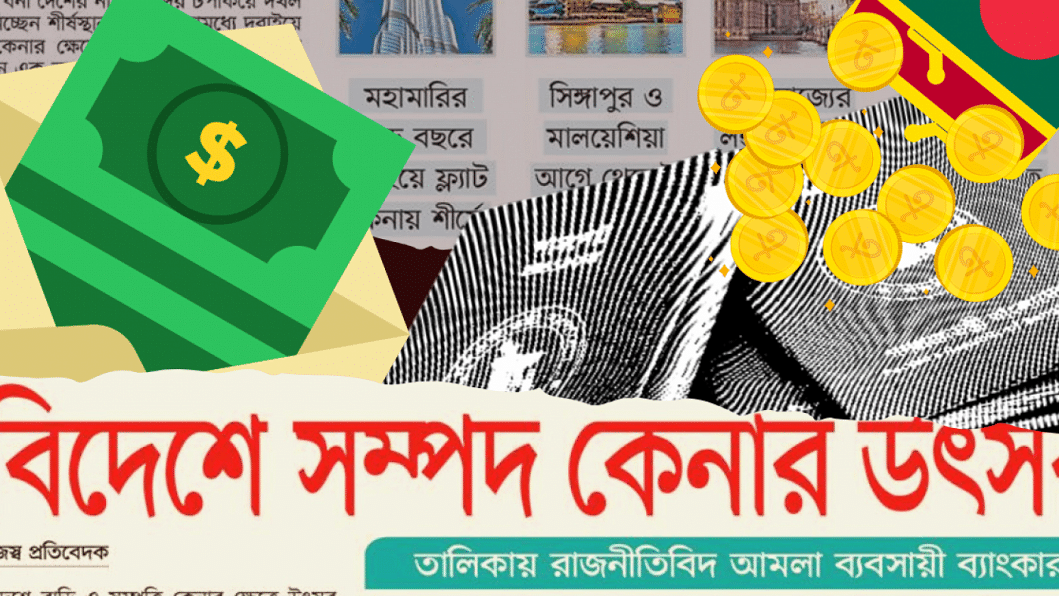 "Is Bangladesh a place of looters?" – this question was raised by the High Court last month. The court asked this question referring to a recent Bangla report, whose headline roughly translates to "Festival of purchasing properties abroad." The court's question is indicative of what is going on in the financial sector of Bangladesh right now. But to blame "dual citizenship" for the ever-growing culture of looting as well as money laundering may be inappropriate.
The act of earning a second citizenship in another country has never been a main contributor to trafficking funds overseas. While investigating the main reasons or avenues of illicit outflows of funds, not a single report of the US-based think tank Global Financial Integrity has blamed dual citizenship as a vital reason. Rather, dual citizenship has proven to be a boon to remittance inflows in Bangladesh, and those inflows rescued the economy from sliding into a full-scale disaster emerging from the dollar crisis.
As reports in February unveiled, the US is the top source of remittances to Bangladesh, surpassing Saudi Arabia and the UAE. The US requires residency or citizenship to allow Bangladeshi people to earn and send dollars to their home country. Other European countries that award citizenship to Bangladeshi people are gradually turning out to be increasingly reliable sources of remittance income. In contrast, Middle-Eastern countries are gradually losing their oil-based revenue because of the rise in green substitutes. These nations are comparatively restrictive in offering their citizenship to Bangladeshi workers. As a result, the relative share of remittance from these countries is dwindling.
The court's direction in framing causality may be mistaken. Dual citizenship is not the root factor for looting wealth from the country. It is the very "Bangladeshi style of rewarding for looting banks" that is to blame for the financial haemorrhage that Bangladesh is facing now. In the name of loan rescheduling, the general amnesty conferred upon the big defaulters by the central bank is a major reason why the act of looting has triggered a renaissance of stashing funds overseas of late. Recently, a former central bank governor commented that the concessions given to defaulters in this country have no parallel in any country or in history.
Of course, the looters are sometimes seeking dual citizenship under the "investment residency" quota in different countries by showing their enormous wealth, which they gained through the loose banking rules approved by the government. Getting citizenship in developed countries is hard and problematic for them, because those countries will ask for evidence of valid sources. These looters prefer parking their funds in countries where there are less queries. In the end, they park their ill-gotten money in the Swiss Bank which does not ask anything. Thus, allowing these looters to steal and get away with it in the first place is the root cause of looting, not dual citizenship.
Hundreds of cases on defaulted loans are pending with legal institutions, and there has been no exemplary punishment for those who plundered public money. That impunity induces the delinquent borrowers to acquire dual citizenship in order to protect their future overseas. The trend of money laundering as well as defaulting on loans is simultaneously rising since the government allowed extended family-based directorship in private banks in 2017. It invariably helped banks turn into private shops for siblings and cronies, and largely ruined the corporate culture. These institutional changes and privileges to the tycoons are at the root of money laundering. The tardiest legal system has refuelled the culture of looting. A former caretaker government adviser recently blamed court stay orders on big default cases – a process that has made the wound even worse.
The justices commented that dual citizenship holders have less responsibility towards the country as their hearts are divided. Thousands of students migrate to developed nations every year for higher studies. When they earn citizenship after getting jobs, they send money back to their families. They also enrich their birthplace by delivering their ideas, technology, and expertise – which economists define as trickle-down benefits. Many Bangladeshis migrate overseas through lotteries or family visas. They struggle a lot, but still send money back to their home country. By any means, these are not any instances of either less responsibility or divided hearts.
Forty-nine percent of all countries now allow dual citizenship and most of them are developed or middle-income countries. After understanding how beneficial dual citizenship can be for Bangladesh in an increasingly globalised world, the government on February 27 added another 44 countries on top of the existing 57 countries where Bangladeshis can get dual citizenship. This step deserves appreciation as timely and farsighted for a super-densely populated country like Bangladesh.
While Bangladesh appears to be liberal in allowing dual citizenship, both Pakistan and India are highly restrictive. But the amount of money laundered out of India or Pakistan is no less than that from Bangladesh. The 2021 Global Financial Integrity Report shows that Bangladesh lost the third highest quantity of trade-related outflows ($8.3 billion) after Pakistan ($8.5 billion) and India ($67.5 billion) annually over 2009-2018. The revenue loss was 17 percent for Bangladesh, 19 percent for Pakistan, and 20 percent for India. The nature of citizenship seems to have played no role in their case.
Poor governance in the financial sector, politicised interventions into banking affairs, allowing massive clemency to habitual defaulters, rewarding money launderers in the national budget and, finally, not punishing any big defaulters or stock market scammers are the main reasons why money laundering and buying properties abroad by a handful of bandits have skyrocketed. On February 6, the agriculture minister acknowledged the evolution of Begum Paras in Canada, US and Dubai. It has nothing to do with dual citizenship, which has been in place among nations for decades.
If anyone is politically pampered and plots to be a wilful defaulter, they needn't be overseas to remain safe. They are much safer in what the court labels as a "place of looters." If they can somehow manage a nomination for the next election, this place will turn into a "paradise of plundering" for them. Why would anyone care about dual citizenship then? 
Dr Birupaksha Paul is a professor of economics at the State University of New York at Cortland in the US.