The two economic problems we can't seem to overcome
There are two major economic problems that have been plaguing Bangladesh for a long time: Rising non-performing loans (NPLs), and money getting laundered out of the country in droves.
These have persisted for years, and have likely been contributing to many of Bangladesh's other problems.
Only recently, the finance minister revealed in parliament that the amount of defaulted loans in Bangladesh had crossed Tk 126,389 crore. Replying to a question, he said there was no specific information on money laundering from Bangladesh. In regards to his revelation, the recent rise in NPLs, according to experts, has been driven by the withdrawal of relaxed loan classification policy. According to the Bangladesh Bank's latest data, defaulted loans in the banking sector rose 19.3 percent year-on-year in the first quarter of 2022, which is just short of Tk 2,847 crore to reach the amount of the country's highest-ever defaulted loans. So, the measures taken by the central bank such as easing the loan rescheduling and classification rules – through various accounting manipulation – to get rid of NPLs did not work.
According to Dr Zahid Hussain, former lead economist at the World Bank's Dhaka office, the number of habitual defaulters in Bangladesh is going up, contributing to the increase in NPLs. He said large corporations take loans from banks and "because the pressure to return the money is less, they don't repay the loans." Because the regulators have a history of not punishing errant bank board members, "the boards of the banks often indulge in giving these loans," whereas it's their job to "be careful about approving" them. This has allowed businessmen to turn "the defaulter trend into a business model."
And yet, according to a statement by the Centre for Policy Dialogue (CPD), "the current level of NPLs is hardly indicative of reality" due to "the long-standing moratorium on loan classification." The actual volume of NPLs is "far greater than the official figures," and "will rise further in the coming days, as loans under the Covid-19 liquidity support packages were not provided in a transparent or accountable manner."
Meanwhile, the provision surplus of 41 private banks declined by 84 percent, to Tk 796 crore, this March from Tk 5,000 crore in the same month last year. Since it was expected that the banking sector would encounter a wave of defaulted loans once the moratorium expired, the Bangladesh Bank asked banks to be conservative about paying out cash dividends in the last two years. But then, who really listens to the central bank anymore? They only listen when the central bank asks them to break the rules, which has become common now. So, the banks did not listen and announced higher dividends to their directors even during the pandemic, and despite struggling with defaulted loans. This is another example of how poorly banks in Bangladesh are functioning.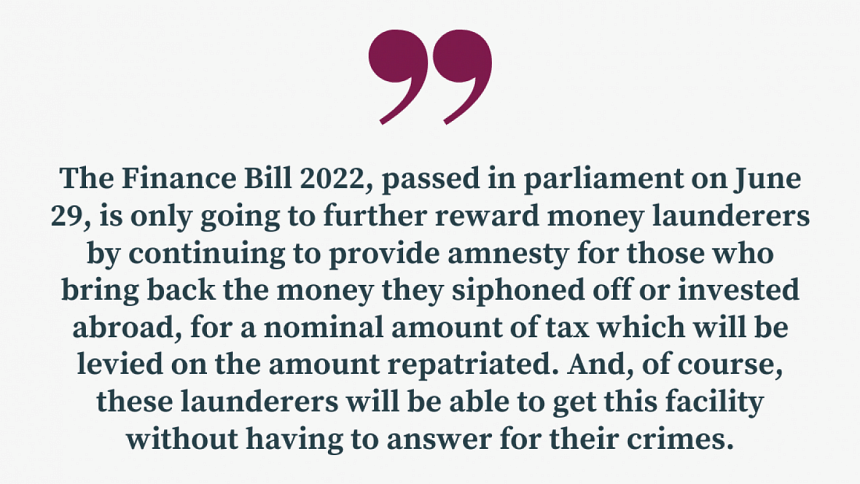 According to Dr Ahsan Mansur, executive director at the Policy Research Institute, it is in no way desirable that banks would declare dividends after making provisioning. And there should be regulations that bar banks from paying dividends unless they meet their deficits. In that regard, the central bank should have formulated a policy, instead of "asking" the banks, knowing that the likelihood of them following through with its request was close to nil.
Returning to the question of money laundering, it is quite shocking that the finance minister would evade giving a straightforward answer. There are plenty of government and non-governmental organisations that have presented numerous estimates.
Just last month, it was reported that funds parked by Bangladeshi nationals and entities in all Swiss banks swelled by 54 percent, to around Tk 8,318 crore. A Global Financial Integrity report says that about USD 61.6 billion were siphoned out of Bangladesh between 2005 and 2014, which is equivalent to 20 percent of Bangladesh's GDP in the 2020-2021 financial year. The Transparency International Bangladesh (TIB) reported in 2020 that some USD 3.1 billion, or Tk 26,400 crore, was illegally remitted from Bangladesh every year only by expatriate workers employed in Bangladesh. No matter which number we look at, it's obvious that an exorbitant amount of money is getting laundered out of Bangladesh.
The Finance Bill 2022, passed in parliament on June 29, is only going to further reward money launderers by continuing to provide amnesty for those who bring back the money they siphoned off or invested abroad, for a nominal amount of tax which will be levied on the amount repatriated. And, of course, these launderers will be able to get this facility without having to answer for their crimes. In other words, according to the new law of the land, this is a lawless land, where crime doesn't pay.
After all this, should anyone be surprised that no one can stop money launderers? Should anyone be surprised that rising NPLs are wrecking our banking sector?
But why have our policies been so accommodative of money launderers and wilful defaulters? The answer probably lies in something that the late finance minister AMA Muhith once said in parliament: What is happening in the banking sector is nothing short of "dacoity" (robbery), and unfortunately, the reason why the government agencies are struggling to stop it is because these people are backed by his own party members.
When policymakers befriend criminals, can you expect crime to pay? The answer is a big, fat "no."
Eresh Omar Jamal is assistant editor at The Daily Star. His Twitter handle is: @EreshOmarJamal