The old political playbook needs a major upgrade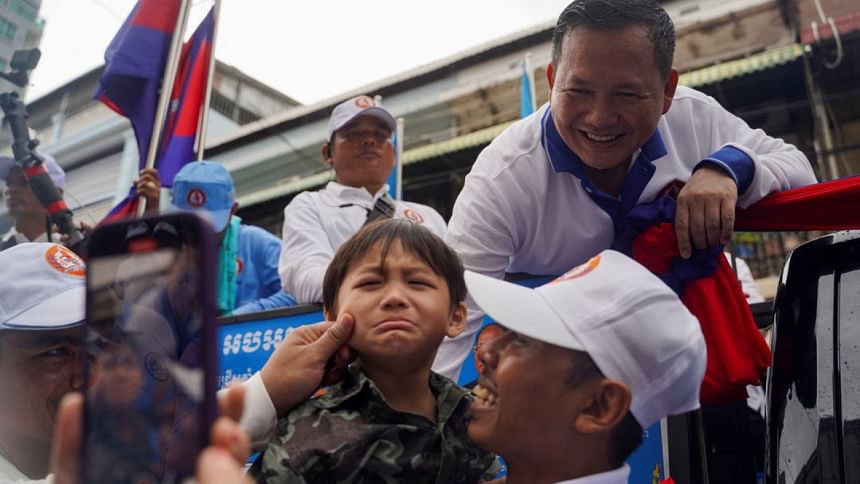 One of the ways you realise that people are basically the same no matter which corner of the planet they are from is by looking at how they conduct themselves when they wield any sort of power over others. Leaders, especially in countries where terms like "accountability," "transparency" and "good governance" induce allergic reactions among the political elite, follow the same playbook titled "How to remain in power for the next 100 years" and behave in almost identical ways to each other.
Cambodia's recent election is a case in point. On July 23, Prime Minister Hun Sen's ruling party won a landslide victory over, well, an obscure party he once crushed with military forces, whose name most Cambodians probably can't even remember. With various ingenious moves, Hun Sen managed to get his only credible rival, the Candlelight Party, barred from the election over a technicality: they had provided a photocopy of a document instead of the original one while registering. And, naturally, this oversight was far more important than allowing the biggest opposition party to participate, which would have at least provided some legitimacy to the election.
Before that, Hun Sen allegedly used the age-old techniques of arresting and intimidating opposition party members and stamping on the media whenever it became too critical, crippling them financially by imposing massive tax bills. Al Jazeera reported of voters being too scared not to vote as they could be "blacklisted." So fear, intimidation, and harassment with the help of state institutions to wipe out the opposition has been the traditional formula for a sure win in a virtually uncontested contest. One voter likened the situation to a boxing ring with only a lone boxer.
But it is the end result that counts for these leaders, and victory must be attained at all costs. The ruling Cambodian People's Party won 120 of the 125 parliamentary seats.
Before that, in the 2018 election, Hun Sen managed to get rid of his main opposition, the Cambodia National Rescue Party, which had won almost half the votes in the 2013 election. And now, with Candlelight out of the way, the path is as clear as it has been for the last 38 years. Criticism from human rights groups, US visa restrictions, and damning comments by the US Department of State may have put a damper on the victory after-parties, but did not dissuade him from paving the way for his son, Hun Manet, to rule – like a true monarch bestowed with a divine right, leading to another hundred years of sole power.
In keeping with the formula from the playbook, Hun Sen's family has links with more than a 100 companies across all sectors of the economy – from agriculture to the media. There are allegations against his party's elites living abroad, and of laundering money by buying huge properties in Australia.
There are many leaders who have joined this club of pseudo democracies – sometimes termed "hybrid democracies" – which have all the accoutrements that qualify them for the status of a democracy. These include things like national elections, voter lists, an election commission, human rights commission, judiciary and other constitutional institutions, not to mention an abundance of political rhetoric on how democratic the nation is. Despite having all this grand paraphernalia, a hybrid regime is one that has increasingly autocratic tendencies. Political opponents – the real ones – have to be steamrolled into total irrelevance by obstructing their rallies, making arbitrary arrests, and incarcerating them. Institutions like the election commission and human rights commission have to be made toothless. Meanwhile, all security-related bodies – law enforcement, intelligence agencies, etc – are turned into the main weapons to crush political opponents, annoying critics from civil society, and the meddlesome media that is obsessed with corruption. Laws are enacted or amended to help punish anyone who makes the slightest noise that sounds rude to the powers that be.
Unfortunately, one cannot endlessly follow a playbook that has become as outdated as men's baggy pants, and that paints an unflattering picture in front of the rest of the world: embarrassingly low rankings in democracy indices, threats of sanctions like visa restrictions on individuals, and generally being treated like the delinquent student who got caught changing the grades on his report card. For one thing, cronyism and nepotism, which are major spin-offs of following the old playbook, usually get out of control and even the leader cannot do anything to stop the leakage they incur. All kinds of goof-ups then occur. Obsequious party members may publicly boast of their involvement in manipulating the votes to help a candidate win, the police may chargesheet ghost opponents, banks may be bled dry, relief items may land up in local leaders' homes, and public hospitals may end up with beds but no doctors (or vice versa) at the height of an epidemic. It's a total mess.
Ultimately, it will become more and more difficult to get regular voters to go to the polling centres when there is, as they say, "only one boxer in the ring." Being a constant bully is tiring – and lonely – because it is hard to know who your real friends are, or if you even have any, when you are surrounded by greedy lackeys.
Leaders would be wise to throw away the old playbook and get tips from democracies that provide leaders with the greatest power of all: the true mandate of the people, earned through an election that is deemed credible both at home and by the rest of the world.
Aasha Mehreen Amin is joint editor at The Daily Star.