Is the US really happy with our election plan?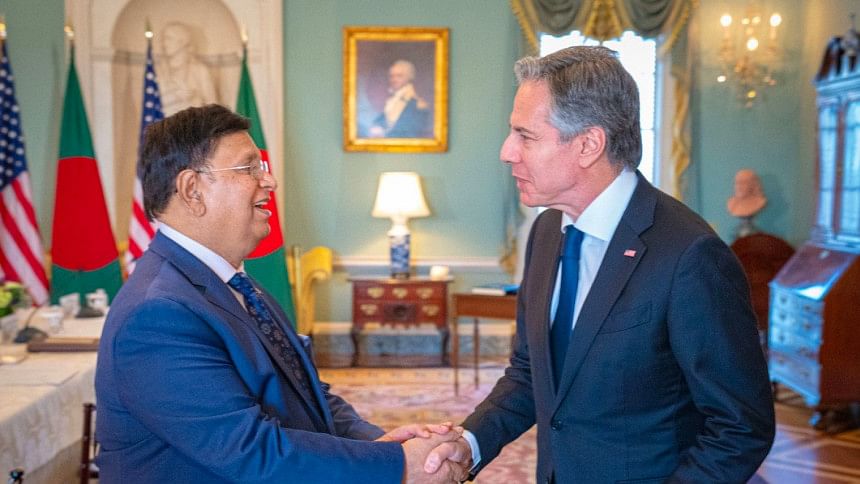 It was probably the most challenging diplomatic assignment any diplomat could have wished for. Foreign Minister AK Abdul Momen's meeting with US Secretary of State Anthony J Blinken on April 10 was understandably a delicate one, not least for the unusually harsh public criticism of the US by Prime Minister Sheikh Hasina that preceded it, but for convincing his host that Bangladesh can deliver a free and fair election.
The apparent silence on the part of Washington, DC about the allegations that the US is "trying to eliminate democracy" in Bangladesh and "can overthrow the government of any country" suggests that they didn't have the same impact as those made by Pakistan's Imran Khan. On March 31, 2022, the US rejected claims made by Imran Khan, Pakistan's then prime minister, that the Biden administration was trying to oust him when he was about to lose his majority in parliament. No wonder, in response to a question from the media, our foreign ministry spokesperson Seheli Sabrin was confident enough to say that the remarks by the prime minister and her ICT Adviser Sajeeb Wazed Joy would have no impact on the bilateral relations between Dhaka and Washington.
Following the expulsions of two Tennessee lawmakers, two days before the Blinken-Momen meeting, Sajeeb Wazed on his Facebook page questioned the fairness of US democracy, and said that "the US State Department is nothing but a bunch of hypocrites."
The opening statements by both the foreign policy chiefs were broadcast live on the State Department's YouTube channel, which made it easier for us to understand the tone of the talks. In a very short opening statement, Secretary Blinken said, "We're looking – the world is looking – to Bangladesh for its next elections, to make sure that they set a strong example for free and fair elections for the region and for the world." Our foreign minister's response was all about thanking them for their partnership and appreciation to President Biden for using the words "Joy Bangla" in his letter to Prime Minister Sheikh Hasina on Independence Day. But what transpired at the talks seems hard to decode as the narratives given by Secretary Blinken and Foreign Minister Momen are not an exact match.
Though bilateral conversations usually cover a wider range of issues of mutual interests, this particular meeting apparently had special focus on Bangladesh's upcoming parliamentary elections. Claiming that the US didn't want a caretaker government, Momen told journalists in Sylhet on April 14 that "we told them what we have done for a fair election. We have prepared a voter list with photos, made transparent ballot boxes, and formed a strong Election Commission. They are happy with that."
Regarding the Digital Security Act (DSA), he said in some cases the law had not been used properly. "But all the countries of the world have such laws, even the US has tougher laws. We will rectify any deviations. They [US] are satisfied with that. They do not want repeal of the law, but want its misuse stopped," he added.
The US narrative, however, is quite blunt. First, there was a tweet by Secretary Blinken, in which he said, "I underscored that free and fair elections and respect for human rights, media, and civil society are critical as we seek to deepen US-Bangladeshi ties." It neither shows signs of happiness over the electoral arrangement in Bangladesh, nor any satisfaction about the assurances given on ending the misuse of the DSA.
The second statement made by the principal deputy spokesperson Vedant Patel after a few hours was even more straightforward. In his readout, he said that the secretary "reiterated our commitment to promoting inclusive economic growth, free and fair elections, human and labor rights, and freedom of expression in Bangladesh. Additionally, Secretary Blinken expressed concerns about violence against and intimidation of the media and civil society, including under the Digital Security Act. He underscored that free and fair elections and respect for human rights in Bangladesh are critical as we seek to deepen our bilateral relationship." At a separate media briefing, Vedant Patel even termed the DSA "one of the world's most draconian laws for journalists."
It is true that the US and several other Western nations have been increasingly putting emphasis on holding credible elections in countries like ours for quite some time. But it has rarely featured in such detail at this level. It is even rarer that a felicitations message on the anniversary of independence from the US president will have a reminder of the deep value of free and fair elections. This extra emphasis on free and fair elections on the part of the US is something fairly new, which so far has been consistently vocal about human rights, workers' rights, press freedom, and rule of law.
Looking back at their previous meeting, you won't see the election issue featured so prominently, despite the fact that they considered the 2018 elections as "not free or fair," and observed that it "undermined faith in the electoral process." That meeting, too, was a difficult one, owing to the sanctions imposed on the country's elite force Rapid Action Battalion (Rab), which rattled the Bangladesh government. On that occasion, besides expressing gratitude to Bangladesh for hosting the Rohingya, Secretary Blinken told his guest that he wanted "to discuss the work we're doing together bilaterally in the region and indeed even globally."
This willingness to work together in the region and globally was seen by many as an explicit recognition of Bangladesh's strategic importance. It was thought to be quite significant in Washington's pursuit for an open Indo-Pacific and counter China's growing influence. It is, therefore, intriguing as to why there was no public commitment this time for "working together in the region and globally."
The foreign minister's remark on Sunday that he had sought cooperation from Washington to ensure participation of all political parties in the upcoming general elections is quite revealing. It reminds one of his previous request to the US to help bring the BNP to the elections. Doesn't it appear to be something closer to seeking their mediation?
Kamal Ahmed is an independent journalist. His Twitter handle is @ahmedka1