The mystery of Nord Stream undersea pipeline blast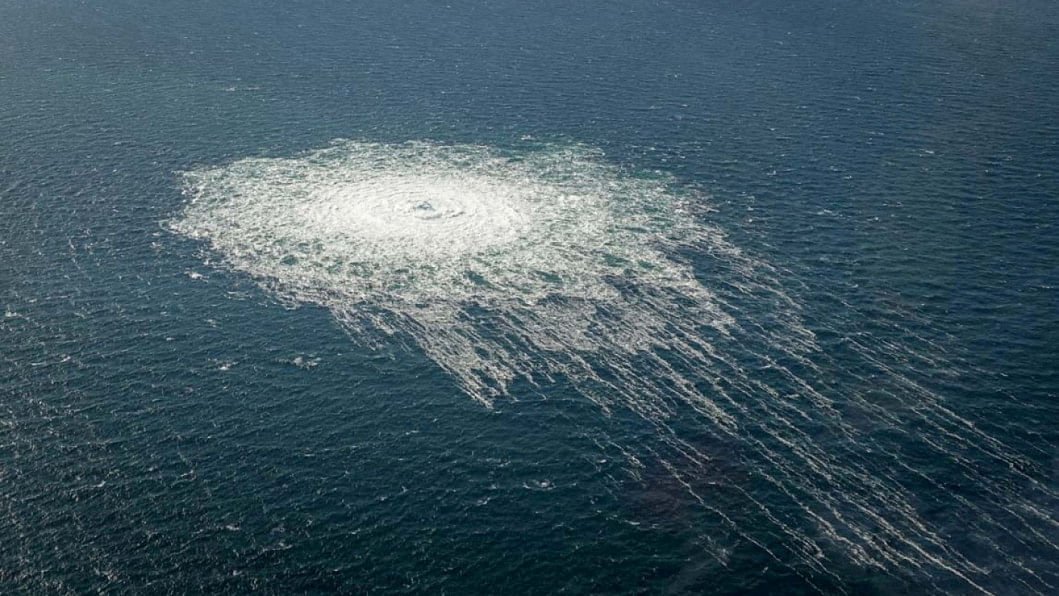 Anyone with a remote interest in international affairs couldn't miss the September 26, 2022 explosions that blew up sections of the Nord Stream 1 and 2 (NS 1 and NS 2) undersea pipelines carrying gas from Russia to Germany. Both NS 1 and NS 2 run under the Baltic Sea through international waters. Three explosions occurred within the Swedish Exclusive Economic Zone while a fourth was within the Danish Zone. Both prime ministers took this as an incident of sabotage. European Commission President Ursula von der Leyen went as far as warning that attacks on "European energy infrastructure" were "unacceptable." The Kremlin also didn't rule out sabotage as the cause of the explosion.
Notwithstanding his promise on February 7, 2022 – at a joint news conference with German Chancellor Olaf Scholz at the White House – to "bring an end" to the pipeline, US President Joe Biden wasted no time in terming the incident as "a deliberate act of sabotage," adding that American divers would find out what had happened.
On October 14, the German Federal Police released the first photos of the sites taken with underwater drones and reported that only an explosion could explain the extent of the damage. It blew four sections of the pipelines up, two on each, the report added. Initially, Sweden, Denmark and Germany agreed to investigate the case jointly, but that plan fell apart for unknown reasons.
Several European officials blamed Russia, and so did Ukraine and Poland, for the attack. The matter remained a mystery while new theories kept emerging.
On February 8 this year, American investigative journalist Seymour Hersh, who had revealed the My Lai massacre during the Vietnam War and won the 1970 Pulitzer Prize for it, published on his Substack page the details of how the US Navy's deep-sea divers carried out the attack. The White House quickly denied it, terming it "utterly false." Many others were also critical of Hersh's claims, but he stood by his story.
On March 8, German media reported, citing investigators' findings, that five individuals carried out the attack with a yacht hired by a Ukrainian-owned company in Poland. Russian President Vladimir Putin, however, rejected the account, saying "only state level" actors could accomplish such a complex operation.
On May 3, Nordic public broadcasters published an investigative documentary pointing to the suspicious movement of Russian ships at the explosion site that could perform similar underwater operations.
On June 6, The Washington Post reported that the CIA, with information from a European intelligence agency, had briefed President Biden about Ukraine's plans for the attacks at least three months before the incident. Two days later, President Volodymyr Zelensky denied any involvement, quoted by a German newspaper as saying, "We know nothing about it, 100 percent."
While the information war and the blame game continue, a brief look at some relevant facts might be worthwhile.
For Europe, the Nord Stream incident symbolises a point of no return as it has killed any possibility of closer cooperation with Russia, while the rest of the world is trying to absorb the shock from increasing oil prices.
Both the NS 1 (operational since 2011) and NS 2 (completed in 2021 and was expected to become operational in 2022) was going to increase German dependence on Russian energy supply and strengthen Russian-German relations. That could have been a catalyst for further expansion of trade and cultural exchanges leading to a new security architecture, potentially making Nato's security umbrella increasingly irrelevant. Naturally, the US was against such close cooperation between Europe's leading economy and Russia and slapped a series of sanctions against companies taking part in these construction works. A strong Europe is the last thing Washington would like to see.
There is another crucial fact: Yamal, a large gas field in Siberia that started shipping LNG in 2017. Availability of such a sizable reserve of Russian LNG became a threat to the US shale gas revolution. The success of Yamal LNG led to Gydan LNG development on the Gydan Peninsula in northern Siberia with a capacity of 20 million tonnes per year at a competitive price. With it, Russia's LNG export capacity could reach 140 million tonnes per year by 2035, potentially killing all competition from the US suppliers. Now with the Nord Stream pipelines out of operation, at least temporarily, and Europe deeply divided on economic cooperation with Russia, the threat from Siberian gas has been thwarted.
The German public and the media have always been critical of American meddling in their internal affairs. Its foreign minister in 2021 spoke for many when he bluntly stated, "Nord Stream 2 is none of US business." But as Russia invaded Ukraine, that scenario has changed into one where American meddling is almost unavoidable, if not welcome.
For Europe, the Nord Stream incident symbolises a point of no return as it has killed any possibility of closer cooperation with Russia, while the rest of the world is trying to absorb the shock from increasing oil prices.
The nature of the information war is also noteworthy. Hersh's story elaborating the US Navy's involvement hardly got any mention in the mainstream media. However, the Nordic documentary that found a Russian ship's suspicious movement received wide coverage. Meanwhile, increasing energy prices have pushed 141 million people into extreme poverty globally, reported CNN citing a report by the journal Nature Energy.
Does anyone care?
Dr Sayeed Ahmed is a consulting engineer and the CEO of Bayside Analytix, a technology-focused strategy and management consulting organisation.