School choice: Celebrating, not eliminating, variety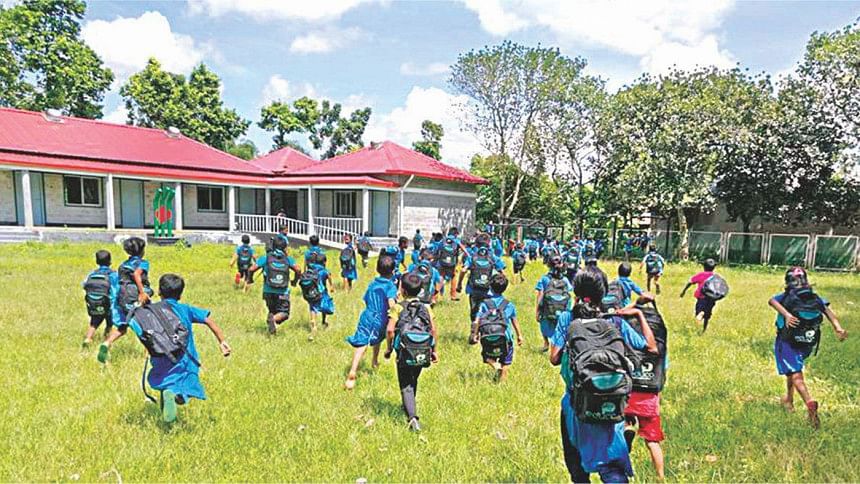 Both studying for our PhDs, my husband and I have adjacent study tables. One glance at our tables would tell you how different our studying styles are. His table is more organised than mine. My notes are more organised than his. His foundation (or "basics") for the subject in which we were trained is stronger than mine. These differences are a reflection of our different journeys up to this point. Although we've ended up in the same country pursuing our doctoral degrees, our educational backgrounds – and the related experiences while growing up – could not have been more different. You see, I studied under the Bangla-medium stream in Dhaka, and he studied under the madrasa stream in Chattogram. Our educational journeys intersected at Dhaka University, but the journeys leading up to that point differed. It's one of the reasons why I became interested in the differences among schooling streams in Bangladesh.
Basically, at the brink of starting education, a parent in Bangladesh can send their children – depending on the availability of educational institutions, of course – to a Bangla-medium school (often with Bangla and English versions of the same curriculum to choose between), an Alia madrasa, a Qawmi madrasa, or an English-medium school. This madrasa categorisation is mainly based on the magnitude of prioritisation of Quranic studies (higher in madrasas) and the main language of learning (either English or Bangla). Without going into the differences in ownership – that is, public and private schools – there are, in general, several ways of thinking about differences across these educational streams. In my own work, I particularly focus on two. Firstly, what leads to choosing one of these educational streams? Secondly, are there differences in the outcomes later in life between individuals who study in the different educational streams? Additionally, there is a need to investigate how the educational streams differ in terms of textbooks, curricula, exam question patterns, pedagogy, and students' learning outcomes.
Worryingly, without much criticality or evidence, we often talk about eliminating certain school streams or combining non-mainstream routes with mainstream education. The intention behind this is perhaps somewhat misplaced. In most cases, someone supporting the elimination of separate educational streams – and the consequent integration of the different streams into one – does so in the belief that this will lead to better quality of education. This is, unfortunately, an unverified notion. Above everything, it overlooks the question: who are we to eliminate the separate existence of an entire education stream when there is public demand for it?
We rarely think about the fact that individuals studying under different education streams may have different perceptions of what being educated means and may have different educational goals and aspirations. Instead of focusing on improving the basic standard education provided across the streams and appreciating the variation in schooling options, it is perhaps easier to eliminate what some think is redundant as a stream. Instead of trying to bridge the gaps in access – in terms of information as well as availability of educational institutions – to different schooling streams, we let the narratives framed by the more elite construe our better judgement and reign strongly over us. We forget to consider nuances. We're not taught to think critically, and this is sadly common across all the educational streams in Bangladesh. Another reality, as Dr Niaz Asadullah – a living legend in educational research in Bangladesh – says, is that the quality of education remains low across all educational streams.
Our national debates and discussions on schooling options is stuck at the point of integration of the different educational streams – to integrate or not to integrate. We need to shift focus from this to more important issues: the need for proper educational resources in all schools regardless of them being madrasas or general schools; teachers being trained to not just educate but also to care about students' well-being; and all educational streams equipping students with a coherent basic standard education that enables them to think critically and be creative. Instead of standardising education by eliminating variety in school choices, we need to standardise the enablement of education, regardless of streams, all across. We can no longer overlook the important questions we need to answer to better understand the states of education in our different educational streams.
I try to unearth some of these answers through my PhD, where I focus on the differences in outcomes later in life across individuals who studied in different educational streams. One message that is shining through strongly already is that any comparison between streams should be made with the acknowledgement that there may be differences at the root, which, in turn, drive the differences in the purpose for gaining an education. These differences should be respected because there are histories behind these roots – histories tied to the purpose of each educational stream. It's important for us to understand these trajectories.
Consider, for example, the birth of English-medium schools in Bangladesh. While madrasas have a history stemming from the reign of Muslims in our subcontinent, it may be argued that English-medium schools stem from a more colonial past. It's not that we do not need competency in a universal language like English. We do. However, it's also important that we clarify our priorities as a nation and pass on a strong sense of culture – of which language and history are pivotal parts – to the next generations because, otherwise, any identity crisis that they experience is partly our fault, too.
Deeply entrenched narratives not backed by research or critical reflection have tremendous potential to cause harm, and this is already evident in the untold stories around us in our society today. Those of us who have a unique educational background on our CVs – that is, something not mainstream – are often stripped of the opportunities that our counterparts are given, despite having the same, or often better, talents and capabilities. What does this mean for our rhetoric, our initiatives, and for inclusive development? Isn't inclusion, and the absence of bias, a prerequisite for such development?
---
Rubaiya Murshed is a PhD researcher at the Faculty of Education, University of Cambridge. She is also a lecturer (on study leave) at the Department of Economics, University of Dhaka.
---
Views expressed in this article are the author's own.
---
Follow The Daily Star Opinion on Facebook for the latest opinions, commentaries and analyses by experts and professionals. To contribute your article or letter to The Daily Star Opinion, see our guidelines for submission.