How much have we achieved in eliminating gender-based violence?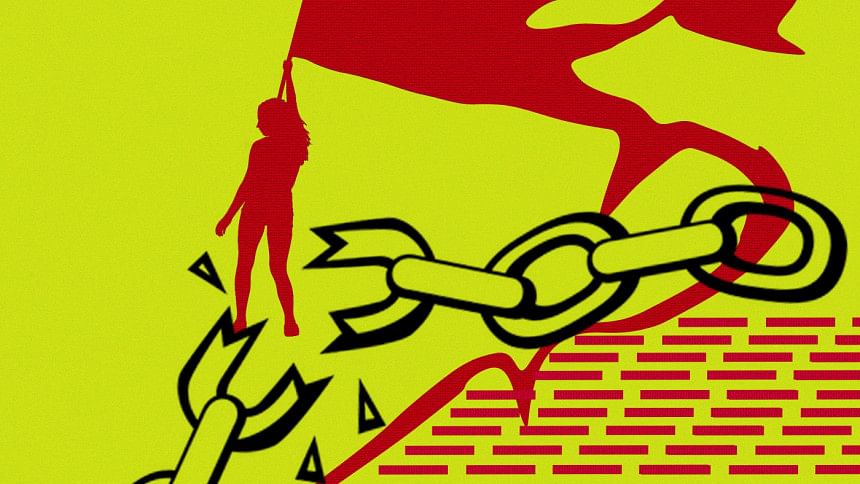 Bangladesh boasts a long history of activism to end discrimination and violence against women and girls. Since the last 20 years, men and boys have also joined as partners to address this issue, which is the most significant manifestation of the inferior position of women and girls in our society.
However, in spite of the activism, increased partnerships and awareness, violence continues unabated in the private and public domains in the form of rape, gang rape, early marriage, and sexual harassment.
As per information compiled by Manusher Jonno Foundation (MJF), between January and October 2022, 505 children experienced sexual violence, while Ain o Salish Kendra (ASK) documented rape cases of 830 women. Moreover, as per a survey conducted by Girl Child Advocacy Forum, from January to September, at least 2,300 girls fell victim to child marriage, which is an astounding 288 such illegal marriages per month.
But these are reported cases and only the tip of the iceberg. What about the unreported ones? What about incest, the crime that is committed inside homes everyday by close relatives, which thrives in a culture of secrecy and taboo? Unfortunately, even the vibrant women's movement has not been able to touch on this subject due to cultural sensitivity.
A recent scoping study commissioned by MJF on child abuse and neglect revealed that around 90 percent of children, both boys and girls, suffered sexual and other forms of violence in their homes. The report gives a snapshot of the reality, one which we are still not willing to face or address.
The #MeToo campaign shook the world and brought to light the misogyny and sexual abuse in high society and the celebrity world, especially in western countries. High profile and iconic figures had to face trial and punishment. But what happened in our part of the world? The campaign was greeted with disdain. In other words, sexual abuse at home remains an unspeakable subject and victims continue to suffer in silence.
The truth of the matter is that "nobody really cares," except, of course, those individually affected by it. Otherwise, how does one explain the complete apathy of the institutions entrusted with preventing such violence?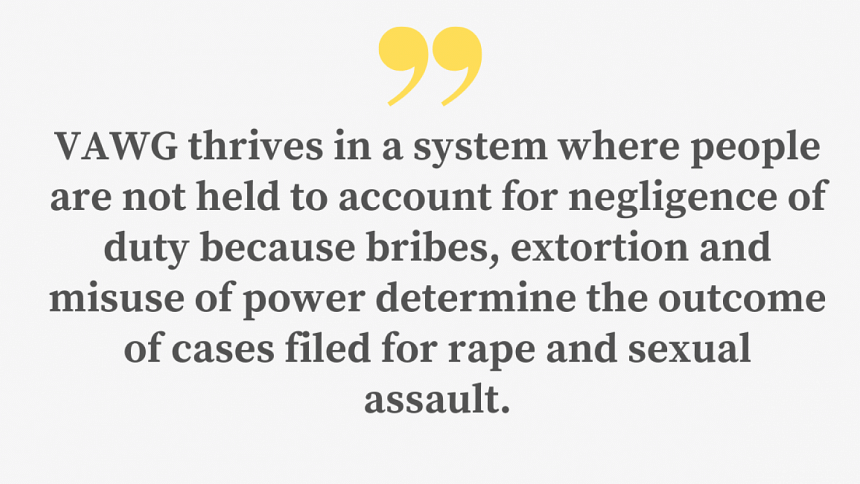 Bangladesh is credited with some of the most progressive policies to address violence against women and girls (VAWG). We also have national Action Plans to prevent VAWG and child marriage, painstakingly drawn up with inputs from some of the most well-known gender experts in the country. Institutions from union parishads up to district-level ones have been given responsibilities and have also been empowered to take action. And yet, the system does not work.
This is not to say the system does not work everywhere. We have found excellent examples of dedicated government officials who have stopped scores of child marriages or have taken action against perpetrators of rape and assault. Unfortunately, those jailed for such crimes are out on bail thanks to loopholes in the system or due to political patronage.
But so much for the systems and institutions. What does the rising violence against our women, children, and girls say about our society? What message are we giving to our children, youth, and men in general? Do we ever teach our youth that being male does not make them a superior being or that they are not actually born with aggressive dominating behaviour? It is the socialising they get at home, school, and from society that makes them act and behave the way they do. Which brings us to the upbringing that children receive in families. As long as boys are treated as the preferred offspring, patriarchy will remain entrenched and manifest itself in such perverted actions.
Another important point that is mostly ignored is, patriarchy negatively impacts men, too, as they face undue pressure to be the main bread-earners for the family and to take on all familial responsibilities. Thus, they showcase traits such as dominance, arrogance, and aggression. Women, on the other hand, are not taught to rebel, take charge or protest, leaving them with lower levels of self-worth and confidence.
Another area of gross violence against girls is child marriage. At 51 percent, as per a Unicef report, it is one of the highest in the world, a national shame given the prime minister's personal commitment to girls' education. Using the excuse of income loss and closure of schools, thousands of girls below the legal age of 18 were married off during Covid-19 pandemic-induced lockdowns. The nation was shocked at the high rates of absence of girls in 9th and 10th grades once schools reopened in September 2021.
VAWG is a symptom of a wider mindset of society that believes women to be inferior to men and considers their contribution to be negligible. Highlighting women's contributions can be a strategy to make families and society aware of the critical role they play in maintaining the care economy and well-being of their families. In this respect, advocacy for the formal recognition of women's unpaid care work is an urgent need.
The other important issue that needs to be addressed is our justice system. It is nearly impossible for victims of sexual violence to get justice as the conviction rate for such cases is between two to three percent – meaning 97 percent of perpetrators believe that they will get away. VAWG thrives in a system where people are not held to account for negligence of duty because bribes, extortion, and misuse of power determine the outcome of cases filed for rape and sexual assault.
The parliament, in a bold move, recently dropped the section of the Evidence Act that allowed the defence to question the character of a rape victim. This is a welcome move and will give confidence to victims to pursue their cases. There are a number of such flawed laws that inhibit women from getting justice and they need to be changed, too.
However, we do rejoice at the success our girls and women have achieved in the last 50 years. The glass ceiling is slowly breaking and women are making forays into areas that were unthinkable a few years ago. And that is why it is so critical to address and take steps to prevent gender-based violence, so that our women and girls are able to live with the freedom and security they deserve.
Shaheen Anam is the executive director of Manusher Jonno Foundation.