Evaly's cult following: Delusion or desperation?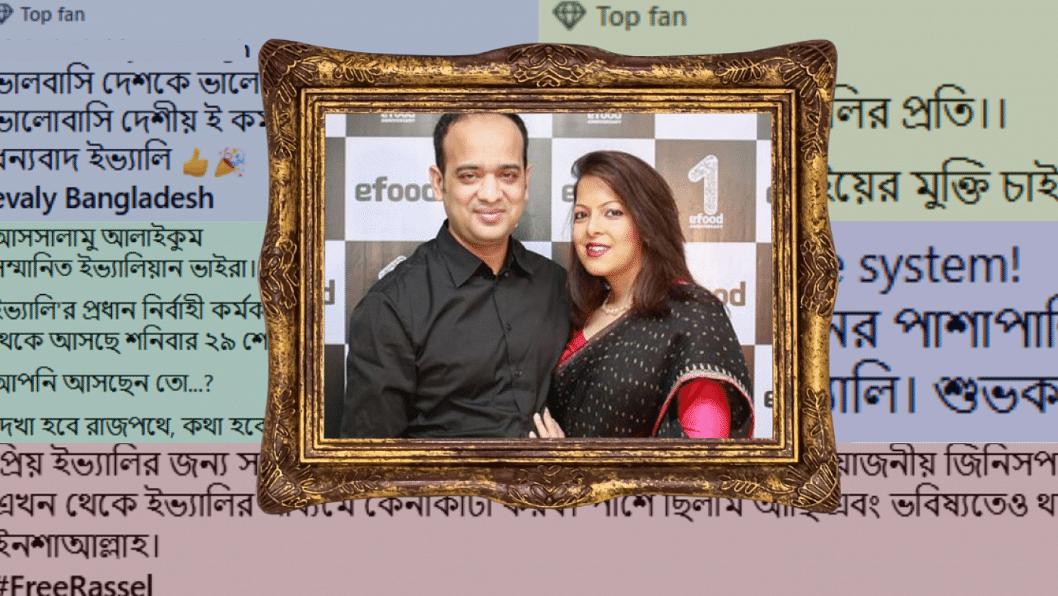 Evaly's cult following has been evident since the e-commerce platform first started its operations in late 2018. Their presence can be felt every time you visit Evaly's social media profiles and view the comments under their posts or any of the live videos they host on these platforms. 
Most of the comments under their social media posts are surprisingly positive. These comments include everything from wishing the company good luck to claiming that Evaly will one day take over the e-commerce sector of Bangladesh. The comment threads even became a place for people to stage protests when the company's top-level officials, including its CEO and chairperson, were sent behind bars.
Of course, Evaly's devoted fanbase did not limit itself to just social media platforms when staging protests. Many took to the streets demanding the release of the company's Chairperson Shamima Nasrin and CEO Mohammad Rassel.
These devoted followers have had nothing but praise for Rassel and his business. Even after all that the company has been through, which includes multiple cases of fraud and embezzlement, this devoted following remains strong, unmoved and, in a way, more vocal than ever. 
The question is: why is this the case? Despite everything that Evaly has done to its customers, why are so many people still in support of this company and its leadership?
To answer this question, one must first understand how Evaly gained such support in the first place. 
Evaly's entire business model relied on customers paying for products in advance. In most cases, the promised delivery dates would be weeks away from the date on which the advance payment was made. In return, customers were to enjoy free gifts, unbelievably large discounts, cashback offers, and other facilities that would make one question whether or not Evaly was actually making any profit. 
Of course, most of these customers did not receive their products in due time. Many are yet to receive products worth crores of taka, which they were promised years ago. 
Behind the scenes, Evaly was using its customers' money to invest into business expansion and extensive marketing campaigns, which meant that the platform's vendors were also not receiving payments for their products. 
The customers were somewhat aware of this; maybe not at first, but things eventually got to the point where it was pretty clear as to what was happening. Yet, Evaly managed to stall them with excuses, as they eventually flew too close to the sun and had to ultimately plummet to the ground. 
Prior to that, the company, through its marketing campaigns, social media posts, and livestreams, had instilled a rather bizarre belief into the minds of its customers: that Evaly was here to "revolutionise" the e-commerce scene of Bangladesh. 
What was more interesting about all of this was the fact that Evaly itself did not push the ideology that it was here to reshape the e-commerce scene of the country. All it did was establish this idea by simply making e-commerce accessible to a wider demographic, mostly through its campaigns, discounts, and cashback offers. Evaly's customers did the rest.
During their early days, Evaly's cult following would boast about the platform's business strategies and how it was about to change the e-commerce landscape for good. Despite not receiving their products for months, many of these devoted followers would not hesitate to defend the company. These people literally birthed the messiah complex for Evaly and would preach its name to anyone who would (or would not) listen. 
In reality, however, Evaly was not here to revolutionise our e-commerce scene by any means. It was simply experimenting with a model that ended up working in its favour for a while – before it inevitably backfired. 
Yet, the company had already taken over its fans' hearts. Evaly's loyal and delusional fan base was dead-set on the idea that this e-commerce platform would turn the whole scene upside-down and set new standards for the market in the country.
Then comes the desperation part, which I believe is one of the most heartbreaking reasons why one would keep supporting a business that has a history of not keeping its promises.
Imagine your excitement as a small entrepreneur when you realised that you could buy a product for much less than its market price, and then sell it at a price either equal to or slightly higher than its market value. All you had to do in return was wait and have faith in a new e-commerce business that was taking your country by storm. It was a dream come true for such entrepreneurs, which is why many of them did not hesitate to invest their life savings in this company and its products. Some even took out loans to buy from Evaly and then resell those products in the local marketplace. 
Now, imagine the dismay these people had to deal with when they realised that their faith was never to be rewarded. Many of them invested millions in the hopes of earning a living as small entrepreneurs. Evaly crushed those dreams. Thus, the desperation grew, and although Evaly had already cheated them once, they are still now hoping for the company to bounce back and give them what they had already paid for. 
Evaly's social media team deserves praise as well, replying to almost every query through their social media handles. It is not exactly damage control, but more of a way to convey to people that the business is still here and that hope still exists.
Mohammad Rassel's ability to appeal to his audience emotionally also deserves some credit. The particularly delusional ones believe every word that comes out of his mouth, while the desperate tune in to see what shards of hope they can cling to for the time being. 
In a few days, Evaly will be restarting its operations. The company's top management has already started making promises, and its cult following is once again regrouping to voice its support. If anything, this is Evaly's chance to turn things around – one last attempt at shaking up the e-commerce market in Bangladesh. Only time will tell what the company makes of it.
Faisal Bin Iqbal is a writer, sub-editor & the digital co-ordinator at SHOUT. Reach him at [email protected]