Holding our celebrities accountable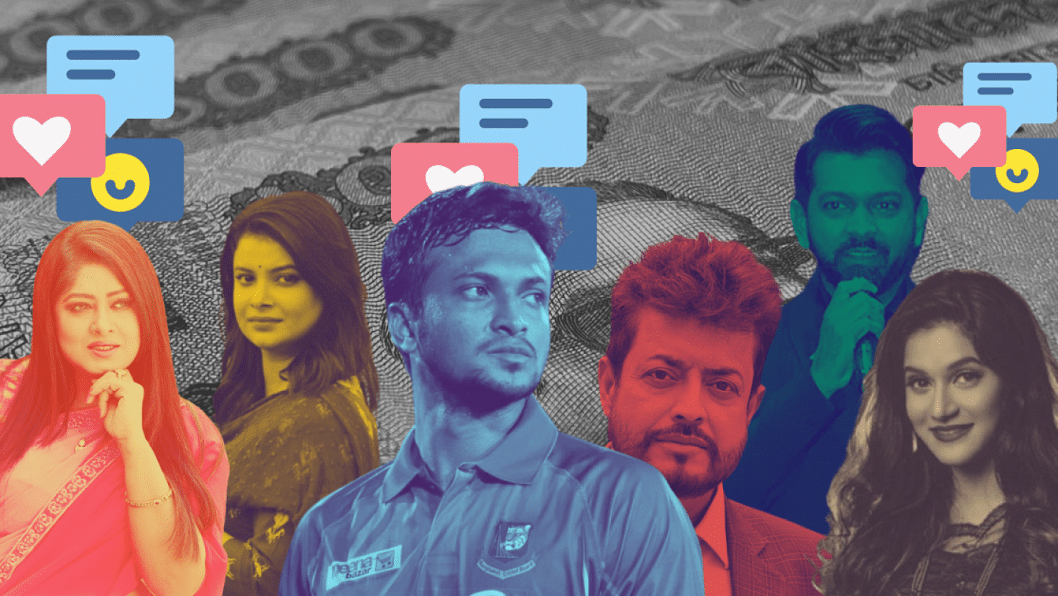 December 2021. It was around this time that the Evaly scam was coming to a head. The now notorious e-commerce platform had made many promises to its customers, but had failed to deliver on most, if not all of them.
However, it wasn't only the organisation that was under fire. Countless customers came forward to sue not just Evaly, but the many celebrities who had worked with Evaly as brand ambassadors and partners.
Many customers shared the same sentiment: if famous celebrities were involved in promoting the platform, then surely they could trust it. Celebrities like Tahsan, Mithila and Sabnam Faria were sued by one customer; all of them were eventually relieved of fraud charges by a Dhaka court.
On December 5, 2022, The Business Standard published an investigative report documenting how RF Builders, a real estate company, started the construction of an 18-storey building on a 110-katha plot in the Adarsha Gram area of Cox's Bazar in 2012.
In a similar fashion to Evaly, RF Builders heavily engaged in bringing big celebrities to associate with their operation. To this measure, they were able to get the likes of Ilias Kanchan and Shakib Al Hasan involved in the project, with the former joining as the project's director.
Aptly named "White Sand," the project's site now lays empty, even though it was supposed to be complete in 2018. Like sand, the dreams of all those who invested their hard-earned money into this project slipped away from their hands.
Similar to RF Builders, some 10 other developers also engaged in similar scams, fronting their projects with the names of stars like Moushumi and Omar Sani, and public figures like Road Transport and Bridges Minister Obaidul Quader and Planning Minister MA Mannan.
In Bangladesh, knowledge of high-level financial scams – particularly the ones backed up by large investments, companies and public figures – is very low. With how drastically development has taken place in Bangladesh, scams like Evaly and RF Builders have only come to the forefront in recent years. It is concerning that celebrities and public figures have continued to be involved in such devious projects, without anyone holding them accountable.
Yes, they aren't the ones who devised the scams. Most of them probably weren't even aware that these companies would scam their customers. However, as a general observer, it's infuriating to see that such big names love to pocket the cash, say some inspirational quotes about how whatever they are endorsing will solve everyone's problems, and then immediately duck out as soon as things don't bode well for them.
In the age of social media and scandals, accountability is hard to come by. But why is it that celebrities feel that they can use their brand and name to promote products for a paycheque and then immediately drop any accountability when push comes to shove?
The issue of influencers and celebrities endorsing dodgy products and services isn't only one that exists in Bangladesh. In October of this year, Kim Kardashian was fined USD 1.26 million for promoting a cryptocurrency called EthereumMax without disclosing that she was being paid for the endorsement.
In the US, a law was passed by the Federal Trade Commission (FTC) in 2019, which required celebrities and influencers to declare when they were being sponsored to promote products or services by a certain brand on their social media platforms.
But in Bangladesh, there are no such regulations governing celebrity endorsements. As a result, celebrities can get away with endorsing scams, all the while preserving their goodwill with the public.
At the heart of the problem is the fact that celebrities in Bangladesh are yet to take any form of real accountability in such a situation. Without some sort of precedent being set, it is unlikely that they will come forward to accept blame.
Simultaneously, public figures like our honourable politicians should also be put under scrutiny. Their social capital can be a large contributing factor behind why people invest in ventures or buy certain products. Public figures, particularly politicians, should not be allowed to endorse products at all. Their vested interest in projects can also mislead people to assume that these projects are bulletproof and guaranteed to succeed.
The government should step forward to put regulations in place, while also ensuring that, once in place, said regulations would be strictly enforced. If we don't act now, then this will continue, mostly with the rate at which internet infrastructure is developing in the country.
Celebrities, too, should be angry over this issue. When a brand uses you to promote a product which is then revealed to be a scam, celebrities should be coming forward to clear the doubt around their own image.
At the end of the day, celebrities should not be allowed to make profits from their credibility and star power, while thousands of their fans pour their hard-earned money into whatever the biggest names in the country are promoting for a quick buck.
Aaqib Hasib is a communications consultant and writer.