Ambivalence towards road safety: How many deaths are too many deaths?
A couple of years ago, a close friend of mine, who had just completed his engineering degree at the University of Toronto, passionately explained to me the significance of ethics and accountability in his field. You see, Canadian-trained engineers participate in something called the Ritual of the Calling of an Engineer – a ceremony where metallic rings are presented to fresh graduates with the intention of invoking the ethical obligations and civic duties associated with their profession. The history behind this is deeply distressing – and one which remains rooted in the hearts of Canadian engineers, above and beyond their technical skills and aptitudes. The Quebec Bridge, a high profile industrial project in the 20th century, collapsed in 1907, leading to the death of 86 workers. The blame categorically fell on design faults and planning miscalculations on part of the engineers employed in the project. Since then, the Iron Ring has represented a symbolic reminder to engineers of their moral pledge towards society and the importance of integrating this philosophy in their lines of work.
The reason I recount this story is because of the shock and anguish I felt when reading about the death of a family in Dhaka recently. Five people were killed as their car was crushed by an 80-tonne girder of the BRT project. I will avoid recounting the countless catastrophes and safety violations across the roads and highways sector of Bangladesh in the recent past – the media has pointed these occurrences out at every step of the way, and Bangladeshis are well-informed on this front. Yet, the moral ambiguity and seeming lack of accountability of the stakeholders associated with infrastructure projects like these –from engineers to public safety representatives – is telling of the serious ambivalence that policymakers have towards road safety and, more generally, public safety.
The World Bank country director for Bangladesh and Bhutan recently stated that road accidents were the leading cause of permanent disability and the fourth leading cause of children's deaths in Bangladesh, according to studies and research done by the multilateral institution. A 2019 World Bank report indicated that road crashes and serious injury costs were estimated to be roughly 5.3 percent of the GDP in 2016. More than the economic cost of unsafe roads, the increasing loss of lives is perhaps a slap in the face of the decade of development as promoted by the ruling regime. The Road Safety Foundation suggested that the numbers of road crashes and casualties in 2021 increased by 13.43 percent and 15.7 percent, respectively – a shocking 6,284 people lost their lives in 2021 to such incidents. Therefore, it is not surprising to see Bangladesh being ranked 106th out of 183 countries when it comes to having the most road-crash-related deaths.
Broadly speaking, there are three core tenets of road management that we need to discuss as a nation – namely, the designing aspect of roads and subsidiary infrastructure, safety measures undertaken by the consumers of roads and highways such as drivers and passengers, and the oversight and accountability measures crafted by public sector representatives. All tenets mentioned are interdependent when it comes to ensuring road safety. And a lack of focus and policy attention, or in another sense, a lack of interest to address systemic flaws in the roads and highways sector, is symbolic of the unsustainable nature of how we have perceived our developmental journey. Accidents and civic violations of safety will continue. Corruption will linger, paving the way for this sector to be a cash cow for fraudulent public sector representatives.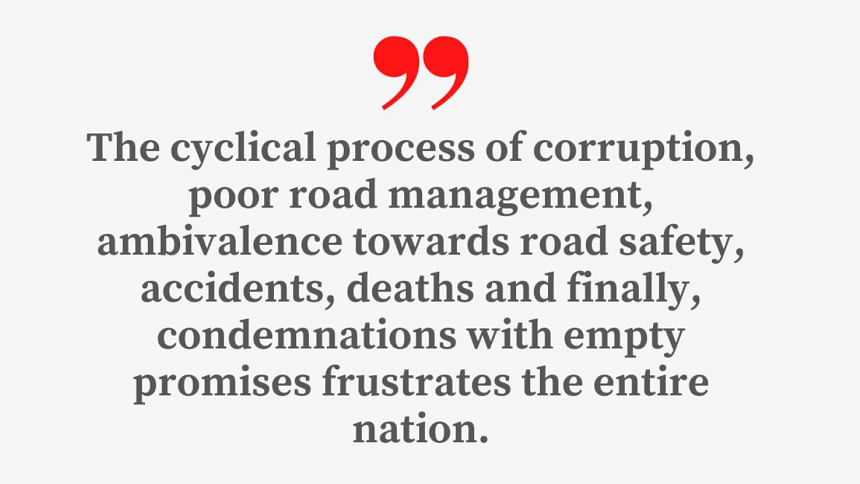 In 2018, the Anti-Corruption Commission (ACC) ascertained that engineers and officials of the roads and highways department were building subpar roads across the country, with the intention of misappropriating public funds. This is merely one example of a much larger disease that has engulfed the public sector. The standard response from the government is an empty promise in the form of a statement that ends with the phrase "action will be taken." But when repeated instances of endemic corruption, particularly with respect to the bidding of infrastructural contracts and the sidestepping of safety concerns, are seen across rural and urban projects, one begins to question whether the state itself is a beneficiary of such illegitimate activities. Therefore, as a starting point, Bangladesh needs to put its focus on the foundational aspects of road designs and engineering, because it seems that certain engineers and public sector representatives have forgotten their oath to the public and, as such, are sidestepping the ethical obligations of their profession.
Coming back to the recent BRT incident in Uttara, the lack of safety and traffic management in the project is nothing but sheer negligence, according to the director of the Accident Research Institute at Bangladesh University of Engineering and Technology (Buet). Following the incident, stakeholders associated with this project have said that, yes, traffic on the road should have been stopped or circumvented. But this social autopsy is simply not enough; what should happen can happen. But unless policymakers make it happen, it simply will not happen!
This brings me to my point about accountability and oversight – frankly, from what we see, read and experience, there is no accountability or oversight in this sector. A clear policy roadmap towards establishing efficient management of roads and highways, and associated projects undertaken in and around communications systems, which prioritise the safety of citizens and the well-being of communities, has to take centre stage. This has been repeated across all sections of society for decades now, yet as our political leadership boast about our economic resilience even amid a cost of living crisis that has grappled the nation, we have failed, and will continue to fail, in ensuring any sense of stability and safety mechanism across roads and highways.
The cyclical process of corruption, poor road management, ambivalence towards road safety, accidents, deaths and finally, condemnations with empty promises frustrates the entire nation – to an extent where there is little to say. These deaths are preventable; such accidents are avoidable. There is no partisan politics or ulterior motive behind this assessment. Unless such is done, these incidents will continue to occur. Innocent people will continue losing their lives to what is nothing short of murder.
Mir Aftabuddin Ahmed is currently pursuing a master's degree on public policy programme at McGill University in Canada.