Agritourism for improving education and rural entrepreneurship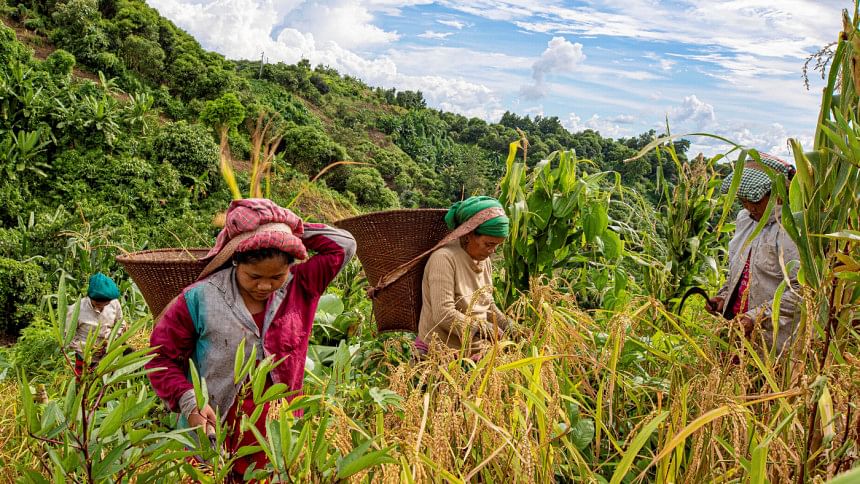 Agritourism, through which visitors can experience how a farm works, presents a unique opportunity to leverage Bangladesh's rich agricultural heritage and diverse rural landscapes. With its vibrant farming communities and traditional agricultural practices, the country could become a leading destination for such tourism.
Tourism itself is a learning process for all age groups. Now, it's time to explore the untapped potential of agritourism for our sustainable development. A glimpse of this can be seen in Sylhet and Jashore, as the Bangladesh Tourism Policy 2010 already recognises community tourism, which helped initiate a few programmes in these places through community participation.
Bangladesh has formal and informal clusters of the farming of diverse commodities, wherein the work ranges from cultivation to processing and marketing through formal and informal institutions. These commodities include traditional paddy, tea, jute, local fruits, and inland and sea fish or shrimp in different ecological environments. Notable examples include Tangail's pineapples, Jhalakathi's guavas, Bagerhat's shrimp, Chandpur's hilsa, the floating gardens on the wetlands of Barishal, hill farming, char land cultivation, and so on. Each unique production system involves different livelihoods being supported by technological and innovative practices.
Our public universities could introduce village and agro-industrial attachment programmes for skill enhancement. These programmes can ensure apprenticeship for university graduates to prepare them for the competitive global job market. The programmes will also provide two advantages: 1) connecting job providers with job seekers and 2) opportunities for students to gain experience based on theories.
Considering the recent experiences of Bangladeshi investors leasing land in African countries to farm, such practices have introduced opportunities of foreign exchange earnings and employment opportunities abroad. Agritourism also empowers local communities and contributes to their economic development. This improves income generation, job creation, and the preservation of cultural heritage.
But the development of agritourism in Bangladesh faces several challenges, including infrastructural limitations, lack of awareness, and limited options to ensure sponsorship for supporting programmes and sound policy favouring agritourism and learning. The solutions include public-private partnerships, regulatory frameworks, and the involvement of local communities in planning and management processes for agritourism.
In Bangladesh's context, agriculture-focused universities can play a vital role in promoting and facilitating agricultural apprenticeships. Agri-businesses can also participate here by organising and deploying the learners while also promoting their business. Such programmes will require careful design and should be administered in a participatory manner with the universities. Agricultural universities can also collaborate with government agencies, tourism boards, and private sector entities to develop these tourism initiatives. Such partnerships can help to secure funding and create supportive infrastructure for agritourism development.
By implementing these practices, universities in Bangladesh can contribute to agritourism for learning. They can provide students with practical exposure, support local communities, and help create an educated workforce. These opportunities will allow students to gain hands-on experience, apply their classroom knowledge to real-life situations, and develop practical skills in various agricultural disciplines. To unlock the full potential of such tourism, effective promotion and marketing strategies are required. This includes domestic and international campaigns and collaborating with travel operators and educational institutions.
In Thailand, agritourism has flourished through the promotion of homestays and organic farms. Visitors have the opportunity to stay with local families, experience rural lifestyles, and engage in farming activities such as rice cultivation, vegetable gardening, and traditional cooking. Organic farms, especially in northern Thailand, provide educational experiences on sustainable agriculture and offer farm-to-table dining experiences.
Taiwan has embraced this kind of tourism with a focus on fruit-picking experiences and tea tours. Visitors can participate in activities such as strawberry picking, harvesting citrus, and exploring fruit orchards. These initiatives have attracted both domestic and international tourists, contributing to local economies and enhancing cultural exchange.
In India, farmstays and spice plantation tours have gained popularity. Farmstays offer visitors the chance to stay on working farms, experience rural life, and participate in agricultural activities. These initiatives support local farmers, promote cultural exchange, and offer unique insights into agricultural practices.
In the US, University of California, Davis has an extensive internship programme called the Student Farm. It provides hands-on training to students on organic farming, sustainable agriculture, and farm management.
Agritourism in Bangladesh would act as a gateway to sustainable rural development, economic empowerment, and skill enhancement in farming and post-harvest operations. By showcasing the country's agricultural diversity, fostering community engagement, and promoting sustainable practices, Bangladesh can position itself as a desirable destination for tourism and learning. Awareness building with local communities, marketing sites, and creating adequate facilities should be undertaken to fulfil this promising opportunity.
Dr Susmita Das is the principal documentation officer at Bangladesh Agricultural Research Council. Reach her at [email protected]