75 years of Partition: A young boy's loss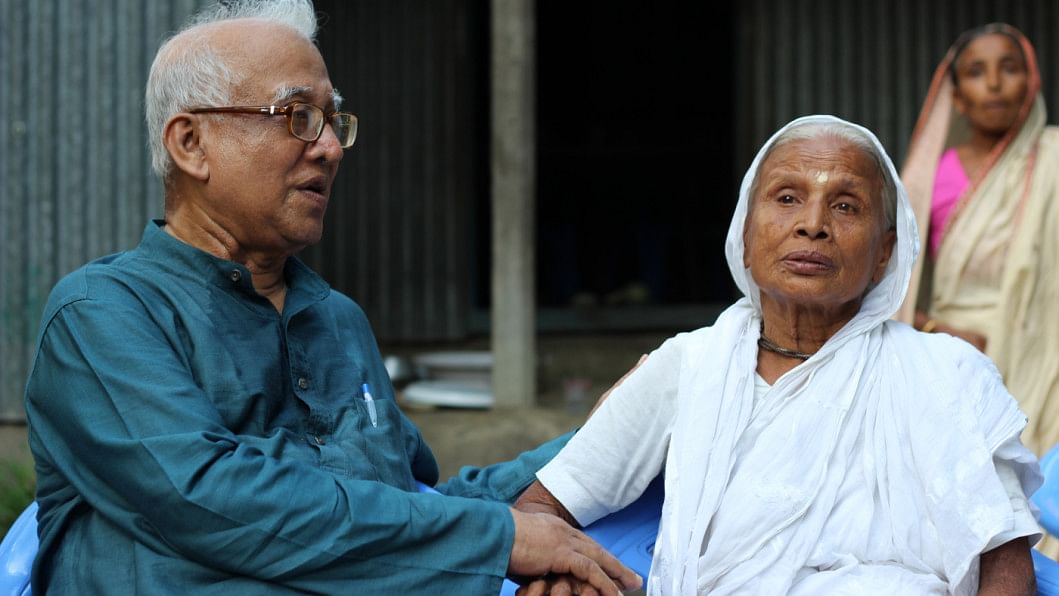 Seventy-five years after the Partition of the Indian subcontinent, we are still a long way from understanding the complex ways in which this event affected the lives of people and communities then, and how it still does. Published every Saturday, this series features scholars of partition studies from across the subcontinent, and is an attempt at exploring the complexities and contradictions of that momentous event. This article, the tenth and last in the series, tells the story of how a young boy lost his home, friends, and parts of his family when the country he was born in was split into two.
I belong to a generation that was overtaken by the pestilence called Partition. It was cooked up by a few political leaders of the Indian subcontinent as a shortcut to positions of power, so that they could become kings and courtiers of countries, which would be, arguably, "free" and bear the names of "India" and "Pakistan." And then everybody would, they hoped and said, live happily ever after.
Things did not turn that way. Nothing was settled or resolved. Riots killed thousands of people, women were raped, properties looted and destroyed, hundreds of thousands of people forced to leave their ancestral homes for an unknown territory where they believed would find safety among people of their own faith. People once rich became paupers, pride was pitiably humbled, as people of eminence became nobodies in an alien land.
***
Before all this began, we used to live in a village somewhat north of Dhaka, where my father was a small nayeb or revenue collector for the zamindar of Balihati. My story has a little twist, though. I was adopted by him as he married two of my aunts (sisters of my biological father), and neither could give him a son. My own family lived in a village closer to Dhaka, where I had, apart from my parents, an elder brother, a twin sister, Lila, and another brother.
I will give you the conclusion of my story first, and then trace back to what happened earlier. Of the three brothers, the elder became a police constable. I don't know if I can blame Partition for that. He, otherwise a good soul, had almost a philosophical objection to formal schooling, and resisted all attempts to make him a student. The second son, accidentally the author of this piece, became a university vice-chancellor, and a man of some eminence. The third, after a life of being a hawker in trains and vegetable vendor in country markets, was later put back into school by the second brother and eventually became a college teacher, to retire, ultimately, as a college principal. Barring the eldest, these two brothers did not do too badly by worldly standards. All three brothers became Indian citizens.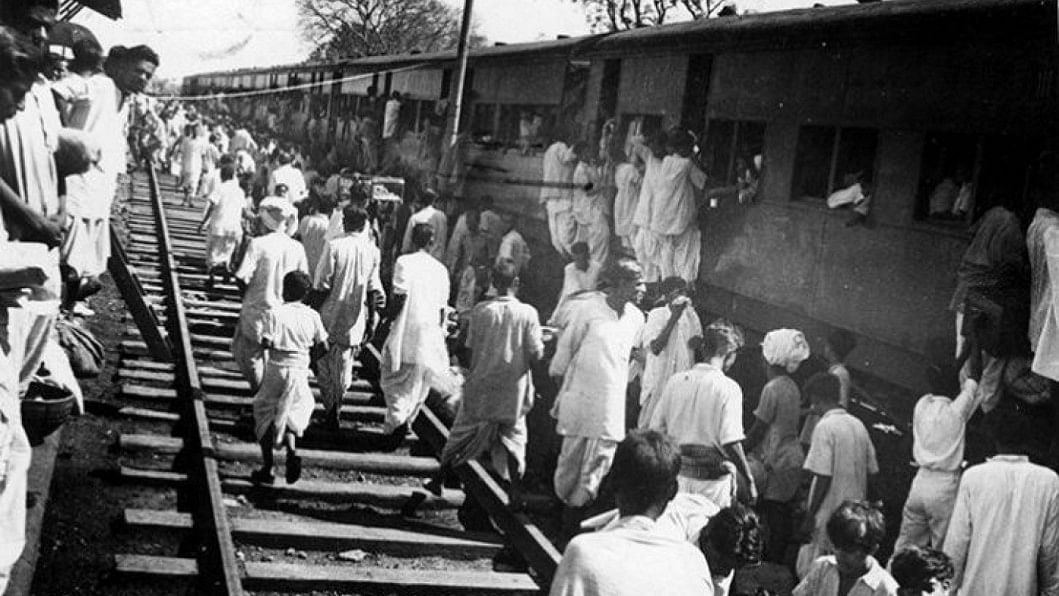 But the sister had to stay back in East Pakistan. She was considered too risky to cross the border with, and the mother, then a widow, would leave the daughter with her maternal uncle at the time of leaving the country with her two boys. The uncle's family was to remain in East Pakistan, took the girl out of school and, when she was only 12, married her off to a Hindu farmer's household. She would, luckless as she was, lose her husband quite early, then lose her only son too, live with her widowed daughter-in law, raise two young grandsons, grow old and become the grandma of the whole village, where Muslim farmers were a majority. Her brothers – the elder, her twin and the younger – would not see much of her, as they would become citizens of another country. This is how four children from the same womb fared, thanks to Partition. Their story, of course, has no component of death and destruction, as many others had to face.
***
Much before the fateful events of August 14-15 in 1947 and Pandit Nehru's midnight "Tryst with Destiny," there were much excited talks among both the Hindu and Muslim residents of our village, then called Thakurbari Panchash. It was located east of Dhamrai, right across Nayar Hat, on the west side of the Bangshi River. The village has now been swallowed up by the expanding town of Dhamrai. To its residents, at first it was a frank and short-lived disbelief of the "canard" that the country was going to be divided. Then it dawned on them that their leaders were much smarter than the hapless people, and what they decided, they had the power and determination to act upon. Our village had a twin, with Hindus living in one, while Muslims in the other, which was called, quite appropriately, Islampur. But my adoptive father's house was a visiting place for important men from both the villages. It may sound incredible now that there was complete harmony and bonhomie between the two communities. Lest that is misconstrued as an overstatement, I will tell you what happened to me, which may read like a fairy tale now.
When I was five, elders from both the villages decided that I was to be baptized as a "friend" of another Muslim boy of my age. It was Rahman, son of the village headman of Islampur, Kotuni Byapari. It was a ritual called dostali patano – "to make/become (lifelong) friends." So, an auspicious day was selected, we two boys were bathed, fed specially prepared food, decked up like princes, and put in a palanquin. The carriage was taken for tour in about a dozen villages around, accompanied by a booming and rattling English band, in a procession with "day-lights" and other such things, loudly proclaiming the event that Kamal (my pet name) and Rahman, sons of so and so, were, from then onwards, going be lifelong friends and help and protect one another; "Let Allah and God bless them, and you people do the same."
Inside the palanquin, sweating and sleepy, we smiled mischievously at, pinched and tickled each other. After we came back, two grand feasts for the entire populations of the two villages took place respectively at the new "friends'" houses. Cooking and the food did not hurt anyone's religious constraints, as the sponsors were scrupulous about that.
These were one of the ways, for hundreds of years, when the two societies tried to accommodate each other, and became closer, as nana, chacha, bhatija, bhabi and so on, keeping their faith and social norms unhurt. I may add a note that my father had also been made a dosto of Rahman's father, Kotuni Byapari, in their boyhood.
***
These chacha and nana of ours, who assembled at my father's kachari-turned-drawing room every evening for a hookah session (hookahs had a communal divide, though), first told my father, "Perish the thought of leaving the land of your 14 forefathers. What are we here for?"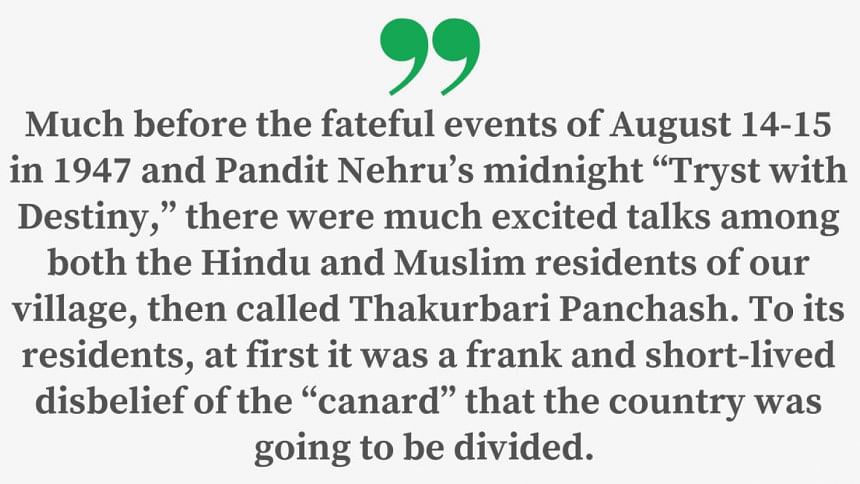 But disquieting news did not stop pouring in. Riots in Noakhali, Calcutta and Bihar, people leaving their homes in panic, leaders inciting mobs to kill "others" – newspapers were full of such stories. We had a Calcutta newspaper delivered by post to our house, the half-weekly Anandabazar Patrika, which carried horror stories like these, which made our elders worried. One night, the sky was rent by the slogan Allahu Akbar, and women and children had to spend the night in a nearby forest with their jewellery boxes and the cash chests. Guards with spears kept vigil on us. A few feeble shouts of Vande Mataram did not encourage us much. The air was heating up and neither the Hindus, nor their well-wishing Muslim neighbours felt very comfortable. Muslim League volunteers from Dacca, rank outsiders, began visiting the villages and making fiery speeches.
Meanwhile, two young and nubile daughters of a respected Brahmin family living near our Dhamrai Hardinge High School eloped one night reportedly with two Muslim boys, which caused panic among the Hindus. This could otherwise be interpreted as a normal thing, given the age of the boys and girls (we saw no remorse in the girls when they came back about a week later), but the context made it quite threatening for the Hindus living in the area.
Meanwhile, I must own up the faux pas I made in my classroom. There was a Maulavi shaheb who taught us Bangla in Class 3, who looked like Tagore with a Fez on, very affectionate and soft-spoken. He was telling us about his own home, Khulna, where fish were aplenty and date-palm molasses (khejur gur) was abundant. He, jokingly yet lovingly, offered that I (He called me Sarkar moshai) accompany him to his home during the puja holidays. I would, he assured, then return much fatter, after consuming all the fish and khejur gur that he would treat me with. When he said, "What about it, my son? Go tell your father that I'll take you to my place," I, without batting an eye, said, "No, Maulavi shaheb; if I go with you, the Muslims will cut me up!"
The Maulavi was stunned. Then, after recovering from the shock, he, with his eyes widened, said, "How could you say such a thing, son? I'll be with you, and yet Mussalmans will cut you up?" Tears began to roll down his cheeks on his beard, and he said with a deep sigh, "Alas! Allah, with you looking on, how can the country go so crazy?"
I have not been able to forgive myself to this day for what I said to the affectionate Maulavi that day.
***
But the inevitable could not be stopped or delayed, and our nana and chacha told my father that it was better to send the boy (me) and Chhoto Bhabi to India, while my father could take his time to make a decision. Perhaps it would be a short-term measure, and who knows, they might come back when things improved. But now the Muslim Leaguers were coming from Dhaka and inciting people. The air was tense with fear and suspicion. Our Muslim neighbours would see to it that nobody could touch my father or Boro Bhabi, who was to stay back with my father.
So, on November 9, 1947, in the early hours of the day, we got on a middle-sized boat and set out for "India," which was a foreign land for us at that time. The boat had a father-son team of three to sail it, the father as the oarsman. They were trusted Muslim boatmen from Islampur, which Rahman's father, my Uncle Kotuni, had hired for us. Three boatmen, three passengers; my Kaka (uncle), i.e. my father's cousin, was our leader and guide.
The boat was our home for about two days. I had a vague feeling that we were leaving our land forever, and I would hardly, if at all, see my home, my school and my friends and neighbours ever again, but the excitement of seeing new places got the upper hand. Our boat coursed through a number of big and small rivers, and the journey was fun. Families of turtles sunbathing on the sliding riverbanks, some on a floating banana trunk, porpoises jumping out of the water and then going down the next moment, leaving an unsavoury smell around, people waiting at the ferry-landing – the scenes were many and varied. We reached Manikganj the next afternoon and took a hackney cab to the nearest steamer station at Aricha Ghat, from where Goalanda was the next port.
I saw a passenger steamer for the first time, it looked like a brightly-lit palace when it approached Aricha Ghat. We got up and, in about half an hour, reached Goalanda, from where we had to catch the Calcutta-bound Dhaka Mail. But there was an unpleasant surprise for us at Goalanda. As the steamer neared the landing and a gangway was placed for the passengers, before they could move an inch, hundreds of Bihari coolies attacked us like highwaymen. No, they did not mean harm. Teams of them, in twos or threes, claimed us as their clients, without our consent or choice. They were to take us to a compartment of Dhaka Mail, dump us and leave with the payment pocketed.
The charge was high and my Kaka did not shine in haggling with them. It was a huge sum of 40 rupees. They eventually took the luggage on head, held our hands, and on the dark, sandy embankments rushed to the train, which stood ghost-like in the darkness. We stumbled and ran with other passengers, and finally the coolies mounted an already crowded "third class" compartment. Surprisingly, they had some space on a bench by the window ready for us, and seated me there while my Chhotoma sat on a bedroll. There was no light yet. We could not see the faces occupying the compartment. Only when a child cried, a harsh voice shouted, "Shut up, damn you! Or I'll gag you up!" The boy fell silent, but we could hear his sobs. He was hungry. One or two women wailed and cursed their God.
When an apology of an electric bulb lit up, the horror of the faces came to view. They were tear-soaked and grim, women huddled on benches, men standing against the walls, some sitting on trunks and bedrolls. My Kaka brought some food for us that we could hardly swallow; the famous treats of Goalanda shanty hotels eluded us this time.
The night was moonlit, a little misty perhaps. The train ran as if it was escaping from a demon, and in my disturbed sleep I saw snatches of villages, deep in slumber, rush past. Our sleep was harshly disrupted at Darshana station, where the "Pakistani" police entered the compartment, ransacked everything in search of gold jewelleries, which, they claimed, were Pakistani property and could not be carried out of the country. Women were dragged out and taken for a body-search, but Kaka, who was worldly wise, probably settled with the police and they did not touch my Chhotoma. For others, it was a nightmare.
An "Indian" morning greeted us at Ranaghat, where Kaka fed us pantua, for which the place was famous. And when the train reached Sealdah some two hours later, and we got down, I almost got lost in the crowd as I followed a Eurasian couple (a shaheb and mem for me), marvels I had never seen before. Kaka had to do a lot of shouting to find and collect me. Then we took a hackney carriage and were bound for Borobazar, where Kaka's daughter and son-in-law lived. Stopping for a day there, we had to take another train to Kharagpur, which would be our home for the next 30 years.
Why Kharagpur, of all places? Thereby hangs a tale, too. An educated Muslim neighbour of our village was a high official at the railway factory there, and he provided jobs for many Hindu boys from the same village in its workshop. My Kaka was one of the latter. He had a room in his small mud-house ready for us, with his family of seven to welcome us.
My boyhood came to an end when I reached "India." The struggle that followed is a part of every refugee's tale, of those who survived the disaster called Partition, of course. Many Bangalee Muslims must have similar tales too – mirror images of mine.
Pabitra Sarkar is an author and former vice-chancellor of Rabindra Bharati University in Kolkata, India.