Partition 1947: Displaced Music: Partition through the senses
Seventy-six years after the Partition of the Indian subcontinent, we are still a long way from understanding the complex ways in which this event affected the lives of people and communities then, and how it still does. This series features scholars of partition studies from across the subcontinent, and is an attempt at exploring the complexities and contradictions of that momentous event. This particular article looks at how music, language and culture shaped different ways of remembering and continues to connect communities affected by displacement.
The city I was born in appears in an orthographic form that corresponds to its pronunciation as "Calcutta," on the first page of a book I wrote on Partition. It also appears on its final page, in the same form. In a prefatory note, I explain my decision to render it thus, rather than the variant we have now adopted as the official spelling: "The reader will notice that I have adhered to the older form 'Calcutta' rather than the official new version, 'Kolkata,' throughout the book, while adopting the term 'Dhaka' (rather than its older version, 'Dacca'). The same reason underlies both choices: the decision to let this book reflect the processes of memorialization that it analyses. The change of name from 'Dacca' (the colonial name) to 'Dhaka' occurred in 1982, sufficiently early in my own life for my consciousness to normalize the change. It also entailed no change in pronunciation. The change from 'Calcutta' (also colonial orthography) to 'Kolkata,' on the other hand, took place far more recently, in 2001, and entailed the reduction of a number of possible, context-driven pronunciations of the city's name to a singular one in the cause of vernacular self-assertion. For these reasons, I have preferred to retain 'Calcutta' for this work."
My decision to adopt "Calcutta" as the spelling of choice in my book derived from a certain disposition I bear towards this city. As a Bangla speaker, the version "Kolkata" is certainly uttered frequently by me, most notably whenever I converse in Bangla; and while the version "Kalkatta" doesn't escape my lips nearly as frequently, I have had occasions to hear it pronounced thus, in both the city and at several locations distant from it, but pulled close through the webs of sound.
Kalkatta-Kolkata-Calcutta: different ways of saying aloud the name of the same place, each sonic variant an accent, yielding forth "accented stories" of belonging, displacement, and remaking of the self and community within the changing frames of modernity's big historical events. I use the word "accented" recalling Hamid Naficy's investigation of "accented cinema" as the cinema of migrants and diasporic groups in Europe, but, unlike him, I return the adjective to the realm of sound, rather than use it as a metaphor for marginalised existence. The accent is how I connect these different spellings of my city to the "sensorium" of Partition. Sense impressions trigger Partition's memories.
Not just memories, in fact, but what Marianne Hirsch called "postmemory," and for that version of postmemory that I have called "post-amnesia," or the intergenerational play of remembering, forgetting, and remembering anew, which characterises memory work around Partition in South Asia. Our cultural inheritance is interpenetrated by sounds, scents, and tastes. This synesthetic web creates the messy map of embodied memory with which I end my book. And it is one that I seek to recreate on the first page itself, through the line of a song by Nazrul Islam, that accompanies the dedication: "Nebu phuler ator mekhe… (imbued with the scent of lime blossoms)."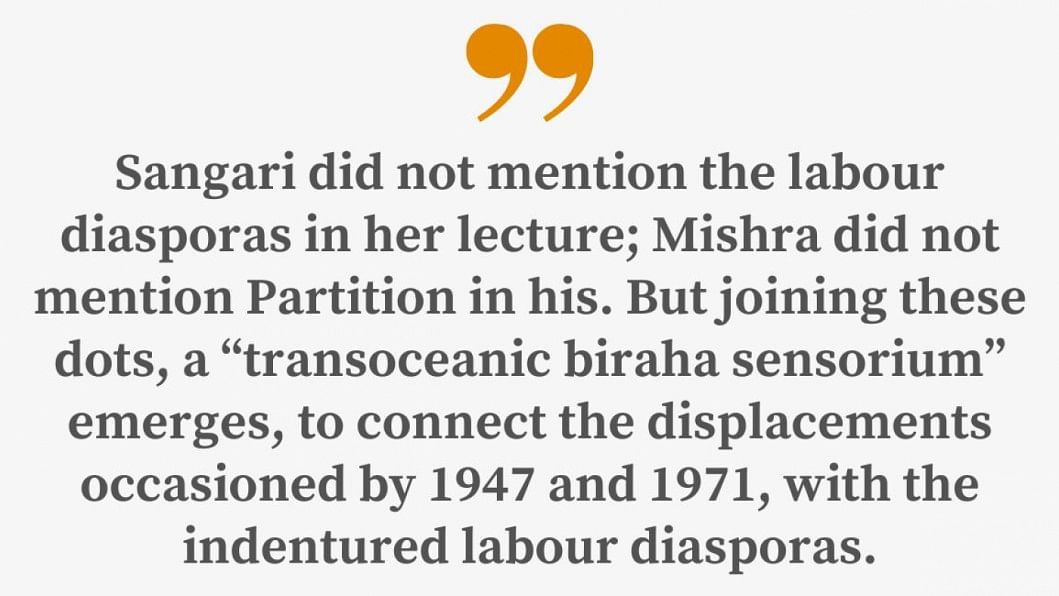 Two lectures and two posters
In a lecture delivered at London's SOAS in 2010, the scholar Kumkum Sangari argued that the inclusion of songs that expressed the traditional affective complex of viraha or separation within popular Hindi films of the 1940s and 1950s was a coded way of expressing sorrow at Partition. Because these songs were heard in Pakistan via radio, a shared community of mourning emerged aurally across borders and displaced populations. The affective charge of these viraha songs for newly melancholic post-Partition nations was intensified by the ebullient narratives they were embedded in and which literally told another story – of progress and a "happily ever after."
These songs also travelled further. Via broadcasting and film screenings, they reached sites of the older Indian labour migrations – Trinidad, Suriname, Mauritius, Fiji. In a lecture delivered at the University of Leeds in 2013 on the circulation of "Bollywood songs in the Plantation diasporas," another scholar, Vijay Mishra, spoke of the biraha-centred folk songs that his mother's generation still sang in Fiji's cane fields, as part of their corporeal transoceanic memories. From the 1940s onwards, the very songs that Sangari referred to were heard on the radio by Indo-Fijians like his mother. Recognised as modern versions of those folk songs, the songs were absorbed into their repertoire.
Sangari did not mention the labour diasporas in her lecture; Mishra did not mention Partition in his. But joining these dots, a "transoceanic biraha sensorium" emerges, to connect the displacements occasioned by 1947 and 1971, with the indentured labour diasporas. This biraha sensorium, drawing on Calcutta and its hinterlands, now dispersed across the proverbial "thirteen rivers and seven seas," showcases a post-Partition affective aesthetics. Through taste, smell, and sound – the subaltern senses – less parochial and self-centred narratives of Partition's losses emerge. They generate fresh readings of South Asian modernity as founded on the fractures caused by the colonial-era diasporas as much as those of Partition.
In 1948 and 1949, Russian American graphic artist Boris Artzybasheff created two posters advertising cruises to Trinidad offered by the shipping company Alcoa. One shows a South Asian man with a parrot on his shoulder and a temple in the background; the second, a man with a fez on his head and a mosque in the background. Tropical motifs and colours abound. Artzybasheff's posters depicting Trinidad's Indian diasporas draw equally on the signifiers of its Hindu and Muslim populations.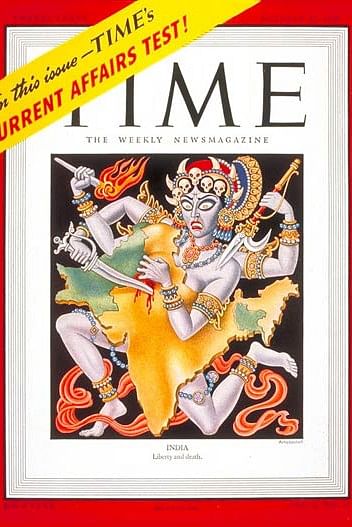 While two distinct communities are portrayed, the continuity of visual style posits an equivalence between them, and indeed a cohabitation of not only the same imaginative but also geographic space. This cohabitation gains relevance when we realise that Artzybasheff was also the illustrator of Time magazine's cover for the issue of August 1947 that reported on Partition. In Artzybasheff's imagination, then, the divisive horrors of Partition were compensated by the pastoral and serene coexistence of Hindus and Muslims in Trinidad and other Caribbean spaces.
From biraha to biroho
In her book Aluminum Dreams, Mimi Sheller critiques Artzybasheff's posters for depicting Hindus and Muslims of the Caribbean through "a visually flattened perspective that is also a historically and socially flattened one" (Pg 164). Yet, this "flattened perspective" involving the very communities antagonised by Partition, in a diasporic space created during colonial time, suggests the possibility of a dialogic relationship between pre- and post-Partition diasporas from South Asia. In turn, this relationship provokes us to pursue alternative ways of imagining community before, after, and in between ruptures. These approaches draw less on straightforward reading of the textual archive and more on what Vijay Mishra calls "a mediated history of affects."
"For some years I have reflected on what sustained my mother," says Mishra. "Why she sang those melancholic songs and why those songs were invariably about loss, about rain, about work, labour, departure and love-longing. What were the origins of those songs and why recall them when they simply triggered a history of pain?" These songs are the biraha geet and bidesiyas of the Bhojpuri-speaking diaspora from present-day Bihar. The loss of caste provoked by the proverbial kala pani was manifested in new uses for the Bhojpuri folk repertoire of separation and migration, of the pardesi who has gone away and left the lover yearning. Smuggled into the soundtrack of "progressive" Hindi films, these folk songs gave post-Partition communities ways to mourn that which had been lost. At the same time, their entry via radio and live singers within the soundscapes of the pre-Partition labour diasporas updated the resonance of the older songs.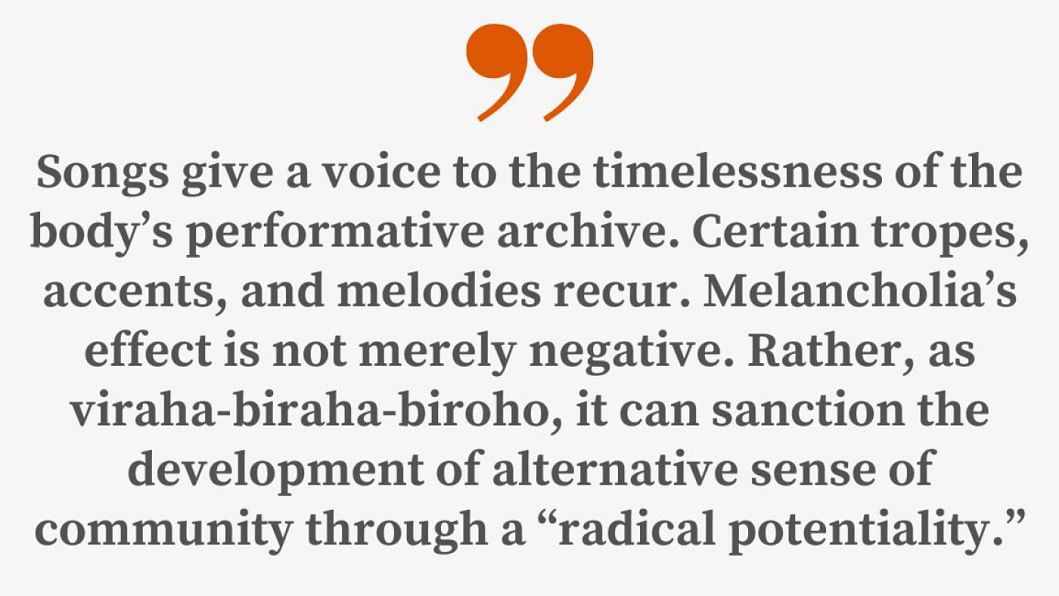 In Mauritius for a conference recently, I heard a group of women sing the traditional Bhojpuri genre of geet-gawai. Transmitted by ancestors who had sailed across the ocean from the city that I was born in, the first word in the first song they sang was "Kalkatta." Such songs remind us that the aural production of biraha was not a monopoly of post-Partition Hindi films. The Trinidadian singer Ramdeen Chotoo sang about the sadhu who left Kalkatta for Trinidad and lost his caste markers in the process. It reminds me of another casteless ascetic singing on the ghats of Kolkata. Ritwik Ghatak interposed Durbin Shah's song "Namaz amar hoilo na aday," within his landmark film on Partition, Jukti Takko aar Gappo. Here, the riverbank, mythopoetic milieu for the Baul song, has morphed. The river now flows through an urban space; its vessels are passenger steamboats rather than the small boats of East Bengal's waterways that haunted Ghatak's cinematic imagination. What also haunt the river are the jahaj that carried the ancestors of Ramdeen Chotoo to work in "Chinidad" with cutlass and kodal.
The present tense of the 1974 film is also the aftermath of the emergence of Bangladesh in 1971. Ghatak's protagonist Bangabala watches the Baul sing, her face a chiaroscuro of emotions from enraptured recognition to wistful melancholia, longing, and confusion. She is Ghatak's vehicle for remembering the East Bengali village and its Muslim neighbours that auteur and character have left behind. The Baul, observed intently by Bangabala, telescopes the effects and affects of 1947 and 1971.
An aural history of biroho in Bengal is also the many histories of departure, separation, and longing interwoven in its landscape, rivers, and cities.
If Ghatak in Calcutta could yearn for East Bengal, whose political identity changed three times in his lifetime, similar longings emanated from people who, because of those changes of identity, found themselves estranged from Calcutta.
Renowned singer Firoza Begum belonged to a Muslim family from that part of Bengal which became East Pakistan. According to Partition's logic, she was on "the right side" in 1947; yet, as she admits, "the partition of these two countries dealt an irreparable blow to my singing. I became completely detached from everybody. The Gramophone Company [of India in Calcutta] kept asking me to record with them as a guest artiste, but how could that happen? Where would I live? Who would stay with me? These thoughts preoccupied me so much that I became mentally ill. I came to Dhaka, but I didn't like it one bit."
Pakistanis, too, remember Firoza Begum's exquisite renderings of Urdu lyrics; her Urdu recordings circulate on the internet. Did East Pakistan's transformation into Bangladesh enable her to draw a veil across her own participation, however unwilling, within the ideological projects of the Pakistani state between 1947 and 1971?
Firoza Begum's voice is what I hear when I write Nazrul's words in my book's dedication: "Nebu phuler ator mekhe." I remember my maternal grandmother pronouncing it exactly like that – "nebu" (rather than "lebu") – in her Hooghly district accent. From such layers of memory, we extract the modalities of not merely traumatic experiences of deracination and ideological refashioning triggered by Partition and its aftermath, 1971, but also strategies of survival and adaptation. These strategies are also evident in the descendants of the pre-Partition labour diasporas who continue to embed "Kalkatta" in their creative self-fashioning "Calcutta/Kolkata/Kalkatta," such as the Dutch singer-composer Raj Mohan of Hindustani-Surinamese heritage, whose song "Dui Mutthi" commemorates the jahaj that left Kalkatta for an unknown destination. When we juxtapose two sets of arrivals, settlements, and revitalisations, whose melancholia, whose affective history, whose dui mutthi do we talk about?
Songs give a voice to the timelessness of the body's performative archive. Certain tropes, accents, and melodies recur. Melancholia's effect is not merely negative. Rather, as viraha-biraha-biroho, it can sanction the development of alternative sense of community through what academic and poet Sudesh Mishra has called a "radical potentiality," which may or may not be realised beyond its moment of immanence.
Mishra locates this radical potentiality in the practice of the tazia that used to be prevalent in Indo-Fijian communities, but which died out in post-indentured times. But every Muharram, the tazia still moves through the streets of Trinidad, Suriname, Mauritius, and Kalkatta. Its trail of scents, sounds, and taste cuts a path of radical potentiality through the realm of the everyday. I rediscovered the tastes of the Bangalee Muslim Calcutta kitchen in places across the Atlantic and Indian oceans as well as across rivers and borders – Trinidad and Suriname, Mauritius and Karachi, Dhaka and Kushtia.
Across fragmented times and spaces, it is the shil-nora song that connects us. 
Ananya Jahanara Kabir is professor of English literature at King's College London and author of Partition's Post-Amnesias: 1947, 1971 and Modern South Asia.