Dhaka before and after Partition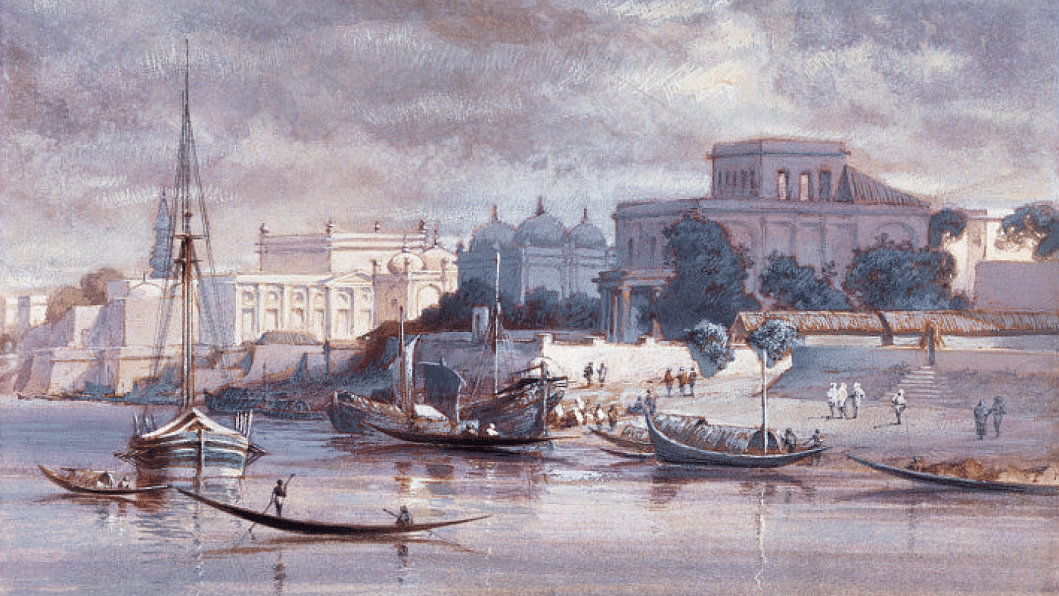 Seventy-five years after the Partition of the Indian subcontinent, we are still a long way from understanding the complex ways in which this event affected the lives of people and communities then, and how it still does. Published every Saturday, this series features scholars of partition studies from across the subcontinent, and is an attempt at exploring the complexities and contradictions of that momentous event. This article, the ninth in the series, takes a glimpse at the story of Dhaka, a city witness to so many defining moments in Partition history.
Since the establishment of three presidency towns by the British East India Company, the Partition of India in 1947 was perhaps the single most significant event that altered the social, cultural, and economic fabric of so many cities in the subcontinent. Dhaka (previously Dacca) is one such city that went through tremendous changes due to the territorial reorganisation, movements of population, severance of old ties, and creation of new ones. A lack of sensitivity about Partition among Bangalee Muslims and a certain degree of silence may be the reason why we don't talk much about it. On the 75th anniversary of Partition, let us examine how Dhaka looked like before and in the immediate aftermath of the event.
Since it was established in 1608 as a Mughal provincial capital, Dhaka has gone through many ups and downs. Once the capital of Bengal was shifted to Murshidabad in 1717, Dhaka was relegated to something akin to the second capital of Bengal. But its centrality to the cotton business of Bengal kept the city thriving. Even in the year of the British gaining the Diwani of Bengal, Dhaka had a population of 450,000. The city's subsequent decline was proportional to the rise of Calcutta as the new centre of trade and administration. By 1800, its population shrank down to roughly 20,000.
Historians attribute Dhaka's subsequent growth to the administrative changes and reforms by the British colonial government. Declaring Dhaka a municipality in 1864 accelerated the processes of slow recovery. Many areas covered in thickets of bushes were reclaimed, roads and bridges were repaired, and new ones were constructed. New residential and garrison areas were laid out. The railway station was built in 1885, connecting it to Narayanganj and Mymensingh.
Dhaka's small stint as the capital of East Bengal and Assam province between 1905 and 1911 was another boost for growth in population and infrastructure. A flurry of construction activities began in the Ramna Race Course area. This area, with its imposing British-styled structures – roads, offices, and red brick residential buildings – back then came to be known as the British or new Dhaka to the people of the city. In the first-ever census of India held in 1872, the population of Dhaka was enumerated at 69,000.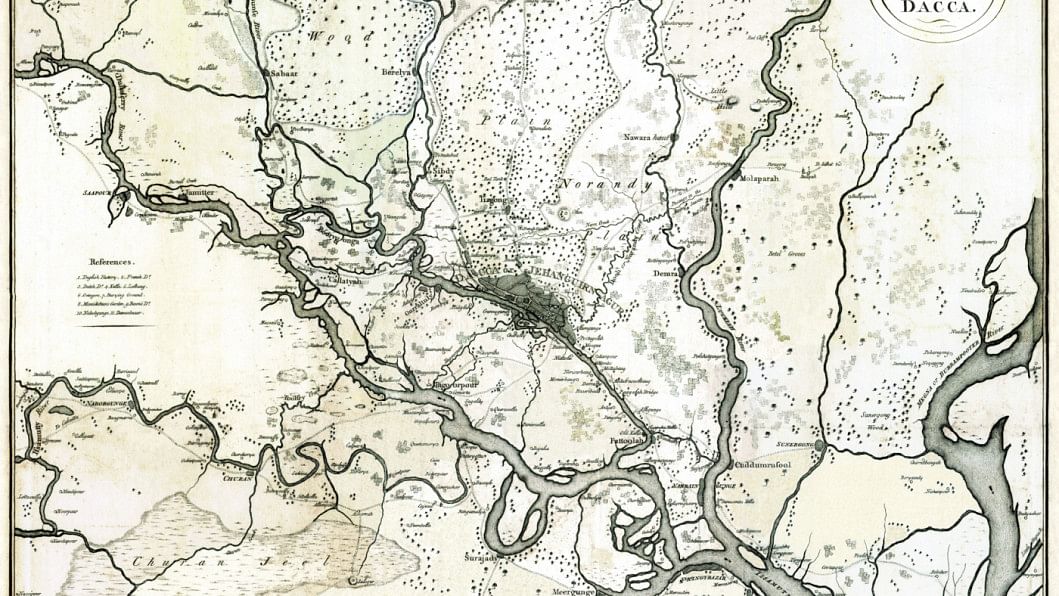 The population growth continued unabated till 1947. One main characteristic of this growth was that the population of Hindus increased more rapidly than that of Muslims. According to the 1941 census, the last census in undivided India, the number of Hindus and Muslims stood at 129,233 and 82,921, respectively. Like 49 other municipalities of the Muslim-majority East Bengal, Dhaka, too, was a Hindu-majority town. Dhaka's lawyers, teachers and physicians were predominantly from the Hindu community.
Most inhabitants of the city lived in the Mughal Dhaka, crammed between the railway station to the north and the Buriganga River to the south. This part of the city was marked by its numerous winding alleys and by-alleys connecting one another and making a complex web of itineraries leading from one locality to another; only the original inhabitants knew all of it. Ramna or the new Dhaka, with its park, open space and streets arranged in perfect symmetry, stood in stark contrast with old Dhaka – so much so that when Rabindranath Tagore visited Dhaka in 1926, he said while the old Dhaka is dhaka (literally meaning "covered"), this area should be called khola (meaning "open").
Patrick Geddes, the foremost urbanist of the time, while visiting Dhaka in 1915, did not find any established order in this part of the city except for segregated neighbourhoods along caste and occupational lines. Different congested mahallahs were inhabited by different occupational groups. The very names Shankhari Bazar, Tanti Bazar, Malitola, Thatari Bazar, Sutrapur, Kagojitola, and many more bear the stamp of this characteristic. Besides, localities were divided along religious lines. While Shankhari Bazar, Ganaktuli, Malakartola, Patuatuli, Kumartuli, Sutarnagar, and Kamarnagar were Hindu-dominated, Mughaltuli, Rahmatganj, Islampur, Begum Bazar, Nabab Gunj were Muslim neighbourhoods.
Some of the most impressive buildings, such as Ahsan Manzil and Ruplal House, were situated on the city's waterfront along the Buckland embankment. This was also the most popular site for the city-dwellers to promenade in the evening.
In fact, in this part of the city, there were queer juxtaposition and layering of old and new, normal and the abnormal, and past and present. Pre-colonial-style houses were bearing markers that came along with the advent of modernity. Similarly, modern buildings and mansions were interspersed with thatched houses. In areas like Sanchi Bandar, Zindabahar, Kumortuli, and Kandupatti prostitutions and houses of respectable bhodrolok stood adjacent to each other – in this case, of course, the latter would bear the insignia "grihastabati."
Trade, commerce, and banking were predominantly in Hindu hands – so were the industries. People from Basak, Das, Saha, Mukherjee, Ghosh, and Pakrashi sub-castes dominated Dhaka's economy. Textile, jute, rice, oil, publishing business and metal button manufacturing were in the hands of Basaks of Nawabpur. Sahas dominated the business in drugs, clothes, coal, colour, varnish, machinery, and hardware. Dhaka's hosiery and textile industries, soap factories, ironworks, glass factories, sugar mills, and tanneries – all belonged to Hindus. Rather than concentrating on any specific areas, these rich Hindus lived in Dal Bazar, Tanti Bazar, and Naya Bazar.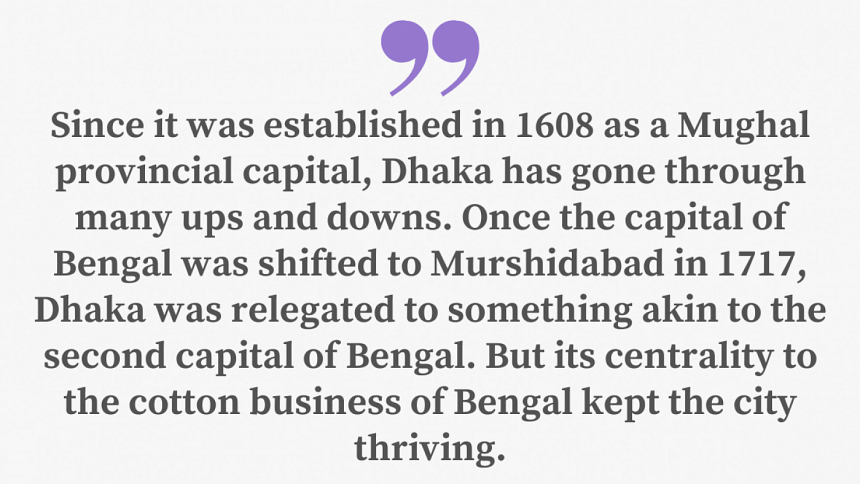 Wari, Gandaria and Narinda were less densely populated, residence to middle-class Hindus with liberal professions. Wari was also the first model housing society in Dhaka. Purana Paltan – the area that seemed like "the last frontier of the world" on days of incessant and innumerable torrents to young Buddhadev Basu – was still outside the municipality (included only in 1953). Paltan and Topkhana became "gentlemanly" only in the 1920s as middle-class Hindus moved therein.
Modern and pre-modern went hand in hand in Dhaka. Water-work and electricity were introduced respectively in 1878 and 1901. But still, the vast majority of people relied on bhistiwala (water carriers) who supplied drinking water in goat skin bags from door to door. Oil lamps were the main source of light that dimly lit both households and city streets, the introduction of electricity notwithstanding. The "wonder-inspiring" batiwala of poet Shamsur Rahman's childhood were seen lighting kerosene lamps hanging from the lampposts – not only in the 1930s, but in 1947 and beyond. Only horse-drawn carriages, rickshaws and bicycles thronged the narrow streets, even palanki were not a rare sight. What was rather rare was the sight of private cars – only a handful of people owned private cars. Passenger buses and motor scooters did not appear until 1947.
When the Hindu-Muslim rivalries in Bengal began to heat up from the 1920s onwards, Dhaka became a microcosm of that political reality. Dhaka had a strong presence of Hindu nationalist forces from the early 20th century onwards, thanks to the city's large, eloquent and vibrant Hindu middle class. The Dhaka branch of Anushilan Samiti, the radical Hindu outfit, in fact, dwarfed its mother organisation in activities and strength. And the gradual rise of Muslim nationalism and Muslims' jostling for places in jobs, education, and local governments intensified the communal tension. As a result, Hindu-Muslim riots became a regular phenomenon. Between 1926 and 1947, Dhaka witnessed some of the most violent riots of pre-partition Bengal in 1926, 1930, 1941, and 1944.
As a matter of fact, the city gained a certain notoriety for frequent communal riots. During riots, for weeks, it was dangerous for people of one community to enter the area of another. In those communally charged days, stabbing was a common occurrence. In addition, Dhaka gained notoriety for its open sewage, mosquitos, and frequent malaria and cholera outbreaks.
The Hindu-Muslim rivalries were also reflected in the politics of giving Dhaka a Hindu or Muslim identity by naming and renaming alleys, streets and localities. Hindu and Muslim leaders of Dhaka competed against each other to have streets and localities named after themselves and their relatives, and for this purpose, they used their wealth and influence. This trend particularly gained momentum in the 1920s and continued throughout the 1930s and 1940s.
But riots and the pathetic public health situation were not the entire stories of pre-1947 Dhaka. Compared to other large Indian cities, no doubt it was stagnant and provincial. But the city had its own way of life and charms. Dhaka residents were content with their city and everything it offered. Their Wari Club and Victoria Sporting Club, pigeon racing, and its magnificent yearly Janmashtami procession and Muharram festival brought Hindus and Muslims together, their religious differences notwithstanding. During the Janmashtami procession, Roopbabu and Raghubabu, the two richest businessmen of Dhaka, would patronise the Nawabpur section of the procession, and the Nawab family of Dhaka in the Islampur area. Such colourful processions never happened after 1947.
After the decision to divide India into two dominions was proposed on June 3, 1947, amid the clamour about the fate of Calcutta, an emergency meeting of the working committee of Bengal Provincial Muslim League on June 27 decided to establish the headquarters of East Pakistan in Dhaka.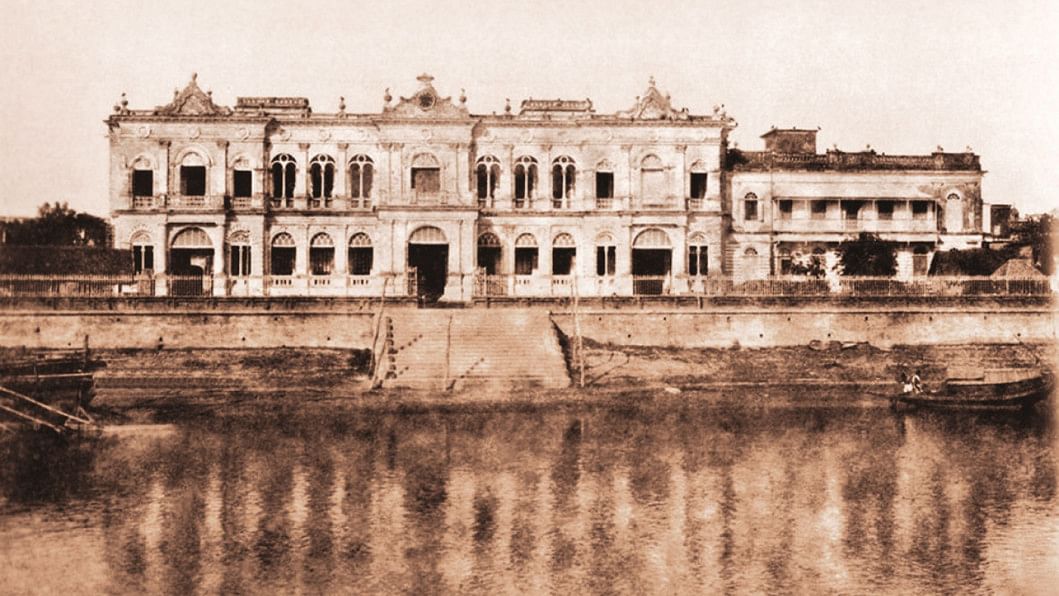 Though Dhaka was the largest town in East Bengal, not all the districts of East Bengal were commercially affiliated with it. Many of the East Bengal districts such as Barisal and Faridpur were more connected to Calcutta than Dhaka commercially and administratively. Partition immediately elevated the city to the level of the capital of the most populated province of Pakistan.
With Partition, an army of bureaucrats, government officials, and law enforcement authorities began to pour into Dhaka, as well as refugees and private citizens. But a municipality of six square miles did not have sufficient resources to host a fully fledged provincial government. There were not enough houses and buildings to accommodate a new High Court, Legislative Assembly, and Secretariat. The city was even devoid of an airport, except for a rundown airstrip built during World War II six miles away from the city.
The composition of demography began to alter. Middle-class Hindus – people with what Joya Chatterji called "mobility capital" – money, education, and connections – started migrating to West Bengal. A bleak future in a state carved out for Muslims made them make such decisions. When Mizanur Rahman came to Dhaka from Calcutta right after Partition, he found that Wari, the main Hindu middle-class neighbourhood of the city, was almost desolated. Those who left were torn between the decision of whether to migrate or stay.
Communal disturbances and harassment, and most notably hostile government policies, accelerated the outgoing migration of educated and affluent Hindus. The ruthless requisition of Hindu houses to accommodate the new government forced many Hindus to leave Dhaka. In addition to the urgency of the situation, there was a retaliatory aspect to the way these houses were requisitioned. When the issue was raised in the East Bengal Legislative Assembly, the then finance minister said nonchalantly, "Most of the pucca houses which are fit for occupation for government offices and residences of the officers belong to the minority community." It can be said the provincial government of East Bengal in its early days rested on minority properties to a great extent.
More often than not, the owners of these houses were not given any compensation or alternative accommodation. According to the provincial government, by March 25, 1948, at least 739 Hindu houses were requisitioned by the authorities. Such dispossessions continued well into the 1950s. Even though these houses were requisitioned for an urgent requirement of administrative purposes, many were handed over to Muslim refugees and local Muslims.
At the time of Partition, the chairman and the majority of the 25 commissioners of the municipality were Hindus. The provincial government perhaps did not deem it appropriate to have a Hindu as the head of the main city of the province. The authority of the municipality was taken over by the executive body of the government. Bimalendu Dasgupta, chairman of Dhaka Municipality, evacuated to West Bengal soon afterwards. Institutions built by Hindus as part of nationalist movements and some iconic Hindu business enterprises were taken over by the government on account of alleged "mismanagement" or to put them to "better use."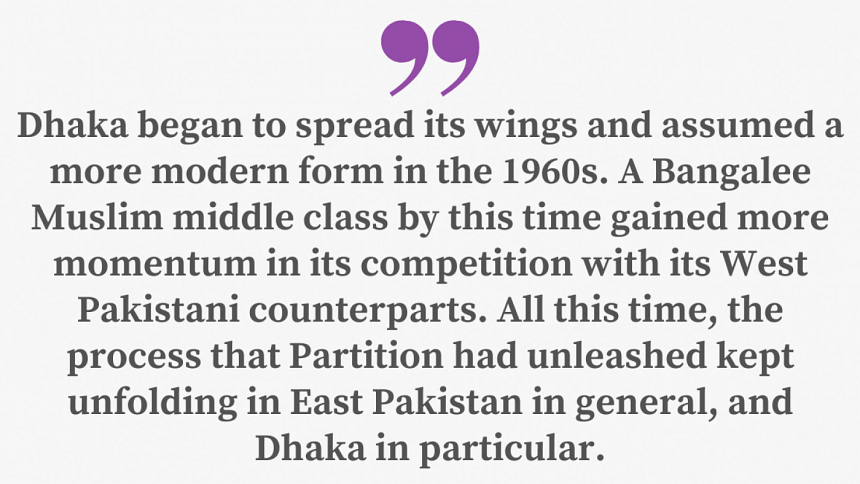 In Punjab and north India, minority properties were administered through "evacuee property regimes" – a system in which properties of "evacuees" or "intended evacuees" rested in the hands of government-appointed custodians. Even though initially exempted from such laws, a slightly altered version of this law was introduced in both Bengals, Tripura, and Assam after the riots of 1950. Like other places, in Dhaka too, this law along with requisitions resulted in dispossession and crisis in inheritance for the minority community. Later on, when Dhaka was expanded and new urban amenities were introduced, minority properties were utilised.
But still, some people managed to sell and transfer their immovable properties by taking recourse to a complex system of trusteeship. In the aftermath of Partition, some business enterprises sprang up in Dhaka that facilitated outgoing Hindu refugees in selling, exchanging, and transferring their properties.
The product market of Dhaka was dominated by Hindus. They faced discriminatory treatment regarding export-import licences and during renewal of permits. Even though the flight of Hindu capital and skills created immense opportunities for the burgeoning Muslim middle class, its immediate impact on the city was devastating. There was a severe scarcity of basic necessities. The normal functioning of the administration became seriously constricted. Educational institutions came to a standstill in the city.
The riot of January-February 1950, one of the most violent riots in East Bengal, forced many Hindus to flee and further demoralised and dispossessed those who stayed back. Hindus were at the receiving end of carnage conducted by Muslims emboldened by state power. Not only middle-class Hindus, this time Scheduled Castes and various other lower-caste Hindus, too, fled the city in huge numbers. The Dhaka City Muslim League secretary and Mohajir leader, in a joint statement, said, "Before Partition, Hindus were the majority in Dhaka; now they have become the minority."
This was further reflected in the 1961 census of Pakistan. Out of a total of 556,749 people in Dhaka city (consisting of Dhaka municipality, Dhaka urban, and cantonment), only 50,690 were Hindus – among them, 33,970 were caste Hindus, and 16,720 were Scheduled Castes.
From the beginning of Ayub Khan's military dictatorship, Dhaka began to spread its wings and assumed a more modern form in the 1960s. A Bangalee Muslim middle class by this time gained more momentum in its competition with its West Pakistani counterparts. All this time, the process that Partition had unleashed kept unfolding in East Pakistan in general, and Dhaka in particular. The city has transmogrified further since 1971, but a little scratch will reveal the footprints of Partition hidden underneath various parts of it.
Mohammad Afzalur Rahman is currently pursuing PhD at Jawaharlal Nehru University in New Delhi, India.