What we learnt about SRHR from our work with landless groups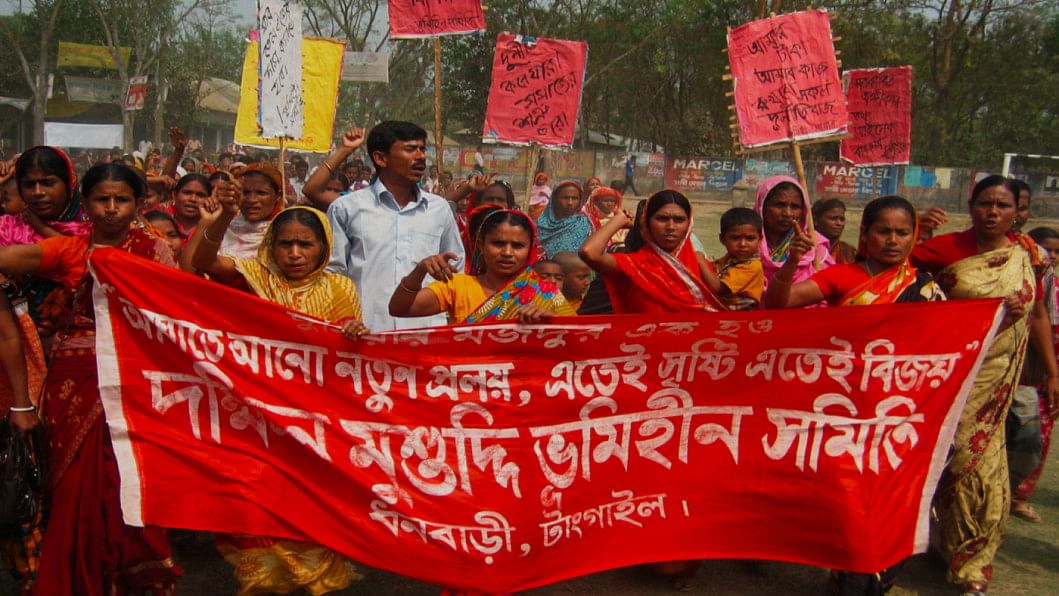 How can a development organisation in Bangladesh truly reach the grassroots? While most organisations in this field tend to provide tangible support systems such as microcredit, transferring assets to the poorest, running of educational or health services, etc, Nijera Kori takes a different approach—working in rural areas with marginalised communities to build self-help groups who are able to assert and defend their own rights, and are aware of their entitlements.
Recognising the need for women to have their own autonomy, Nijera Kori has focused on working with women and supporting them to create spaces for themselves since its inception in 1980. While at the grassroots level, there are separate women's and men's groups; at the village, union and upazila levels, committees are made up of both men and women. The emphasis is on ensuring men understand the issues faced by women, learn to be sensitive, and develop empathy for women and other gender non-conforming groups, thus eventually working towards a more equal society.
Rural society is not homogenous, and class and gender inequalities, as well as exploitation, exist across it. Keeping this in mind, Nijera Kori has begun working with the new generation in recent years, specifically focusing on adolescents, in an effort to build a better future.
A part of this effort is ensuring they understand that one's body and the right to health is a basic right, and that access to health services and knowledge about reproduction is crucial for individuals to understand and assert their rights. Both young girls and boys are educated by Nijera Kori on these topics. It is important to include boys in the process in order to bring about the necessary social and psychological changes, since the world we live in consists of men, women and other non-binary genders that we are now more conscious of.
However, we were initially concerned about whether children and adolescents in remote, rural areas, among the poorest and most marginalised communities, would accept or even understand these topics; and if local norms, religious ideologies and cultural practices would be a barrier to discussing one's body, oneself, and sexuality. It was a pleasant surprise to find that in most places, our fears about resistance to talking about these issues and openness in sharing were unfounded.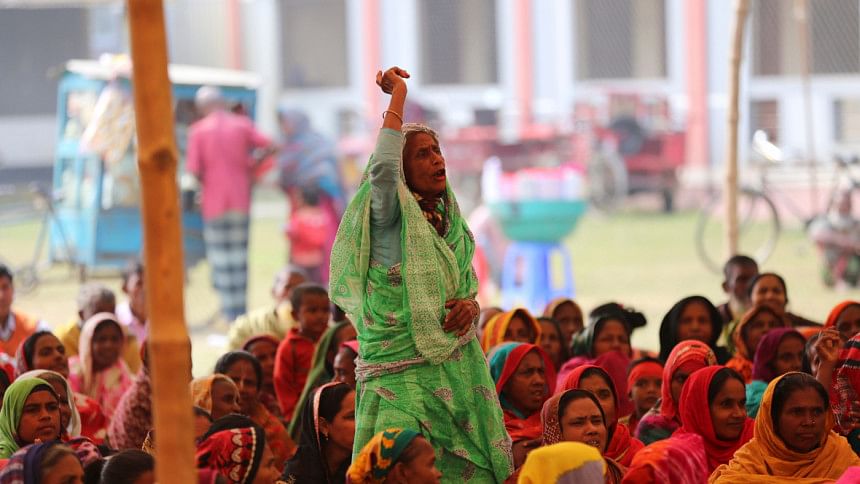 In fact, young children were willing to talk and be exposed to new ideas. We have had many cases of girls, as young as 14 or 15, challenging their parents and insisting on being allowed to study and live their own lives, without being forced to get married. We have also seen young adolescents from their groups confront boys who were sexually harassing others, and these boys apologised and stopped such practices.
These children have also formed vigilante groups to prevent underage marriages, and have forced their schools to institute complaint committees, as directed by the government. There have been a number of incidents where they even involved the local administration to support them and take necessary actions. Some of these young people challenged their own parents, and went as far as publicly exposing local elected officials who helped falsify documents to conduct child marriages and stifle the dreams of young girls. That was an eye opener, since we were labouring under the misconception that children from remote villages, particularly from the most economically and socially vulnerable strata, would never question authority, especially that of their fathers. 
One of our biggest shocks came from finding out the extent of sexual violence inflicted on young girls, and to some extent, on boys, in the villages. In almost all of the areas we have been working in, school teachers, madrasa teachers, imams, purohits, priests, as well as close family members and neighbours, were sexually abusing young children with impunity. The scars remain with the children we have had the opportunity to have frank and open discussions with. The trauma remains. 
I have talked to other people—not related to Nijera Kori but who also give opportunities to young children to open up—who have shared listening to similar experiences. This is an issue of major concern, that is prevalent at all levels. While realising the very great need for providing services, this sharing made us even more determined to work on the issue of sexual, reproductive and health rights (SRHR), and ensuring they are viewed as a rights issue, and not just as services to be provided.  
Along with working with adolescent children on awareness and knowing how to act, resist and take action on matters related to SRHR, we realised the value of building one's self confidence at all levels, so that each individual can learn to negotiate and assert her/his/their own space. In this regard, a major deficiency in most areas in Bangladesh is the lack of physical exercise and sports for girls. With this in mind, we encouraged many of the young girls we work with to start playing sports, even in the most conservative rural areas, with football being the most popular, followed by self-defence classes. The confidence that this has brought about in their bearing and actions is remarkable. This is visibly seen as a new social phenomenon in these areas.
Nijera Kori has also seen women's groups take on the responsibility of ensuring proper health services are available, without having to pay bribes. They have taken steps to not only benefit themselves, but also the entire community, including those who are not members of their groups.
The awareness and empowerment in communities that Nijera Kori has witnessed comes from the collective activities of the groups and the children. For example, they have planted trees—not just for food, but also to preserve the ecosystem. This understanding of the value of cultivating and preserving the environment has developed through their collective understanding. There have been studies which have shown that not just their agency, but tangible benefits such as nutrition and health status, have improved considerably among those who have been part of this conscientisation or awareness building process, compared to those who were only given loans, asset transfers or provided with other services.
We found that one of the most effective actions to develop agency was for the organised groups to take up tackling corruption and recovering pilfered and extorted amounts. Corruption, unfortunately, is rampant across Bangladesh, from the village level to the centre. The health sector is no exception. Very often, the services that are supposed to reach the people in general are only provided to those who are economically better off, or to the more influential. This is also true of providing contraception, where women are just given the available method, without any explanation of the consequences, what the method is, how it works, what other alternatives are available, or what she should do if she changes her mind, or if the method does not suit her. Many women face problems because the methods that have been pushed onto them were not suitable for them in the first place.
It is noteworthy that, during the Covid-19 lockdowns, family planning centres were closed and no services were available. However, through their collective efforts and mobilisation, the women in landless groups were able to restart the centres and ensure access to services.
The nation—and the planet as a whole—needs responsible and active citizens. Citizens who are able to take control and lead meaningful lives with dignity, to ask for and ensure accountability.  For this, it is important to start with children, particularly adolescents.
Gender-based violence and sexual violence, which is so prevalent, is largely a result of a lack of awareness about the self, and about respecting human beings. In order to respect others, one has to first learn to respect one's own self.
Violence against women will continue unabated until and unless, not just women and children, but both men and women, most particularly adolescent children, learn to understand and respect each other. Sex education, awareness building, and understandings of sexuality and diversity is important. All of this needs to start at a young age. One of the ways Nijera Kori endeavours to work towards creating a better world is through enabling honest and critical discussions around topics which are still considered taboo in mainstream circles. It may be small, but nothing is too small to initiate change, if the change remains and is sustained.
Nijera Kori and The Daily Star felt that SRHR was an important enough topic to warrant bringing out this issue. The hope is that it will be taken seriously by those who make policies and implement them, and by the public at large. This can, in turn, give rise to many more discussions and pieces reflected in media, especially on issues that are not usually highlighted in the same way.
Khushi Kabir is coordinator of Nijera Kori.