Leave private universities out of BCL politics
It doesn't take a rocket scientist to know that one should not change a running system. The private universities are doing just fine without the presence of partisan politics. They have recently been told by their monitoring body, the University Grants Commission (UGC), to up their game (read: curricula) by incorporating several essential skills and co-curricular club activities. They have been told to move to a semester system with a notional credit hour system outlined by the Bangladesh Accreditation Council. The proposed system entails a lot of outside-the-classroom activities to facilitate critical thinking, team-building, and creative expression to foster youth activism.
Students of the top private universities, by design, must engage in clubs where they learn life skills such as leadership, negotiation, time management, finance, communication, presentation, IT skills, and so on. They take part in healthy debates or defend their entrepreneurial ideas curated by experts from the industry. They incubate their ideas and pursue various Sustainable Development Goals (SDGs) in alignment with government plans. Their efforts are reflected in various ranking indexes. The upper crust of these universities strategically pursues ranking criteria and regularly participates in the ranking process. Some of them have even attained global benchmarks with mentionable success.
In a rare feat, two Bangladeshi debaters from a Bangladeshi private university won a world championship. It goes on to show the congenial climate of the private universities in which critical discussions and extracurricular activities flourish. Regrettably, these are fast withering from the public system. One can argue that these two debaters had their foundational years at the Institute of Business Administration (IBA) of Dhaka University; that only goes on to highlight the non-political feature of the institute.
We can still find old footage of BTV debates in which some of our current political leaders are seen representing public universities, medical colleges, and engineering universities. The incumbent education minister is a case in point. Unfortunately, such a culture of tolerance, plurality and social cohesion that can be argued for and against is gone.
The student wing of the ruling party has not proven itself to be a champion of discursive practices. Their recent presence in the media has been far from positive. They harp on the glory days of student politics without stating their current role in it. Bangabandhu Sheikh Mujibur Rahman gave us a nation. And in a resource-scarce, heavily populated country, the onus of building the nation is on the human capital that includes the stock of knowledge, skills and other personal characteristics that make people productive. I do not know of any student-focused activities of the student league that requires a formal presence in private universities.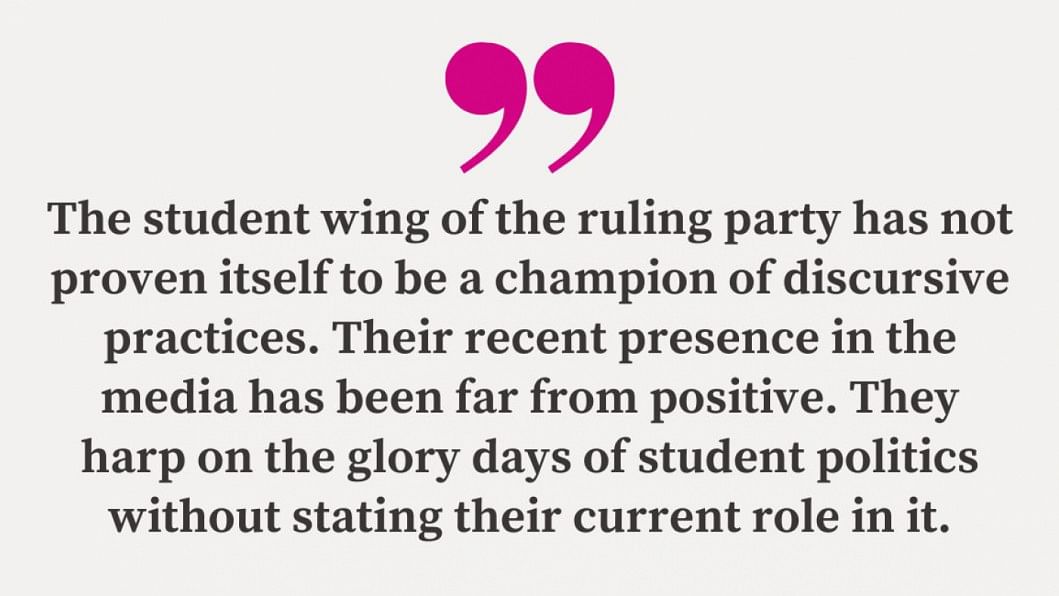 It was refreshing to watch a video report published by Amader Shomoy featuring Golam Rabbani, the former general secretary of Bangladesh Chhatra League (BCL). As the head of HR in a corporate house, he is trying to accommodate his former colleagues in the organisation that he works for. He candidly confesses that he receives over a thousand CVs a day, yet he cannot give jobs to even 10. It's not because there are not enough jobs, but because the job seekers do not have the necessary skill sets. They have their academic degrees, but nothing beyond the certificates. Rabbani goes on to comment that his party has become a "factory for unemployment." The central party leaders use the students for political events. Only a few move up the career ladder and find posts in the party – and the rest are discarded. These are the students who become a liability to their families, societies and, by extension, to the country.
The adrenaline rush felt by young students on campus dies down once they face the cruelty of the real world. The dream reality of power they fashioned by posting PVC banners here and there to vie for the visibility of their central leaders faces a reality check. On campus, they mark the walls and pillars with graffiti to announce their pervasive presence. Their material expressions of their everyday politics are evident in their clothes, sunglasses, motorcycles, and mobile phones, declaring that "visibility is everything." Whether they truly believe in the ideology they are airing remains to be tested. They display their power in the protection of state power.
So when they unilaterally announce that they will have units in different private universities, ordinary citizens get alarmed. They have not discussed this with any of the institutions to which they are assigning fully fledged student bodies. The private universities registered under the Trust Act are non-political. A press release issued by the Association of Private Universities of Bangladesh (APUB) reiterated their position, saying that they do not discourage students and faculty from holding and exercising progressive political views in their sphere, but they do not want partisan politics on campus, which they feel will disrupt the congenial academic atmosphere.
Interestingly, most of the signatories are known for their pro-government affiliations. Yet, they believe that the proposed introduction of Bangladesh Chhatra League units will harm their institutions. The main argument given by the student wing is to resist reactionary politics on campus. They have cited Clause 6 (10) of the Private University Act, 2010, which asks the universities not to get involved in activities compromising the sovereignty and freedom of Bangladesh. In such serious cases, the state surveillance system is more appropriate than some empowered youth who thrive on disempowering others.
It is time for the ruling party student wing to do some soul-searching. When a student was killed for a patriotic post at Buet, the perpetrators came under overwhelming moral and social sanctions. They completely alienated themselves to an extent that even former student leaders were not welcome to hold events on campus. And this is not the only occasion where they abused power and faced consequences.
A recent report by the Center for Insights in Survey Research (CISR) on campus politics maintains that there is an overwhelming cynicism against politics as students see it as a self-serving agency. The student political parties do not focus on real student concerns such as seats in the dormitories, food quality, logistics and infrastructure, job placement, updated curricula, healthcare services, substance abuse, etc. Instead, they promote a culture of political favouritism that exacerbates campus problems. There is a dearth of civic education. Campus politics can be beneficial only if faculty, administration and students are freed from partisan politics.
We have seen it in the case of youth activism led by Malala Yousafzai or Greta Thunberg. We want our students to be world leaders who can negotiate deals in an entrepreneurship contest, offer counterarguments in a debating meet, lead a team in sports or programming contests, generate ideas for social developments, and reach out to the disenfranchised community. We want them to win hearts with their passion for the real development of the country. We do not want to see them muscle-flexing for a piece of the development pie. We do not want student bodies to chase fancy for campus glories that do not have an afterlife.
Dr Shamsad Mortuza is a professor of English at Dhaka University.