Should student politics extend into private universities?
Yes, but not through Chhatra League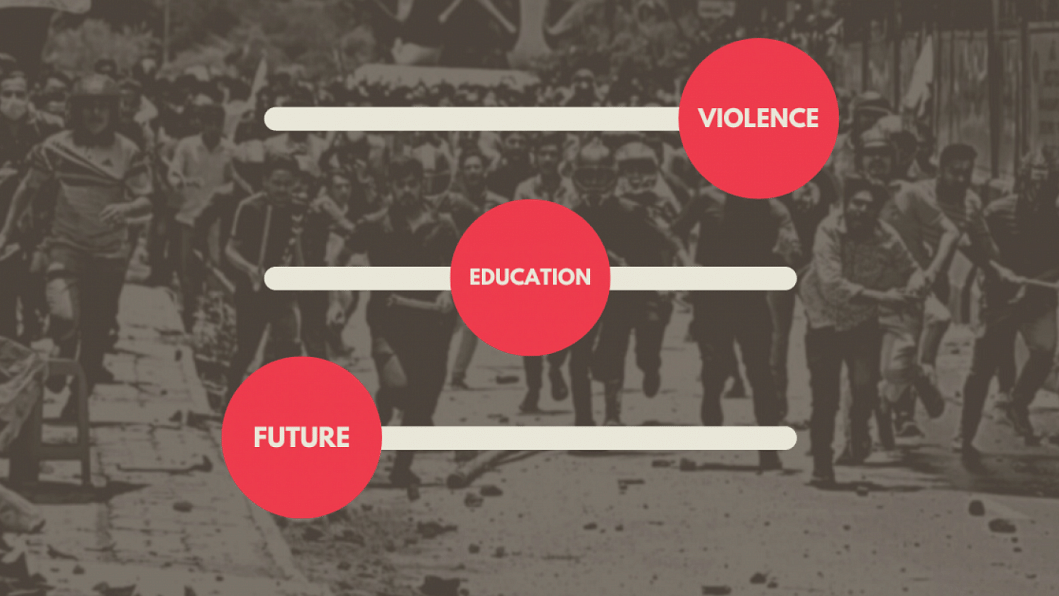 Recently, we have seen the news that the ruling party's student wing is extending itself into private universities by announcing individual committees for various institutions. This development has met with growing concerns from private university faculty members, students, and their parents, many of whom don't want party politics to enter their campuses.
Why is there such an aversion to party politics? The reason becomes clear if we look at the political practices at public universities. It is not an exaggeration to say that the ruling party's student wing maintains a culture of terror within those campuses. The residential halls in public universities are often in their control, and students are compelled to attend party programmes – which takes time away from their study schedule or socialising – if they want to save their seats in the halls. Even outside the halls, the leaders of Bangladesh Chhatra League (BCL), the student wing of the ruling Awami League, hold immense power, often instituting unwritten codes of conduct that all of the students must abide by. And if any student dares to say or write anything that goes against the party's interest, they face harsh repercussions, which often translates to physical violence. Infighting among various groups of the same party are commonplace and fighting with other student groups also takes place, making the environment somewhat unfit for education.
Do we really want such practices to enter the domain of private universities, too? The answer is clear: we do not. Extending such practices to private universities will greatly hamper the environment for education on those campuses. That is probably the reason why various private institutions such as East West University (EWU), University of Liberal Arts Bangladesh (ULAB), American International University-Bangladesh (AIUB), and North South University (NSU) have already instituted a rule that no party politics will be allowed within the campus. This is a welcome decision.
In this case, we see a conflict between two powerful groups. One is the owners and trustees of private universities in Bangladesh, and the other is BCL. Both of them have lobbying powers with the government, with one having a strong financial standing in society and the other directly linked to the regime. It will be interesting to see which group ultimately triumphs, but it is clear that the government will be involved in this conflict to broker a decision. The private university authorities have the right to disallow certain forms of interactions and organisations within their campuses as private bodies, and the ruling party's student wing also has the right to exercise its political rights. These two sets of rights justifications need to be reconciled while keeping the interests of the students in mind.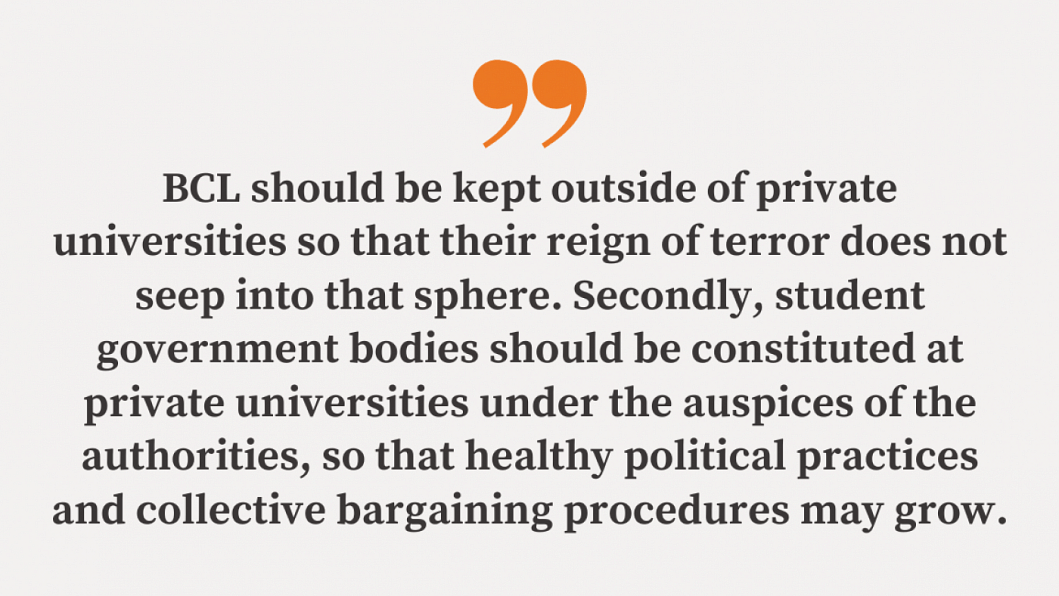 Which group ultimately prevails will depend on which one has the higher power within the prevailing structure, and how important BCL thinks its project of forming individual committees for private universities is. An interesting arrangement is possible, where there will be committees for private universities issued by the BCL, while the private universities will also prohibit political activities within their campuses. In such a setting, political activities by private university students who want to take part in Chhatra League politics will not totally stop, but only refrain from organising within their institutions to avoid being expelled. The authorities may feign blindness to political activities outside of campus to avoid confrontation.
However, the growing power of student leaders may make it increasingly hard for private university authorities to keep things in check and avoid their power practices. Only time will tell what happens, but in the era of of party politics seeping into every sector, it is not unimaginable that private universities will eventually be proliferated by party politics, too.
But what do the students of our private universities really need? Should they be kept entirely divorced from all politics? That doesn't seem to be the right choice either, because we have seen that these students have historically had issues and needs that needed to be addressed through political means. In the "No VAT on Education" protests in 2015, private university students staged a powerful movement that was definitely political in nature. Their way of congregating, organising, strategising, making demands, etc were all political. Organisations and semi-organisations were formed that were political. However, they were rights-specific and issue-specific, and they were necessary to serve the interests of the student body. They were not simply an extension of the national political parties that would use the students as head counts for their rallies.
Such rights organisations are extremely necessary, and the best method of fostering that is to institute student unions or student governments at every private university. Through these bodies, students would be able to collectively bargain with the authorities of their universities and present their demands for a better educational environment. If there is a need to negotiate tuition fees or things of that nature, the student government can do that as well. All students should be able to participate and vote in the student government elections, and the elected bodies should have term limits. This would ensure that students are represented in a bargaining body and their voices are heard by the authorities. This will also increase a student's sense of belonging to their institution, and give them an incentive for good behaviour if they want to become a future leader. This mechanism would also foster leadership skills for students who can then employ those skills in their careers. Even future independent political figures and parties can grow out of this process.
Therefore, I propose two solutions. Firstly, Chhatra League should be kept outside of private universities so that their reign of terror does not seep into that sphere. Secondly, student government bodies should be constituted at private universities under the auspices of the authorities, so that healthy political practices and collective bargaining procedures may grow. The second policy will also aid the first objective of keeping the toxic Chhatra League politics out of private universities, as there would be less of a political vacuum for them to fill in. A mixed approach of these two solutions can bring about the most positive change.
Anupam Debashis Roy is an independent writer and researcher.