The Power of Love
Valerie Taylor, whose work on disability issues in Bangladesh has transformed countless lives for the better, turns 75 today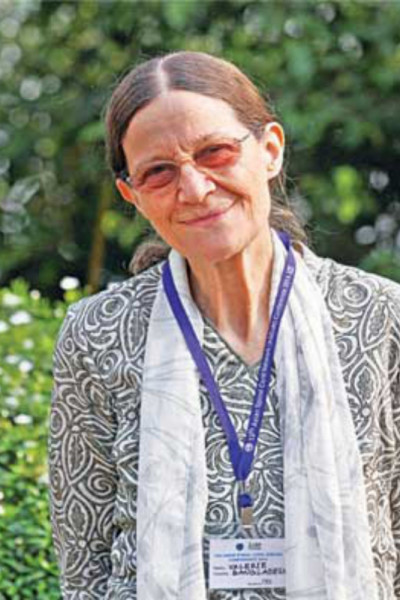 Valerie Taylor refuses to accept despair as the final outcome of the ambiguities of life. She proves that nothing makes one incapable of reaching up for the possibilities that confront him or her. At the Centre for Rehabilitation of the Paralysed (CRP), she and her dedicated staff have given a new life to many paralysed persons by providing them with treatment and training.
Born on February 8, 1944 in the UK, Taylor's first visit to Bangladesh was in 1969 to volunteer as a physiotherapist at a hospital in Chandraghona. She returned to England four years later to raise funds for establishing a rehabilitation centre for paralysed people in Bangladesh. CRP opened its doors to patients in 1979. She has received numerous accolades at home and abroad including OBE (1995) and Bangladesh Independence Award (2004). She was granted Bangladeshi citizenship in 1998. Today is her 75th birthday.
***
In 2012, Kaniz Fatima, now a captain in the Bangladesh Army, met with an accident before she was about to get commission. The injury left her paralysed from C4-C5 level. From Chittagong, she was taken to the Combined Military Hospital by a helicopter. Then the Army sent her to Bangkok.
After coming back, Captain Fatima received treatment at CRP for six months. She says on email, "At CRP, the treatment of persons with disabilities is extraordinary. They have a dedicated team of physiotherapists, occupational therapists, speech and language therapists, psychologists and clinical nurses. CRP not only provides medical treatment and rehabilitation, but also addresses emotional and psychological aspects of patients which is very important in early stages of injury."
Md Foysal Rahman, a teacher at a public school, is a suvivour of spinal cord injury. In 1987, while a student of class seven, he was hit by a train when his bicycle got stuck in a rail crossing, leaving him paralysed from waist down. "I underwent treatment in Singapore and India. Then I went to CRP. With the encouragement of Valerie, I earned a Masters from Dhaka University. I also completed B.Ed. and M.Ed. Valerie took care of me like a mother. Who else but a mother loves this way?"
Then there is Tania Sultana Munni, a former school teacher. On January 18, 2012, she was riding an auto rickshaw when all of a sudden, her shawl got stuck in the wheel. She suffered a broken neck. "After receiving treatment at another hospital, I went to CRP. I received treatment and counselling for six months. The sports and cultural activities helped me a great deal. Valerie gave me a job as an office assistant at CRP."
I had an opportunity to see many more lives that were transformed by this institution when I visited on a cool November morning in 2014. A tri-nation sports tournament was being held at its premises. A group of players played basketball while spectators cheered them on. A 16-year-old young man named Pintu who broke his backbone after falling from a tree wheezed past on his wheelchair singing a film song. The place seemed magical. Everybody was in a wheelchair but their spirit was free.
Now contrast this with many other hospitals where patients are reportedly overcharged, neglected and harassed, and we understand how big of an achievement it is to create an environment like this.
What makes the difference? Dr Jon Moussaly, a renowned US physician, says, "I always leave CRP with a renewed sense of purpose in pursuing our work, no matter what obstacles we face. It is truly a unique institution in its commitment and dedication to caring for patients from the time of their injuries until they are integrated back into their communities, and then for the rest of their lives." Dr Moussaly is an emergency physician at Massachusetts General Hospital, US and founder of TraumaLink Bangladesh who has visited CRP several times.
He adds that CRP has pioneered the field of assistive device manufacturing in Bangladesh by relying on locally available materials. This makes them far less expensive and easier to repair than products imported from abroad. And they have also focused on nurturing the development of new leaders in rehabilitation science and patient care in South Asia through their educational programmes.
***
When I asked Valerie Taylor why she did all this, she gave a very simple answer. "If we send these people home after giving them the initial treatment, what are they going to do with their lives? Without vocational training and a chance of a job, they will be left alone in the backrooms of their homes and watch life slip by."
It seems entirely self-evident to her that those in need of loving care should be able to receive it. Captain Fatima says, "Valerie Taylor's approach towards patients is very open and cordial. While talking to her patients, she makes them comfortable in such a manner that they can share their sorrows and grievances with her without hesitation."
As we emphatically acknowledge Valerie's sacrifice, we wonder what to make of an act of love so complete that it encompasses even those she had never met or known nothing about previously. For most of us that's where the difficulty lies—in feeling empathy that transcends geographic boundaries, colour and creed.
Amitava Kar is a member of the editorial team at The Daily Star.