The case for an independent Police Complaints Investigation Commission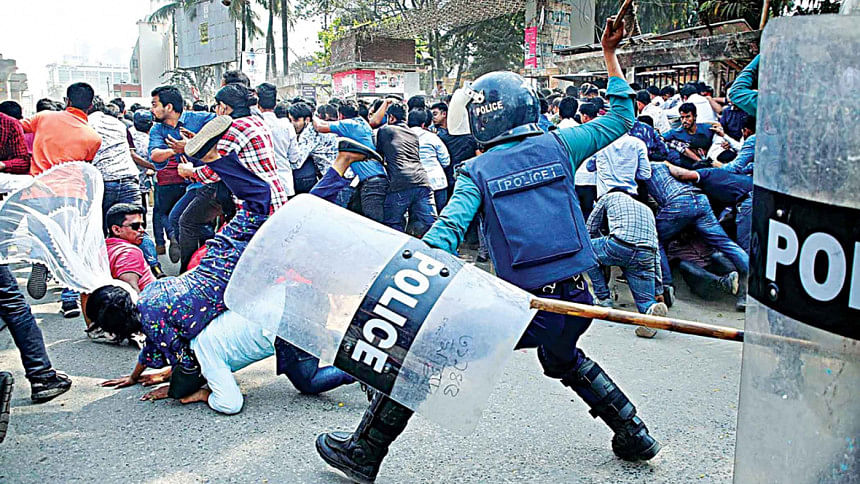 According to media reports, more than a hundred lawyers of the apex court of Bangladesh have collectively filed a writ petition with the High Court, seeking its directive to the government to constitute an independent commission to investigate allegations of crimes committed by law enforcers. The writ petition says that a section of law enforcers are involved in eighteen types of crimes that include extra-judicial killing, rape, stalking, drug trade, torture, causing custodial death and enforced disappearances. The lawyer for the petitioners is of the opinion that since law enforcers themselves conduct inquiries into the allegations against their colleagues, the probes are not done fairly and neutrally, and hence the demand for an independent Police Complaints Investigation Commission.
The High Court is yet to set a date for hearing the petition. However, the allegations cited above should cause concern and the rationale for establishing an independent investigation commission cannot be summarily ruled out. One has to bear in mind that the specific form of authority exercised by police—to arrest, to search, to detain and to use force—can be disruptive of freedom, invasive of privacy, and sudden and direct in its impact on the individual. The point to note is that such authority is, of necessity, delegated to individuals at the lowest level to be exercised and often without prior review and control.
We also have to take note of the reality that the basis for concern about police powers is that the impact of instances of police malpractice is greater for both individuals and society as a whole. These officers are armed with a greater degree of directly applicable power over citizens and, furthermore, the degree of autonomy given to individual officers in their exercise of that power allows even a junior officer to exercise a level of decision-making that is usually reserved for senior persons in other government organisations.
We have to also bear in mind that any challenge to police indiscretion can very well escalate a poor interaction into a disastrous confrontation. Since police actions often have implications for civil liberties, it should be viewed more seriously than misdeeds of other public servants.
Public confidence in a complaints investigation system comes from the knowledge that any complaint will be vigorously investigated. The way the complaints investigation process is perceived by the public is, perhaps, an even more important issue than its efficiency as determined objectively, since there is a very real public fear that complaints against police will not be taken seriously, and that serious matters will be covered up by an internal investigation.
Public confidence will increase when the police complaints system provides for an external body to supervise an investigation, or to review the evidence and conclusion drawn by police investigators, especially when this body has both the power and the will to carry out an impartial review and order a re-investigation if necessary.
In Australia and Britain, statutory bodies have been established to oversee internal investigation of complaints against the police. In the United States, all large police departments have both an internal system for investigating complaints and a review board with non-police community representatives to make decisions on the disposition of complaints.
Dr Muhammad Shoaib Suddle, a former Director General, National Police Bureau, Pakistan, observes, "While the independent police complaint authority in Britain consists of members of civil society and is mandated to inquire into serious complaints against police, one of the most important functions of the Public Safety Commission in Japan is to ensure that police operations are uninfluenced by the party in power. Being in charge of the administration of the police force in their respective jurisdiction, the apolitical public safety commission at national and prefecture level are meant to ensure that police are insulated from the day-to-day debilitating influences of political control."
Ultimately, the public needs to be assured that a law enforcer who is corrupt, violent, or otherwise allows personal bias to result in grossly unfair treatment to different sections of society, shall no longer be permitted to remain in its police service. A legally built coercive organisation is always likely to deviate and default, human nature being what it is. Concerned citizens and the authority need to understand that in the arena of law enforcement, the interaction is often between the worlds of the powerful and the powerless, and that civil liberty shall precede enforcement efficiency.
Structured thoughts and ideas on the establishment of an independent police complaints body in Bangladesh do exist. The need, quite clearly, is the political will to commence the process, at least to rein in the worrying malfeasance of our law enforcers.    
Muhammad Nurul Huda is a former IGP of Bangladesh.