Why our religious leaders must condemn Nusrat's murder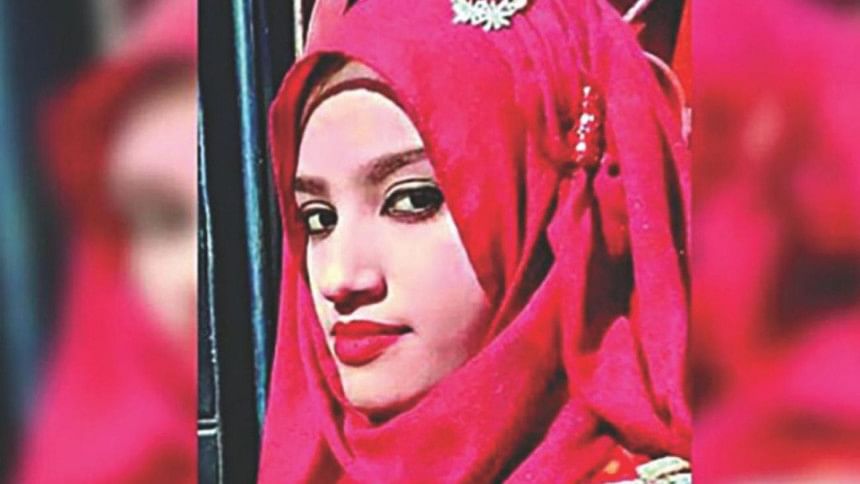 Any Bangladeshi with an iota of humanity should still have their conscience reeling over the heinous murder of Nusrat, the brave girl who refused to remain silent after her madrasa principal, Siraj Ud Doula, sexually abused her. It is because of this bravery and for exercising her basic right to seek justice that she was abducted on the day of her exam, tied up, doused in kerosene and set on fire by a group of burkha-clad individuals, at least one of them female. Nusrat eventually succumbed to her burns a couple of days later, leaving her family devastated and all those who were praying and hoping for her recovery.
Siraj had been sexually harassing Nusrat for quite some time and reports suggest that he had harassed other students too in the past without any consequences. Nusrat had to face overwhelming odds in trying to bring Siraj to account, facing discouragement and stigmatisation from some of her teachers, classmates, and the police too. On one occasion, she was even physically assaulted by unidentified miscreants who spread rumours about her being in a romantic relationship with someone which resulted in the beating. Eventually, she was able to lodge a case on March 27, 2019, but since doing so, she and her family faced multiple death threats. It is in this context that the conspiracy to burn Nusrat to death was hatched and executed by Siraj and his supporters. Even after facing this brutal ordeal of attempted murder, Nusrat refused to be subdued. On the hospital bed, she made her elder brother record her testimony, knowing that she may well not be able to testify against Siraj in court. Nusrat inscribed in her notebook the details of how Siraj abused her and ended by writing: "I will fight till my last breath. I will punish the one who hurt me in a way that others will learn a lesson. God willing, I will give him the maximum punishment possible."
True to her words, Nusrat did fight till her last breath, bravely attempting to pierce the insidious cloak of impunity enjoyed by Siraj, not just to seek justice for herself, but for all the past and potential victims of Siraj's sexual abuse. Nusrat's fight for justice imbues the oft-cited Hadith where Prophet Muhammad (pbuh) is reported to have said: "Whoever among you sees an evil action, let him change it with his hand [by taking action]; if he cannot, then with his tongue [by speaking out]; and if he cannot, then with his heart [by at least hating it and believing that it is wrong], and that is the weakest of faith," (40 Hadith Nawawi 34). Indeed, Nusrat saw an evil taking place and she tried to change it by both speaking out and then taking action, and lost her life in the process.
I went to the weekly jumu'ah prayer on the Friday following Nusrat's death, really hoping that the Imam of my local masjid (one of the largest in the city) would make at least one mention of Nusrat's heinous murder, laud her courageous struggle for justice, condemn the person who sexually abused her and then had her killed, or at the very least mention her name when reciting the munajat. However, in the sermon that lasted for about half an hour and the munajat that followed, the Imam did not make a mention of any of these.
The khutba mainly centred on the importance of nafl (supererogatory) acts such as fasting during the month of Shaban and praying tahajjud. At the end of the sermon, there was one slightly random mention of how sitting beside the lake for picnic is against Islamic adesh (commandment). l wondered, surely the case of a madrasa principal who sexually abuses his Alim students and then has one of them burnt to death for daring to seek justice is a bigger affront to Islamic adesh—that deserved condemnation or at least a reproachful mention—than that of harmless picnickers by the lake. Even during the munajat, he prayed for the success of all the students giving board exams around the country but, again, failed to mention the one student who was abducted, tied up, doused in kerosene and set on fire at the venue of her Islamic board exam, and subsequently died from severe burn injuries. Surely, the Imam could have spared a word of prayer for her soul and her family's forbearance at the loss.
Khutbahs are meant to provide introspective reflections on the existing practice of Islam in our society. They are meant to act as a weekly reminder which inspires, guides and educates the community. When an Imam delivers this weekly reminder, they shoulder the monumental task of representing Islam and speaking on its behalf. How then can an Imam ignore an atrocity that took place inside a madrasa, involving a madrasa principal and scores of his supporters marching on the streets shamelessly demanding his "unconditional" and "immediate" release? How can they make no mention of the sordid state of affairs in the country we live in, where "religious" leaders enjoy such a high degree of impunity that not only do they feel comfortable enough to sexually abuse children in their place of education, violating the core teachings of the very religion they are supposed to preach, but even after allegations against them are found to be true and a young girl has been burnt to death for daring to seek justice, they have this many men and women marching in support of them?
Anyone who turns a blind eye to the abuse of power in schools, madrasas, colleges and other educational institutions becomes a part of the problem. Their silence becomes complicity. We owe it to Nusrat to ensure that the uphill battle to end this insidious culture of impunity she so bravely struggled to fight does not end in vain. Our religious leaders owe it to Islam to do the same.
---
Taqbir Huda is a socio-legal researcher and can be reached at [email protected].
---
Follow

The Daily Star Opinion

on Facebook for the latest opinions, commentaries and analyses by experts and professionals.
To contribute your article or letter to The Daily Star Opinion, see our

guidelines for submission

.
---