America's moment of self-reckoning?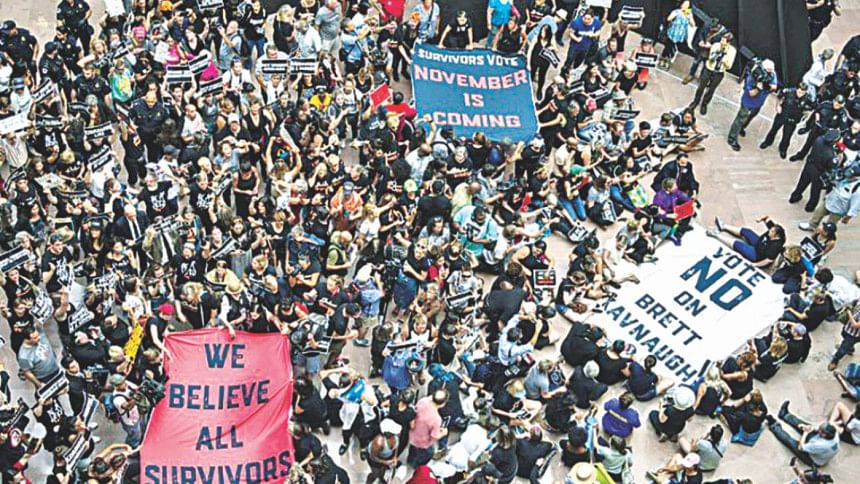 The past week has been tumultuous and agonising for most Americans. A week of speculation, media hype, and political and personal drama surrounding the confirmation process of Brett Kavanaugh to a lifetime seat on the United States Supreme Court. Bringing the Orwellian tragedy to a finale, the Senate confirmed Kavanaugh, much to the dismay and dissatisfaction of many experts as well as ordinary citizens who believe that his presence will undermine the court's claim to legitimacy and neutrality. Typically, American Supreme Court appointments should not concern the world. However, this one should. Let me backtrack a little to explain why.
The Kavanaugh hearings have gripped the United States not only because of his conservative and radical views on abortion, presidential immunity and executive privileges—although for most Americans these issues have raised an alarm. But what has truly shaken the country and much of the world is the accusation made by psychology Professor Christine Blasey Ford that Kavanaugh sexually assaulted her when they were both teenagers. Dr Ford narrated her traumatic experience under oath in front of the Senate Judiciary Committee, with millions watching her on television—a poignant testimony of how a drunken 17-year-old Kavanaugh, along with a friend, locked her in a room and attempted to rape her. Her compelling and moving narrative had such an impact that thousands contacted the media and Senate Representatives to show their support. In the aftermath of the testimony, numerous women came out and recounted their own painful experiences of sexual violence, iterating that they had at last found a voice.
To ward off allegations of any personal or political motive, Dr Ford asserted: "I am here because I believe it is my civic duty to tell you what happened to me while Brett Kavanaugh and I were in high school." However, her emotional and riveting account was countered by a belligerent, partisan and hard-hitting tirade from Judge Kavanaugh. He and his supporters in the Senate screamed their outrage by turning the accusation into "a calculated and orchestrated political hit, fuelled with apparent pent-up anger about President Trump and the 2016 election." The core message of sexual violence encapsulated in a brave woman's painful story of attempted rape was lost in the quagmire of political infighting and white-male-rage. It was once again a sad reminder that misogyny is the primal and most enduring tyranny of human civilisation.
Ironically, this was also the week when the Nobel Peace Prize was awarded to Congolese gynaecologist, Denis Mukwege, who treated rape victims, and Nadia Murad, the Iraqi-Yazidi activist, who was captured and sold into sex slavery by ISIS. The committee announced that the recipients "helped to give greater visibility to war-time sexual violence." While the Nobel needs to be commended for recognising activists working against sexual violence, it is important to note that these crimes are ubiquitous and exist both in times of war and peace. More importantly, sexual crimes are not only confined to Congo, Sudan, Yemen or Saudi Arabia—or within the outlawed ISIS—but are also prevalent in the United States, the country that prescribes "norms" for moral behaviour and expresses outrage when these are violated in other parts of the world!
Kavanaugh's confirmation happened in the backdrop of a president who has been (rightly or falsely) accused of sexual misdemeanours, has demeaned women openly and publicly mocked Dr Ford's testimony. Sadly, the US Supreme Court is now tainted by two Justices accused of sexual misconduct—one for making lewd remarks to female colleagues and the other for attempted rape. These men will have a decisive say in interpreting the nation's laws, and passing verdicts on important issues related to the Constitution, including women's rights. Add to this the multiple incidents of sexual harassment and abuse in US corporations that women have exposed in the last few years through the media and #MeToo movement. The foregoing scenario gives us little comfort about the safety and future prospects of our daughters and granddaughters.
It is indeed shocking that despite affidavits from friends, therapist reports and a polygraph test, the Republican members of the Judicial Committee deprecated Dr Ford's weighty accusation. After conducting a sham FBI investigation, they railroaded the confirmation of Donald Trump's hand-picked, controversial nominee to the highest court of the country. Clearly, party politics triumphed over the protests of thousands of citizens demonstrating in front of the Capitol and the Supreme Court. This should be a cause for concern and anxiety. For when elected representatives fail to listen to the voice of the people, it is a signal that democracy is in grave danger.
The Senators who voted "Yea" for Kavanaugh might wish to reflect on what another Senator, Robert Kennedy, said five decades ago, as America faced the challenge of surmounting racial discrimination. He warned the privileged and powerful: "But history will judge you, and as the years pass, you will ultimately judge yourself, in the extent to which you have used your gifts and talents to lighten and enrich the lives of your fellow men." This may be the defining moment when Americans need to go through a process of self-reckoning, and bow their heads in shame and guilt because they have failed women and…humanity.
#MeToo
---
Milia Ali is a Rabindra Sangeet exponent and a former employee of the World Bank.
---
Follow

The Daily Star Opinion

on Facebook for the latest opinions, commentaries and analyses by experts and professionals.
To contribute your article or letter to The Daily Star Opinion, see our

guidelines for submission

.
---