What is the antidote to toxic masculinity?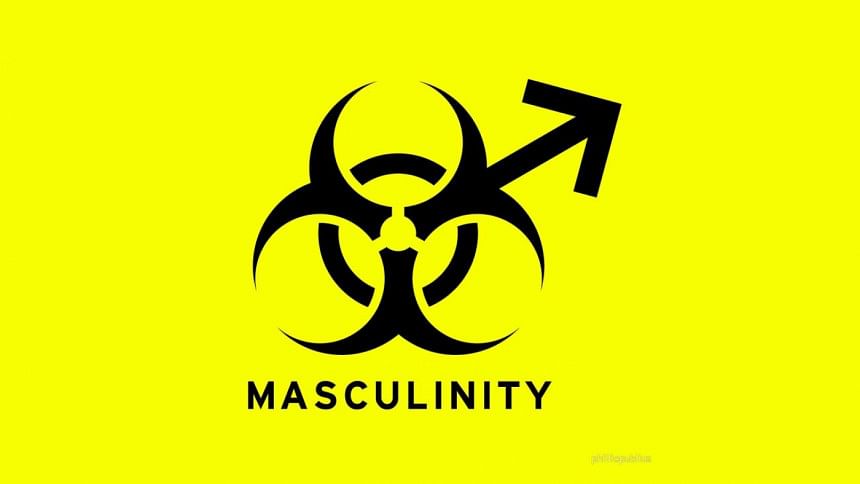 Feminism has always challenged gender roles, and for a long time it was assumed that issues regarding gender only related to women, and weren't men's issues. The concept of toxic masculinity might seem like a new one but it was actually put forward in the 90s by men's movements, namely the mythopoetic men's movement, to denounce problematic male behaviour. Their aim was to recover "deep masculinity", which comprises feminine traits that men are shamed for and discouraged from, like being nurturing and expressing emotions. Toxic masculinity was recognised back then as a problem, although the concept has evolved since then in order to distance itself from the notion that it exists as feminist propaganda in order to vilify men.
There are people who believe that toxic masculinity is a myth, and that claiming it exists is a direct attack on men. These people will decry feminism for not being about men but fail to see how upholding a patriarchal society is what is damaging our boys. It's a common knee-jerk reaction to (incorrectly) assume that protesting toxic masculinity is the same as condemning men, when it's the opposite: destroying toxic masculinity will protect them.
We assign gender roles to our children before they're even born. During infancy, our boys are dressed in blue lest they look effeminate in any way. We admonish them for displaying emotions and exhibiting traits we deem as being feminine ("don't cry like a girl"). Boys are encouraged to play outside, explore, and be adventurous and sporty, and destructiveness is almost expected of male children. Even the toys they play with ooze hypermasculinity (Action Man/GI Joe, anyone?) There's nothing inherently wrong with those things until they're imposed on a child because of social expectations. We're caught in this seemingly never-ending spiral of toxicity. We keep telling ourselves "boys will be boys," and when they're well into adulthood, "men will be men", but it doesn't have to be this way. 
Sociologists use the term "toxic masculinity" to refer to the negative attitudes associated with the male gender role, and let's be honest, there are a lot. It represents behaviours that are seen as natural, but are in fact physically, socially, and psychologically damaging. The notion that men must be stoic and mustn't show emotion is reinforced all throughout childhood, yet figures from the Mental Health Foundation show that around 4 in 5 suicides are by men, even though there are less men actually diagnosed with mental health problems than women. This tells us men are suffering, but can't and won't talk about it. Granted, more and more men are opening up about everything from mental health to domestic and sexual abuse, breaking down the idea that these things only happen to women. The damaging effects of patriarchal gender roles are backed up by statistics that show that men are far less likely to seek help for their problems—because we haven't taught them how. Society's paradigm of manhood has always revolved around physical strength and dominance and thus the cognitive dissonance is born. Men are shamed for being vulnerable, yet there aren't many things as fragile as the male ego, because they are expected to live up to a certain stereotype and will do anything to conform. This is evident in one of the earliest attempts to theorise the idea of hypermasculinity, a psychiatry article from the 80s, where it is argued that although hypermasculinity can be split into two basic categories (the "man's man" and the "ladies' man")—"healthy men" are absent from both. 
If the patriarchy is a river—and a polluted one at that—toxic masculinity and rape culture are its tributaries. They go hand in hand and feed off each other. Men aren't innately rapists, but rape culture thrives when society tells men that strength and power are the most important things, and that power is measured by dominance over women. That's not to say that men are never victims of sexual assault or that women are never abusers. This is not about rape itself, but about rape culture, and how unhealthy ideals of manliness perpetuate it.
A lot of people are of the misguided opinion that feminists hate men. I don't hate men. I hate what the patriarchy has done to men. All those repressed emotions manifest in unhealthy ways, either externally through aggression and violence, or internally through depression and other mental health problems. It's frustrating watching the men in our lives exhibit misogynistic behaviour in a myriad of ways, because that's just what's expected of them. It's even more frustrating watching women excuse this behaviour, because of the very same reason. The standards currently imposed on men are unfair, and breed so many other issues—things like homophobia and misogyny. We need to start holding men to a different, better standard—one that allows them to be themselves instead of what society expects them to be.
Our fathers and grandfathers may come from a time where everything was either masculine or feminine, with no fluidity, but we can make things different for our sons and grandsons. We shouldn't be teaching them to conform to these age-old monolithic gender roles that are quite frankly redundant now. Let them be empathetic, vulnerable, and gentle. Let's stop shaming boys for displaying typically feminine traits. In order for us to be able to dismantle these social constructs, we need to realise that people should be able to express themselves in any way they want. If a boy wants to pursue typically masculine hobbies then that should be a choice, not an expectation. These aren't Western concepts that only affect men in the Western world. Our men are suffering too. These ideals are both directly and indirectly killing them. The onus is no longer on us women to undo decades of damage; it should be a shared responsibility for people to unlearn these behaviours and create a safer, more progressive society for future generations.
---
Zahrah Haider is a journalism graduate and freelance writer currently living in the UK.
---
Follow

The Daily Star Opinion

on Facebook for the latest opinions, commentaries and analyses by experts and professionals.
To contribute your article or letter to The Daily Star Opinion, see our

guidelines for submission

.
---