A towering figure in child healthcare in Bangladesh
Remembering Dr Tofayel Ahmed founder of Dhaka Shishu Hospital on his 90th birth anniversary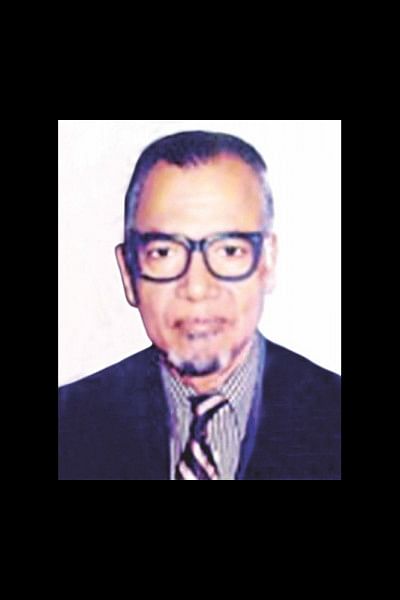 In recent years, a series of studies by the United Nations and World Bank applauded Bangladesh's efforts in curbing child mortality. In Asia, among the least developed and middle-income countries, words of praise were particularly reserved for Bangladesh. According to Unicef, the UN children's emergency fund, Bangladesh has done an "outstanding job" of decreasing the rate of child mortality by almost 80 percent since 1990. The country also has a higher than average annual reduction in child mortality rate at 5.5 percent.
This impressive gain has not been achieved in a single year or a decade. There have been contributions from many people and organisations that have led to it. Dr Tofayel Ahmed, a founder of the Dhaka Shishu (Children) Hospital (DSH) is one of them. As a paediatrician and a leader in his field, he oversaw the construction of the country's—and one of the world's—largest specialised hospital for children. But these days he has become a forgotten man. All that remains is his mural at the hospital. A giant in public health in Bangladesh is hardly remembered, other than by his close friends, relatives and colleagues.
Dr Tofayel was born in Bikrampur in the then undivided Dhaka district to a well-known Muslim family in January 1929. He did his MBBS from the Dhaka Medical College Hospital. He later went abroad to be trained as a paediatrician. He had private practices, but mostly spent his career building institutions that now proudly serve millions of people every year. Apart from being the member secretary of DSH, he was a professor and the head of Department of Community. He was also a senior consultant at the BICH, an institute at the DSH. He died in Dhaka on March 12, 1997.
His 90th birthday was on January 1, 2019 and this is an apt time to remember his contribution towards Bangladesh's impressive gains in the healthcare sector. Dr Tofayel, as he known to his friends, was the member secretary of the DSH Trust Fund and the founder member secretary of the Management Board of the 535-bed DSH. He was also the member of the construction committee of the DSH, which started functioning at its current premises at Sher-e-Bangla Nagar in 1977.
He was one of the youngest professors of paediatrics. But while many of his colleagues spent their whole life in private practices, Dr Tofayel dedicated all his life towards providing public healthcare. Former colleagues still remember him for his years of leadership and tireless efforts to build one of the world's best hospitals for children.
"All I can say about him is that he was a born leader who loved children. Ensuring quality healthcare for every child and mother in the country was his lifelong dream," said his former colleague and one of the country's top paediatricians, Sirajul Islam.
Islam still fondly remembers those years in the 1970s when he helped set up a tent hospital for children at Dhanmondi, which later grew into the DSH. "The war of liberation had just ended. The country was still very poor. And there were hardly any good hospitals for children and mothers. It was during those years that Dr Tofayel Ahmed realised the need for a quality community healthcare for children," he said.
But the government alone could not fund the construction of such a big hospital. Dr Tofayel and his colleagues, including professor Sultan Ahmed Chowdhury, who was the first director of the DSH, came up with the novel idea to raise funds through lotteries. Holding a lottery to raise fund for a noble cause is a western idea. It was never tried or tested in Bangladesh. But thanks to their tireless efforts, the lotteries proved to be a huge success and provided some seed money for the giant hospital.
"Those were difficult times. The government's budget was very low. We had to depend mostly on foreign aid to construct any major project. Still Dr Tofayel and the other founders did not give up their hopes," said Dr Islam.
Islam also recalled Dr Tofayel's contribution in delivering quality child and healthcare to the doorstep of his countrymen, especially rural people. "He was a pioneer in rural healthcare," he said, adding that Dr Tofayel also built Palli Shishu Foundation (Rural Children Foundation), which still provides quality healthcare to children in villages. "He also helped set up a top child healthcare institute at the BSH."
Dr Hanif, a reputed child nephrologist who uncovered the paracetamol scam that killed hundreds of children, lauded Dr Tofayel's "tireless efforts" to shape the BSH into a world-class hospital and institute. "He was a workaholic, who hardly took any rest even when he became sick during his late years," remembers Dr Hanif.
"He was also a visionary who felt the need for a top public hospital for children. He wanted to turn the DSH into an institution that not only serves the rich and middle-class but also the poorest of children from the countryside. During those days, when public healthcare was still not adequate, he felt the need for training doctors who provide healthcare in remote villages. He had a deep love for the poor rural children," he said.
---
Sheikh Sazid is a businessman. Email: [email protected]
---
Follow

The Daily Star Opinion

on Facebook for the latest opinions, commentaries and analyses by experts and professionals.
To contribute your article or letter to The Daily Star Opinion, see our

guidelines for submission

.
---