Childcare at Hospitals: 95pc don't have all of 10 basic tools
Says govt survey on 1,524 health facilities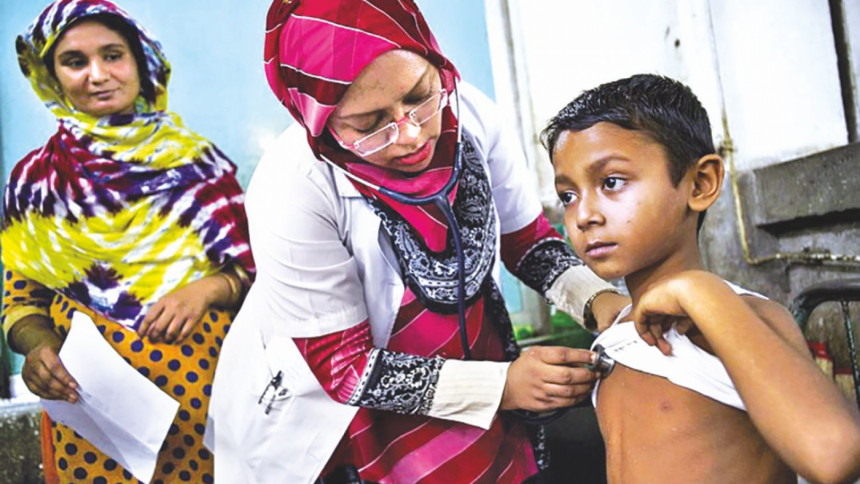 Ninety-five percent hospitals and healthcare institutions in the country do not have all of the 10 basic instruments required to treat children, according to a government survey.
As per WHO guidelines, the 10 items are necessary for providing child curative care. These include Integrated Management of Childhood Illness (IMCI) guideline, staffers trained under the guideline, child scale, thermometer, growth chart, medicine, ORS, zinc tablets/syrup, amoxicillin syrup/suspension and mebendazole.
Bangladesh Health Facility Survey (BHFS) 2017 finds that the overall child healthcare situation has deteriorated in the last four years. In 2014, nine percent hospitals and healthcare institutions were capable of providing curative care service to children.
Conducted by National Institute of Population Research and Training (NIPORT), the survey covered 1,524 health facilities and 5,400 service providers from eight divisions. A total of 40 teams, led by doctors, collected data from the health facilities.
The report was prepared last year, but it is yet to be published.
The study said, "Only 1 in 20 health facilities that treat sick children have all the WHO recommended tracer indicators [guideline, trained staff, drugs and equipment] on site. Service readiness of health facilities for child curative care did not improve between 2014 and 2017."
Md Shamsul Haque, line director of maternal, neonatal, child and adolescent health at the Directorate General of Health Services (DGHS), said although the healthcare facilities didn't fully comply with the WHO guidelines, the situation was not that grave.
"There might be shortages of equipment 
and medicine at some healthcare facilities, but the overall situation is good at the upazila and district levels," he told The Daily Star.
For example, if a weight scale breaks down, the hospital authorities concerned send a letter to the higher authorities with a requisition, he said.
Shamsul said the same thing happens in case of medicines.
The NIPORT surveyed public and private facilities with at least 20 beds each, and nongovernmental healthcare facilities in the formal sector. These institutions maintain widely accepted licensing, training, and policy standards.
The survey, funded by the Bangladesh government and United States Agency for International Development (USAID), provides information on the availability and readiness of services for maternal, new-born, and child health, family planning.
The report also painted a dismal picture of the antenatal care (ANC) service. It said only 4 percent of the country's healthcare facilities are capable of providing quality ANC services.
Antenatal care is provided by skilled healthcare professionals to pregnant women and adolescent girls in order to ensure the best health conditions for both mother and baby during pregnancy. The components of ANC include: risk identification; prevention and management of pregnancy-related or concurrent diseases; and health education and health promotion.
The WHO has identified a set of items/tracer indicators for offering quality ANC services. The six indicators include trained staffers, guidelines, equipment, diagnostic facility and medicines.
Asked about the absence of basic equipment, Abul Kamal Azad, director general of the DGHS, said he would not comment as he was yet to see the report.