Remembering Murti,1971
Just a few months into the war of liberation it became clear that the guerrilla operations would eventually have to be accompanied by warfare conducted by troops organised in regular units.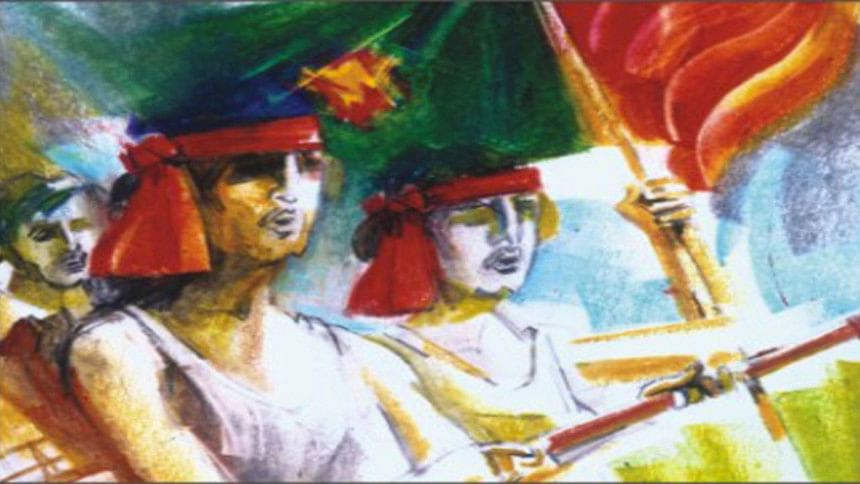 Just a few months into the war of liberation it became clear that the guerrilla operations would eventually have to be accompanied by warfare conducted by troops organised in regular units. The units would have to be raised from among the guerrillas, and officers would have to be trained to lead them. In early June officer cadets were selected from the various sectors.
Dipu (Quayyum Khan) and I, who had been interviewed in Sector 7 reported to 8 Theatre Road (Shakespeare Sarani), where the Bangladesh government-in-exile was housed, and met Sheikh Kamal, Bangabandhu's eldest son, who was also one of the selected cadets, and a fresh-faced youth called Alik Gupta, who had come up from a south-western sector. The four of us had to report at once to a military hospital in Kalyani for our medicals and then head for the training school. We took the train to Siliguri, then transferred to a branch line and got off at a tiny station snuggling against a hill; it is called New Mal.
The narrow station platform became the scene of a back-slappingly joyous reunion. There was Samad Bhai, two years my senior at St Gregory's, and half a dozen old friends I knew from my two years at Faujdarhat Cadet College, Sayeed Bhai (now a retired Major General), Hashmi Kamal, the twins Munib and Mizan, and Didar. There were two fellow students from the English department of Dhaka University, Nazrul (now an MP) and Shawkat Ali.
We were a motley crowd, which was only to be expected in an unconventional war. Most of us were students when the crunch came; a few had started working, and a couple of us came from the armed forces: Amin, who came from the education corps in the Pakistan Army, and Awal Choudhury, who came from EPR Signals. There were two brothers, very different in temperament, rambunctious Saleem (one of our three war martyr course mates) and Anis, now a veteran physician and liberation war researcher. I wish I could write about the personalities and foibles of all my course mates, but that would require a book.
An Indian Army truck conveyed us through winding hill roads to Murti, a sprawling military camp that had been converted into a Mukti Fouj training centre. The larger part of the camp was occupied by guerrilla trainees, who were put through an intensive two-week course before they were sent to their respective Mukti Fouj sectors. At the other end was our officers' training school, which was very different from anything I could have imagined. It comprised a couple of bamboo barracks in which sixty-one of us cadets would make our home for fifteen weeks.
We were issued with bedding and civilian apparels of antediluvian design: cheap coloured cotton shirts that buttoned only halfway down, billowed out below and had side pockets like kurtas; and long and flappy shorts. At lights out we spread the bedding on the bare cement floor, turned down the flame of the hurricane lanterns and slept like babies. In time we were kitted out more appropriately, in khaki dungarees and jungle boots; and bamboo cots were provided, a dubious improvement, for the things were flimsy and the bamboo splints could pinch the skin of the unwary.
Our day began at false dawn, when we queued up for half-pint mugs of sweet, milky tea, then filled up empty beer bottles with water from drums and headed for a row of trench latrines. PT followed, then breakfast of puri-bhaji and more tea. We would change into dungarees and go to get our rifles for military drill and weapons training. In between there were lectures on tactics. In the afternoon we had games, and night exercises a couple of times a week. For several weeks we were always moving on the double.
It took its toll; several of us began limping because of strained knees, among them the redoubtable Phaero Bhai (Syed Kamaluddin) but there was no respite. On night exercises we slithered and slipped and played battle games amidst bushes, and came back with fattened leeches stuck fast to the skin.
Even amidst all the rigours of training there was time for jokes and leg pulling and even a little reading.
There was little by way of recreation, but as the weeks passed we managed to save a little from our modest pocket money and slip off now and then for an outing in a nearby bazaar.
When the monsoon ended the fields became dry and firm. Once on night exercise we ran into wild elephants that had come down to graze in the fields of ripe grain along the river behind our camp. The commandant, Colonel Dasgupta, fired a few warning shots above the heads of the giant beasts. Captain Jadav, a sapper, whose favourite locution was to call everyone a joker (even our heroes, if we had any, and our leaders were jokers, only they were bigger jokers than any of us), wryly commented: "Only an anti-tank mine can stop an elephant. We don't have any with us, so you jokers had better run and get on the high ground behind us before the elephants decide to charge."
The elephants didn't charge after all and before we could have further encounters we had all qualified for our commissions and proudly marched to our passing-out parade. It was attended by the cabinet-in-exile and Colonel Osmani, whose rococo moustache and Sandhurst accent had a predictable effect on all the Indian officers. "He can't be a colonel," they said. "He looks like a general." And so he did become before long. And we were now second lieutenants with a war to fight. Within days we got our travel orders and were on our way.
A second war course began after we passed out but the war was over before they could be commissioned. Those among them who decided on a military career were given further training after the war and then commissioned. The veterans of both courses are members of the War Courses Foundation, which organises a reunion every year on October 9, the day of the passing out parade of the First War Course. It's a day to celebrate the camaraderie we shared in Murti and on the battlefield, and to remember our fallen comrades.
Kaiser Haq is a poet, translator, essayist, critic, academic and a freedom fighter. Currently, he is the Dean of Arts & Humanities at the University of Liberal Arts Bangladesh (ULAB).