Living in a minefield of manmade disasters
Will anything ever change?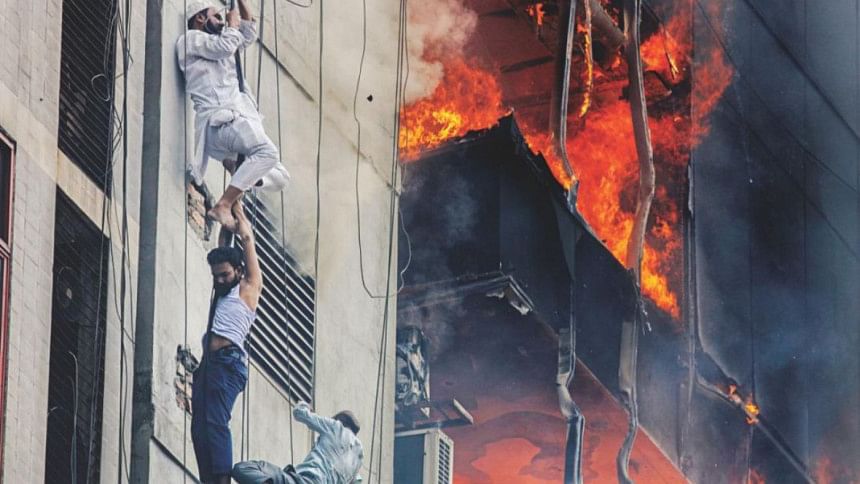 I was at the canteen during lunch hours at my workplace on Thursday when I found out about the fire in FR Tower. Everyone's eyes were fixated on the TV. The large clouds of thick smoke billowing out of the high-rise seemed unstoppable. Here we were, staring at real-time footage of another fire disaster, only after a little more than a month since the deadly Chawkbazar fire in Old Dhaka which claimed 70 lives. Here we were, eyes glued to the TV screen, watching people standing behind broken windows, waiting desperately, hoping to be rescued, when the memory of Chawkbazar is still fresh on our minds. At least 25 young lives have been lost in the Banani fire that began at around 1pm on Thursday and was doused after six long, gruelling hours.
Is this the kind of danger that we have to contend with on a day-to-day basis? Is anyone listening? Does anyone even care? Are we supposed to bask in the glory of seven-plus GDP growth when no one can guarantee the most basic of safety standards?
The helplessness that comes with being a resident in a city where you have to hear horror stories about people falling from the 11th floor to their death and bear with the sight of people trapped in a building on fire, hands stretched out to rescuers on cranes, is unimaginable. Is this the new normal we have to live with?
Despite all obstacles, the firefighting units, who had support from the army, navy and air force personnel, left no stone unturned in their rescue efforts. These are the men whom we all count upon every time such a tragedy strikes—an all-too-common occurrence in this city. These are the men who have to make do with whatever little resources and facilities they're equipped with, because apparently, we haven't witnessed enough fire incidents—16,000 in 10 years—to substantially increase investment in this sector to turn it into a well-paid profession in order to attract enough manpower (which, according to the fire chief, is currently lacking). These are the men who repeatedly put their lives on the line to save those who are put in a precarious position due to a long chain of negligence of others. To be specific, negligence of some government officials and greedy business owners who feel as though they are above the law because they have friends in high places.
The Banani fire has exposed once again, much like the Chawkbazar fire, the long chain of complicity that often goes into making disasters of this scale. It has also laid bare the myth that some parts of this city—including the ludicrously termed "tri-state" area—are safer than others. They're clearly not. Inflated rent prices, overpriced stores and bustling restaurants are not a sign of wellbeing and safety. Maybe, Rajuk can tell us how many buildings in Banani and Gulshan—which supposedly reflect our prosperity and wealth—were built in compliance with the building code.
Because after Thursday's deadly fire in the "affluent" area of Banani, the long list of violations behind the construction and management of FR Tower finally came to light. Of course, had the fire not taken place, none of us would ever have gotten to know about this. But then again, no one was surprised by this fact either. You see, as a resident of this country, you have to get used to turning a blind eye to violations of every kind happening around you, for your own sanity. Moving on, the building didn't have permission to build the top four floors and no fire-protected staircase. But it's not that the authorities didn't know this. They had notified the building owners on Kamal Ataturk Avenue, including the owner of FR Tower (who, unsurprisingly, could not be contacted by this daily for comment), "at least five to six times, asking them to take precautions for fire safety. But no one ever complied," said the director (operations) of fire service. So, is that where Rajuk or Fire Service Department's responsibility ends? What happens after issuing notifications to building owners and the latter don't comply? Nothing, apparently. Despite the near non-existence of compliance to building codes and fire safety standards.
According to a 2017 citywide inspection by the fire service, which looked at over 3,500 markets, schools, hospitals, banks and other establishments, more than 2,600 buildings, which fail to meet the basic criteria of fire safety, were found—that's around 75 percent of all structures surveyed. And according to a report of BRAC Institute of Governance and Development, around 95 percent of buildings in Dhaka do not have a fire exit. What's more is that the ones that do, don't have any signs directing people towards those exits. An official of the fire service also told a correspondent of this daily that they found emergency exits on some floors of FR Tower to be locked and no fire drill in the building ever took place.
And now, despite having years of experience with tackling fire disasters, the Banani fire, which took six long hours to put off amidst a water crisis, has suddenly reminded us of the necessity to set up fire hydrants all over Dhaka city. How this realisation didn't dawn on us earlier is truly a mystery. But at least we are quick to form committees. So, for now, let's wait and see what the committees that have already been set up find out that we already do not know, so that none of the recommendations ever get implemented and those who have flouted the law, putting in danger thousands of lives every day, are never punished.
---
Nahela Nowshin is a member of the editorial team at The Daily Star.
---
Follow

The Daily Star Opinion

on Facebook for the latest opinions, commentaries and analyses by experts and professionals.
To contribute your article or letter to The Daily Star Opinion, see our

guidelines for submission

.
---