Greed of owners, Rajuk caused FR tower fire: Minister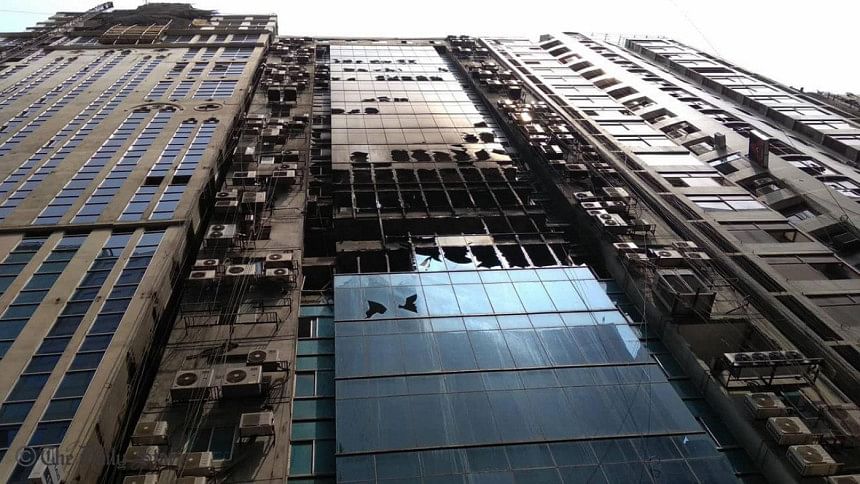 It was the unbridled greed of the building owners, developer and Rajuk officials that led to FR Tower fire tragedy which claimed the lives of 26 people, said the public works minister at a meet-the-press in the capital today.
"Dhaka city must not turn into a valley of deaths due to the greed of people," said the minister SM Rezaul Karim.    
Capital city's development regulator Rajdhani Unnyan Kartripakkha (Rajuk) knew the building was constructed with illegal floors and deviations of approved plan back in 2007 but they turned a blind eye to it and remained silent, he said.
"It is shocking that the incident was detected but Rajuk high-ups did not bother to rectify it in the subsequent years," he said at the meet-the-press at Dhaka Reports' Unity.    
Hover mouse pointer or tap on mobile screen to interact with the visual.
Dhaka Utility Reporters Association organised the event.
A high-level probe committee is working on the liability for the tragedy caused by act of negligence of all concerned and the Rajuk officials will be held equally liable for it, he said.
At times, Rajuk officials are found issuing multiple notices for a negligible offence but remain silent on major violations of law, he said.  
Over 3, 000 eviction notices served by Rajuk on the errant building owners have been stalled with High Court stay because of tricky mistakes in the process, he said, those notices are deliberately vague with the offence of a building owner not specified making way for court's consideration.
"Rajuk has so far fought legal battle with panel of incompetent and inefficient layers," said the minister, "This has to go now with qualified new panel."    
In the backdrop of a tradition of keeping countless probe reports undisclosed in the past, the government this time is going to publish the probe findings on the FR Tower tragedy in the mass media, he said.
The minister said that they would sit with all the probe findings on the tragedy and set the course of actions.
"The delinquents will be exposed this time," he said, "No one is more powerful than the law of the land."
A total of 24 Rajuk inspection teams are currently surveying the city buildings in respect of building and safety compliance, he said, and all the buildings will be surveyed in phases.
Non-complaint buildings including those using car park space commercially will be given deadline to rectify deviations and clear car park spaces, said the minister.
While the city corporation authorities must check where the they issue trade license, occupants of a building too have to play their part by checking a building's safety features, he said.
The government is going to publish the amended Bangladesh National Building Code in a week or two in the official gazette, he said.