Planning goes haywire
Rajuk bends rules to upset quiet living in Gulshan, Banani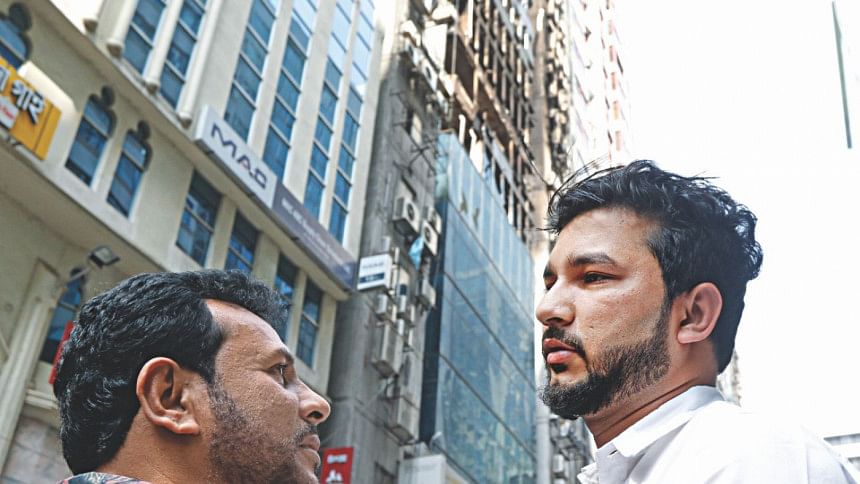 Rajuk is approving commercial buildings in the residential areas of Gulshan and Banani with virtually no height limits and experts are calling it illegal and a recipe for disaster.
The Rajdhani Unnayan Kartripakkha (Rajuk), the authority for ensuring the capital's planned development, has so far approved nearly a dozen such buildings on residential plots, owned by influential businessmen, on Gulshan Avenue and Kemal Ataturk Avenue, according to officials concerned.
Now, each plot owner would gain additional commercial floor space worth over an estimated Tk 100 crore, a precedence that would allure others to try and obtain such permits and pave the way for ruining the residential neighbourhoods, experts said.
On top of this, a Rajuk survey found that owners of about 84 percent buildings in the areas concerned have flouted their approved designs, often at the cost of safety.
"Converting residential plots into commercial ones and then giving the benefit of non-restricted Floor Area Ratio [the ratio of gross floor area to the size of the land or the permissible built-up floor area for a particular piece of land] for buildings is a blatant violation of Dhaka's detailed area plan and building rules," said Jalal Ahmed, president of Institute of Architects Bangladesh.
The non-restricted Floor Area Ratio will allow land owners to have commercial high-rises on residential plots.
The move will damage the fabric of the residential neighbourhoods; traffic system would collapse on thoroughfares of Gulshan and Banani; and drainage, water supply, electricity, and gas supply facilities will fall short, according to leading architects and urban planners.
Rajuk's action has no planning or impact assessment, they said, adding that Rajuk could have done it declaring the entire area commercial but such an action would have had to be in compliance with the basic benchmarks of urban planning and based on findings of an impact assessment.
Provision 51 (13) of the building construction rules says, in case of conversion of original land use, the permissible built-up floor area would be the smaller of the two – the original land use and the converted land use.
In this case, it is the permissible floor area of residential plots but Rajuk is allowing built-up floor area for commercial plots.
"Such arbitrary commercialisation in violation of the law is just one classic example of how the custodian has done irreparable damage to the capital city's sustainable development," said former Institute of Architects Bangladesh president Prof Abu Sayeed M Ahmed.
It is aimed at benefiting some individual businessmen at a very high public cost, he said.  
This surely is going to drastically harm the quality of life in Gulshan and Banani with unmanageable traffic jams, he said, adding that Gulshan and Kemal Ataturk avenues are already chocking on heavy traffic.
Khondker M Ansar Hossain, who was a senior urban planner for Dhaka's Detailed Area Plan, said, "In the first place, it is not understandable how Rajuk converted designated residential land into commercial, let alone how they allowed non-restricted floor area ratio."
"This arbitrary commercialisation without planning is what led to today's deplorable traffic mess and unplanned urbanisation in Dhaka city and in this case, it will cause the collapse [of traffic system] on the arterial roads in Gulshan and Banani," he said.
The use restrictions on a certain piece of land can be changed only for greater public interest and on the basis of a thorough study, said Khondker.
The entire approval process in this case must be examined independently by professionals, suggested Prof Adil Mohammed Khan, general secretary of Bangladesh Institute of Planners.
Rajuk's Chief Town Planner Md Sirajul Islam said, "There was a ministerial direction for this action and we did it on being directed."
When asked if there was any legal basis for the decision, he asked this correspondent to talk to the Rajuk chairman.
Rajuk Chairman Md Abdur Rahman said, "I don't understand land use conversion, we did it considering the land as commercial following relevant rules."
Asked exactly what the rule was, he said, "We did it thoughtfully, as the government thought it was appropriate."
WHAT IT MEANS
According to rules, the architects calculated that an owner of an one-bigha residential plot (equivalent to 14,400 sqft) would get a total of 93,600 sqft of floor space with a 13-storey building, if the maximum allowable ground coverage of the land (7,200 sqft) is utilised.
But if no height limits are applicable, a land owner gets an additional floor area of 86,400 sqft, if a 25-storey building is built.
However, some of the land owners are set to construct 30-storey buildings.
The value of the additional floor space, if sold for Tk 15,000 per sqft and the construction cost is deducted, would be Tk 130 crore, officials concerned said.