A false alarm?
There is no need to panic about large-scale job cuts due to automation in Bangladesh's apparel industry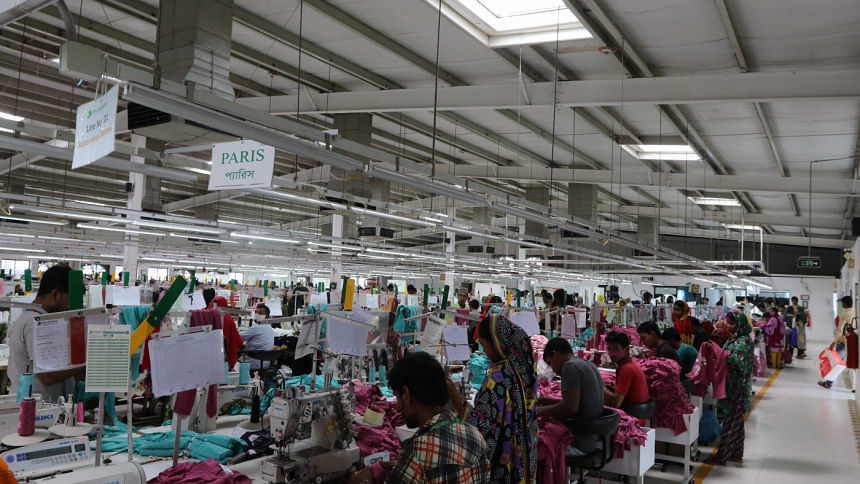 Following the visit of robot Sophia to Bangladesh in December last year, there has been a lot of discussion about the possibilities of using automation in industries and its impact on jobs. As the ready-made garment industry is our lifeline, the discussion has mainly been on the impact of automation in the RMG industry.
Most analysts are predicting that there will be huge job cuts in the garment industry in the near future if the industry fully adopts automation. The discussions have created panic among workers and policymakers; there was some misinformation and exaggeration in the predictions as well.
These discussions also show that some of our analysts may not have up-to-date information. For example, a prominent economist and apparel sector expert who also happens to be a research director of a think tank confused automation for e-commerce when he was asked if there have been job cuts due to automation already in the apparel sector. Automation and e-commerce are two different topics. The economist also claimed that the demand for workers has declined due to automation. The idea of "robotic fashion" is still at a nascent stage and a good number of Bangladeshi factories haven't yet adopted the new technology. Nothing indicates that automation has already contributed to large-scale job cuts in Bangladesh's apparel sector.
It cannot be denied that automation will severely affect jobs in various industries. In 2016, in a report, International Labour Organization said that in the next few decades, about 56 percent of all salaried workers in Cambodia, Indonesia, the Philippines, Thailand, and Vietnam could be displaced by automation and advanced technologies, such as 3D printing. However, there is still an ongoing debate about whether robots will affect large-scale tailoring jobs in the apparel industry.
In 1970, the president of Blue Jeans Corporation William J Bank predicted that there would be a man on Mars before the production of apparel was automated. In an article last year, The Economist said that after almost half a century, the Blue Jeans Corporation president has not yet been proved wrong. There have been outstanding developments in the research of apparel automation in the last five decades but there are still doubts about whether apparel automation will be a success in the near future. The reason is that a robot cannot do the same type of sewing and designing that a human can do. Sewing machines have been used since the 19th century but a human hand is still needed to guide the work. Some processes of the apparel-making can certainly be automated. It is possible to use automation to cut fabric or sometimes sew buttons but it is difficult to make a machine in which fabric goes in one end and finished garments come out the other.
In recent years, two companies have advanced the idea of apparel automation. One is Atlanta-based textile-equipment manufacturer SoftWear Automation and the other is Seattle-based Sewbo. However, their success has been limited to producing t-shirts, towels and similar items, and analysts are still debating whether robots can produce jeans and other complex apparel items in the near future.
Even if robots can produce clothing, the finishing and the quality of products will not be the same as those produced using human hands. And demand for apparel products made by humans will not go away. No wonder handloom products are still popular.
The biggest issue, however, is concerning cost and technology transfer. Will robots be cheaper than Bangladesh's labour? Speaking to the Financial Times, automation software firm SoftWear's Chief Executive Palaniswamy Rajan admitted that when it comes to price, his sewbots can't beat workers in Bangladesh. There is also concern about technology adaption. Some big companies might adapt to new technologies in the shortest possible time but all factories will take time to do so.
While some of our analysts are creating panic about job cuts, the world's biggest companies are planning to increase their labour force. In January this year, New York-based business portal Quartz ran a report stating that Hong Kong's Crystal Group is investing on low-wage labour instead of robots. Crystal Group is the world's largest apparel maker by production volume, according to research firm Euromonitor. The report said, "For now, at least, Crystal Group will not be replacing humans with machines. One reason is that while robots in use in other industries can work easily with stiff materials such as sheets of metal or plastic, they can't yet work with soft, flexible fabrics that stretch and distort during sewing." The report added that Crystal Group plans to increase its human staff in Bangladesh and Vietnam by 10 percent annually in the years ahead.
In an interview with the Financial Times (paywall), Crystal Group CEO Andrew Losaid said, "High-tech sewing robots are 'interesting' and could change how some companies make clothes, but in the near term they still can't beat cheap human labour on cost." The CEO also said, "The handling of soft materials is really hard for robots."
So while we should be concerned about the new technology and have discussions about apparel automation, we don't need to panic about large-scale job cuts in Bangladesh's apparel sector because this may not happen in the near future. And even if robotic fashion takes off, demand for apparel products made by humans will not simply erode.
---
Mushfique Wadud is a freelance journalist.
Follow him on Twitter: @mushfiquewadud
---
Follow

The Daily Star Opinion

on Facebook for the latest opinions, commentaries and analyses by experts and professionals.
To contribute your article or letter to The Daily Star Opinion, see our

guidelines for submission

.
---