Tk 25,000 as minimum wage
Don't RMG workers deserve a dignified life?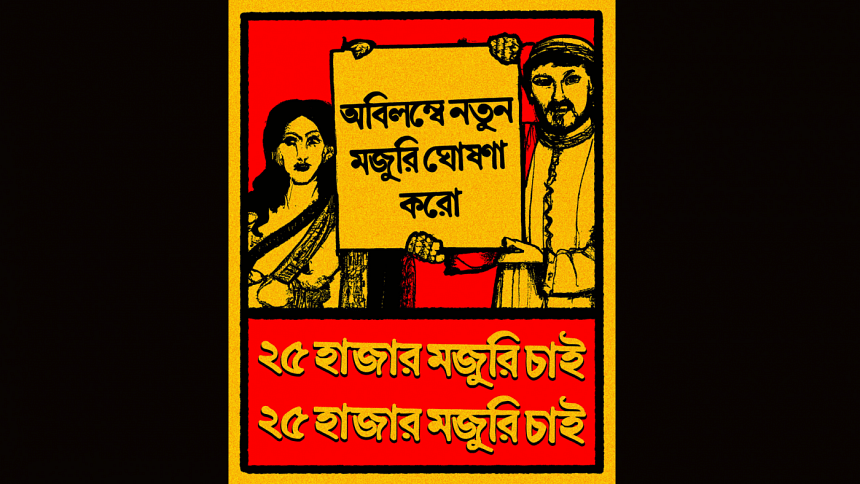 Over 40 lakh of the workers in our country's readymade garments sector are waiting for a welcome change. Whether that change will come and bring relief is still in question. On one side, we have the workers protesting for a minimum wage of Tk 25,000, and on the other, those in power are concocting ways to thwart this mission.
In recent years, the country has faced all kinds of adversities – from Covid-19 and inflation to the Russia-Ukraine war. But despite all this, the RMG sector has remained the economy's lifeforce. The blood and sweat of RMG workers contribute to 84 percent of Bangladesh's export earnings. In the last five years, the sector raked in between $33 billion and $46 billion, raising exports by 35 percent to new markets. Everyone knows the current wage does not reflect the market's growth or the factory owners' profits.
Due to the taka's depreciation, garment factory owners enjoyed an additional Tk 90,000 crore last year, a striking level of growth. One may wonder, will the workers get a share of the profits? Will they finally be rid of a life that barely chugs along with Tk 8,000? Will they get a taste of eggs, fish, and meat? Will they finally stop being disposable human capital and get to know what it's like to be a respected citizen?
Hearing the demands, factory owners and their supporters may think the workers are asking for way too much and that such demands are downright criminal. They might even say, "Surely, vested quarters are behind all this. This is a conspiracy against the sector." They fail to realise that these demands from the workers – who are humans, not machines – are only natural. Right now, they are speaking up for one thing: a wage that will pave the way for ensuring basic rights, such as food.
Food inflation has been the highest in the last 12 years. According to government data, it was 12.54 percent in August, while overall inflation was at almost 10 percent. This has had the worst impact on low-income workers, as they had to reduce their food intake to make ends meet. Recently, economist Anu Muhammad, using prices from the Trading Corporation of Bangladesh from September 2018 to September 2023, showed how the prices of daily essentials have skyrocketed. The price of lentils has gone up by 120 percent, that of flour by 88, potatoes by 80, and fish by 100 percent. Judging by the numbers, a family of four needs to spend Tk 23,000 per month just to meet their daily caloric requirement. There are families rationing their already scant meals amid rising gas and electricity bills. Racking up debts, using up savings, not sending their kids to school. But nothing seems to be helping now.
Many studies have found that a worker needs around Tk 40,000 per month to live a somewhat dignified life. Taking productivity, wages in other countries, production costs, owners' profits, inflation, and daily expenses into account, there's no doubt that the wages of our workers should be much higher. Even then, the 11-workers' association alliance has demanded Tk 25,000.
Ignoring the workers' plight, the owners are once again using the same old rhetoric, saying how it's impossible to meet this demand, just so the profits don't reach workers. Government and international data show that this sector has boomed in the last five years. In fiscal year 2022-23, Bangladesh exported 133 crore kg of garments to the EU, and saw 36.38 percent growth in the US market. From 2010 to 2022, Bangladesh was one of the top 10 garment exporters to the US. Even 10 years ago, our country had only one green factory, but that number has now jumped to 200. Owners are eyeing an $100 billion industry in the future. Amid all the exports, over Tk 821 has been laundered abroad, an issue customs officials have termed to be a small show of a grander crime. And still, with money floating above the factory skies, the owners refuse to provide a living wage.
While the numbers are inconsistent, Bangladesh's per capita income is $2,775, which translates to Tk 25,523 per month. But for the workers, these numbers remain just numbers. Compared to wages of many other sectors, the workers make do with a paltry amount. At present, fourth-grade government employees make Tk 16,950, the cleaning staff of banks make Tk 24,000, saw mill workers get Tk 17,900, and ship-breakers get Tk 16,000. And what do garment workers get? Just Tk 8,000.
Due to the taka's depreciation, garment factory owners enjoyed an additional Tk 90,000 crore last year, a striking level of growth. One may wonder, will the workers get a share of the profits? Will they finally be rid of a life that barely chugs along with Tk 8,000? Will they get a taste of eggs, fish, and meat? Will they finally stop being disposable human capital and get to know what it's like to be a respected citizen?
Right now, RMG workers in China make around Tk 24,890 and Vietnamese workers get Tk 15,660. In Turkiye, the minimum wage is Tk 29,165, while workers in Malaysia get Tk 25,935, and those in the Philippines make around Tk 23,180. Recently, the wage in Cambodia was set at Tk 22,587. Bangladesh is the second-largest garment exporting country, surpassing Vietnam. But while the country is proudly proclaiming this, it can't let go of its cheap wages.
Recently, the BGMEA president sent a letter urging buyers to raise prices, mentioning that wages are going to rise, and so prices should follow suit. But what share of the price hike will translate into higher wages is still unknown. If the demands are heard, it will be beneficial for both the workers and the industry. Not only will Tk 25,000 ensure decent living, but it will also give factory owners the leverage to negotiate with buyers. On top of that, the country's image will improve. However, past experiences show that these factors are usually ignored.
In 2018, garment workers demanded for the minimum wage to be raised to Tk 16,000, from Tk 5,300. Ignoring the demands, the owners proposed increasing it by only Tk 1,060 through the wage board, taking the wage to Tk 6,360. After much negotiation, owners vehemently opposed raising the wage above Tk 7,000. Finally, with the prime minister's intervention, it was raised to Tk 8,000. We cannot bear to deal with this same drama again.
The workers are quite anxious about their fate, as newspapers and social media are abuzz with hearsay that the owners are going to propose a nominal increase. The workers' representatives may demand Tk 20,000 and owners may settle for Tk 12,000 or 13,000. This strategy to appease the workers will do nothing but further dispirit them.
Alongside raising wages, the need for changing the wage-determining structure has also come to the fore – an issue ignored by the wage board in the past. Nearly all workers' associations have raised their concerns about bringing changes to how the basic salary, grade and increments are determined. The proportion of basic salary has actually declined in the last 10 years; in 1994, the basic was 65 percent of the total wage of Tk 930, and in 2018, it came down to 51 percent of Tk 8,000. The monetary amounts of a number of benefits – like overtime, gratuity, maternity benefits, and cashing out leaves – are calculated based on the basic salary. So, a larger basic means more benefits. Therefore, the wage structure should be changed to ensure that basic salary goes back to being 65 percent of the total. Additionally, there should be five grades (instead of seven), and a 10 percent increment.
Without movements from workers, wages have never been raised substantially, and we have seen many tactics to thwart such endeavours. Fear, abuse, rhetoric – all have been used to suppress workers. The people haven't forgotten what happened in 2018. A majority of the workers' leaders were arrested; many were charged with treason. The efforts to distract agitators – by keeping the leadership busy, sending them on pleasure trips or suppressing them – will occur this time around as well. But the workers will keep the fight going for the wages they rightly deserve.
---
Taslima Akhter is president of the Bangladesh Garment Sramik Samhati and a photographer. She can be reached at [email protected]
---
Views expressed in this article are the author's own.
---
Follow The Daily Star Opinion on Facebook for the latest opinions, commentaries and analyses by experts and professionals. To contribute your article or letter to The Daily Star Opinion, see our guidelines for submission.