Tk 821 crore laundered in name of export
Fraudsters used fake shipping documents to siphon off the sum to 25 countries; customs to file case soon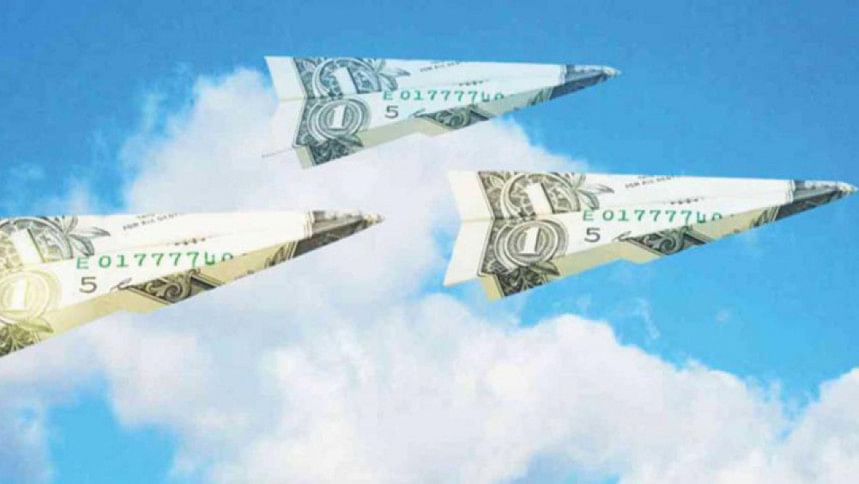 In one of the biggest money laundering scams unearthed so far in the country, customs authorities have found that 33 readymade garment factories and buying houses laundered at least Tk 821 crore over the last six years.
For the illicit money transfer, the fraudsters employed two tactics – under invoicing and using wrong shipping code. In the first case, prices were shown up to 10 times lower than the actual rate. In the second case, shipments were shown as "samples" when they were actually exports worth hundreds of crores of taka.
"Multiple gangs are involved here. We have found links of many powerful organisations and individuals at home and abroad. A case will be filed against them very soon," a Chattogram customs official The Daily Star recently on condition of anonymity.
Documents show Dhaka-based buying house Asia Trading Corporation shipped 14,085 tonnes of clothing items worth Tk 308 crore ($28 million) to the UAE, Singapore and Malaysia in 2022. However, not even a single dollar entered the country against this shipment.
In the shipping documents, the company showed all the 1,342 consignments as "sample goods". Under customs rules, sample goods do not fetch any export earnings.
Similarly, Hong Kong Fashion, an export-oriented company based in Gazipur, exported 1,160 tonnes of RMG goods worth Tk 43.21 crore to seven countries including the UAE, Canada and Malaysia between January 2022 and May 2023. Only Tk 12.73 crore has been brought back to the country against these shipments, while the remaining Tk 30.48 crore was laundered, according to the customs probe report.
"We have never before identified such a large-scale export forgery. In the past, we had information about money laundering involving 10 or 15 consignments. Irregularities involving so many consignments together never caught our attention."
Customs Intelligence and Investigation Directorate (CIID) came up with the findings after a six-month investigation carried out in three phases, beginning January this year. The CIID analysed the export data of these companies from January 2017 to May 2023.
Of the Tk 821 crore laundered, around Tk 600 crore went to the United Arab Emirates, Malaysia and Singapore. The rest was sent to 22 other countries, including Canada, Australia, Belgium, Qatar, Spain, Kuwait, the Philippines, Sweden, Russia, Panama, Thailand, Georgia and Palestine territory, according to documents obtained by The Daily Star.
"We have never before identified such a large-scale export forgery. In the past, we had information about money laundering involving 10 or 15 consignments. Irregularities involving so many consignments together never caught our attention," said Mohammad Bashir Ahmed, additional director general of CIID, Chattogram office.
Most of the 33 exporters and buying houses whose names came up in the customs investigation are located in Dhaka and Gazipur.
The Daily Star spoke with seven of these companies, and each of them denied any wrongdoing.
Names of at least 12 commercial banks were used in the export documents. This newspaper spoke with six banks. Officials of three banks said the exporters in question are not their clients. Three other banks said they issued the letters of credit against the export permits of other companies, and not these companies.
Meanwhile, in a press release yesterday, the CIID said as many as 10 RMG factories laundered about Tk 300 crore in the name of export.
However, this figure is included in the Tk 821 crore laundered by the 33 RMG companies and buying houses since 2017.
THE FORGERY
Customs officials said some exporters use fake bank documents, sales contracts, letters of credit, and export permits to launder money.
To launder money, fraudsters often use Code 20 on the NBR server, which denotes sending "samples" to the importers before the actual export. In this case, there is no question of export earnings. Another popular way to launder money is under invoicing – either by quoting low prices or low weights of the export items in the shipping documents.
For example, four companies -- Asia Trading Corporation, Sabiha Saiki Fashion, Emu Trading Corporation, and Ilham -- used Code 20 to ship at least 1,780 consignments between January 2020 and December 2022. While the permissible RMG samples usually range from 10kgs to 100kgs, each of those consignments weighed more than 10,000kgs, the CIID report said.
These consignments could leave the port as the NBR server and the customs officials did not flag those, the report added.
Through under invoicing, the rest 29 exporters shipped 14,878 tonnes of RMG goods worth Tk 554 crore, but they showed only Tk 111 crore in export earnings.
The average price of a T-shirt was shown Tk 12 to Tk 21 and a pair of pants Tk 17 to Tk 54, which is four to ten times lower than the actual cost.
Asia Trading Corporation Director (operations) Mahmud Alam, Emu Trading Company Managing Director Abdul Kader, Ilham owner Nurul Amin, Sabiha Saiki Fashion Managing Director Md Shakil and Hong Kong Fashion Ltd Managing Director Mizanur Rahman said they have nothing to do with the forgery.
"My company has been closed since 2019. I do not know who exported these products," said Mahmud Alam.
Mizanur Rahman also blamed some unknown gangs, and demanded their punishment.
CIID Director General Mohammad Fakhrul Alam said both the amount laundered and the number of companies involved may increase as investigations continue.
"We are collecting information about the Inland Container Depots (ICD) and the banks concerned, as well as the NBR server to verify more than 10,000 consignments. When we started working on four companies at the beginning of this year, found evidence of huge money laundering," he added.