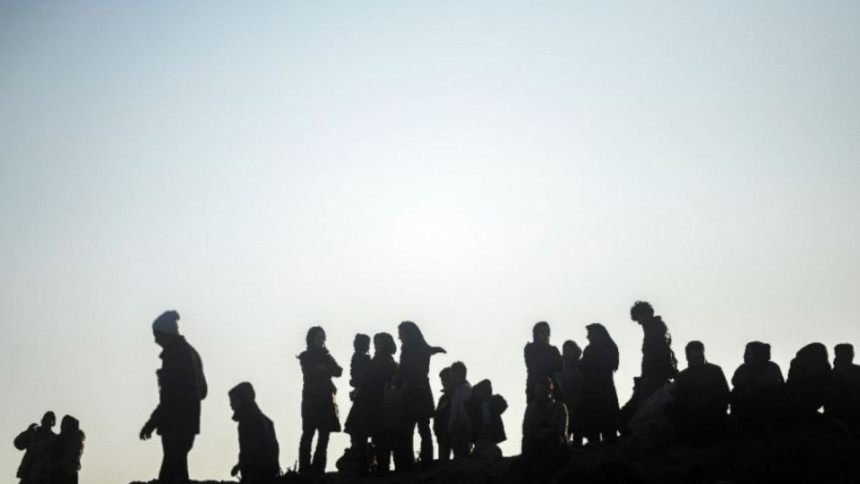 Mohsin Hamid's masterpiece "Exit West" is a sobering reminder of the decisive human failure that we conveniently call "the refugee crisis." Published in 2017, the novel is making waves in North America and Europe, offering fresh insights into one of the biggest humanitarian disasters in history that has seen millions of people displaced from home.
Hamid has the rare ability to look into old problems from a new perspective. Many of us know him from his 2007 work "The Reluctant Fundamentalist" which was seen as a microcosm of the corrosive distrust between East and West as the "War on Terror" rumbles on. A graduate of Princeton University and Harvard Law School, Hamid himself has been moving around his entire life—California, Pakistan, London, New York and now Lahore again.
"Exit West" is not the typical migrant story—it imagines individuals behind news headlines. A nameless city plunges into violence, and two young lovers are forced to join the mass migration of our time. But instead of regular means of communication, they travel through Narnia-like magical doors, combining the real with the surreal.
Why does Mohsin use a fairy-tale like device as a way to move his characters from their war-scarred country to a new place in the West? How can their perilous journey—across seas or deserts, at the mercy of the unforgiving nature, hunger, thirst and unscrupulous smugglers—be condensed into a simple step through magical doors?
In his imagination the doors already exist. Physical distance is collapsing in our world. You can buy an air ticket and go anywhere if you have the right passport. You can Skype or WhatsApp. You can "be" in any place on earth by surfing the Internet. The doors are a magical symbol of this reality.
Besides, he is less interested in privation and physical hardships than the psychology of exile and loss. Forced to leave the places they were born in, families and friends, the characters feel like outsiders in their adopted countries—yearning for roots and a sense of belonging. Home, however oppressive or dangerous it has become, represents everything that is familiar and close to the heart.
He says that it can be a mistake to focus too much on how they move around—crossing the Mediterranean on a small boat or suffering awful abuses at the hands of profit-seeking criminals. Those are real and dramatic stories, but the bigger story gets lost when we give too much attention to these images, which is usually the case in the electronic media. The bulk of the migrant refugee story is what made them leave home. What was so bad that they left everything and everyone they loved behind? And then, what happened to them in the new place?
And as we follow the characters through to these very real places, where they meet up with hostility, a nativist reaction, or the occasional kindness, there is a reflection going on about what is a nation, who is the insider and who is the outsider.
Mohsin believes that we are all migrants, and not in the sense that most people in the US, Canada, Australia and New Zealand came from somewhere else. He goes deeper. He says that if you have lived in the same village or city for your whole life and never moved, you are a migrant in that place. Because the place has changed completely over time. You migrate through time.
In a way this is a story about how human life is transient. Things change. And Hamid thinks, to hold onto things and pretend they don't change, is a mistake. He puts this idea into perspective thus: When I moved back to my home country, I saw so many people who wanted to leave. And having lived in the US and Europe, I encountered so much of how people do not want other people to go there. So, there is a tension between these two trends.
His observation strikes a chord. Today in most countries in the West, the pronounced tendency among the settled populations is to transfer the "issue of refugees" from the area of human rights into that of internal security. If refugees are not treated as humans, then governments don't have to worry about upholding human rights.
In many countries, authorities have outsourced the problem to security services. It is more convenient for governments overburdened with social responsibilities that they are either unable or unwilling to perform to the satisfaction of their electorates. They are building the wall. But by stopping them on the other side of their fortified borders, will they manage to stop the very forces that brought them to their doorsteps?
Mohsin Hamid says that it is a failure of our imagination. In the US, it's Make America Great Again. In Britain, let's go back to the pre-EU era. And, in some other places around the world, he points out, it's like let's go back to a period of 1,000 years ago.
We have to imagine a future that includes all, not just ourselves. Everything we can imagine is real, says Picasso.
---
Amitava Kar is a member of the editorial team at The Daily Star.
---
Follow

The Daily Star Opinion

on Facebook for the latest opinions, commentaries and analyses by experts and professionals.
To contribute your article or letter to The Daily Star Opinion, see our

guidelines for submission

.
---