Why do we love to hate Dhaka?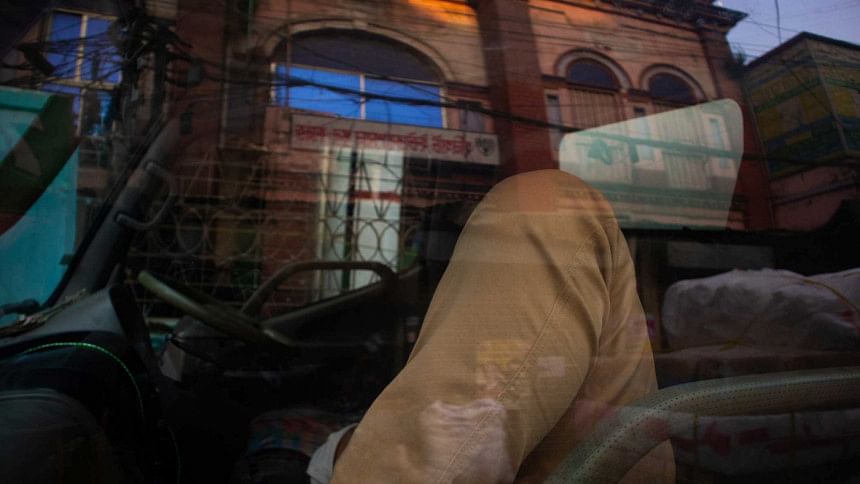 Over the years, I have offered in these columns my ideas on solving some of Dhaka's problems: overcrowding, traffic, and open garbage on the streets. But today, I muster my courage and wit to write in praise of Dhaka in the vein of Marc Anthony's famous speech in Shakespeare's "Julius Caesar," and shout, "Friends, Dhakaiites, countrymen, lend me your ears. I come to praise Dhaka, not to bury it!"
Writing about the city of Dhaka and its charms, as well as its problems, is one of my favourite hobbies. I will admit that I get very defensive when I see any comments questioning the "liveability" of this city, which is my birthplace. Of late, I have seen a few essays on the pages of this newspaper—and in others, too—that question the viability of this megacity, and they inflamed an old wound. How can I remain silent while others are saying such "bad" things about the city where I was born, and the one that I still love?
Allow me to share with you why I am going to take up arms again to defend Dhaka. The city has its problems, and I am certainly not going to waive them away. Pollution, traffic problems, and litter on the footpaths are supposed to be some of the worst in the world, according to a report published in The Daily Star.
Many foreign organisations regularly crank out a liveability index for large cities. For its Global Liveability Index, for example, The Economist magazine assigns a liveability score for more than 30 qualitative and quantitative factors in five broad categories: stability, healthcare, culture and environment, education, and infrastructure. Even if I concede that Dhaka might be a rank or two lower in one category or the other compared to other megacities, that does not make the city unliveable!
And then foreign visitors and residents rail about the lack of some basic amenities and comforts of life that one misses in Dhaka. On March 31, 2022, an editorial in this daily asked, "Will we soon see the 'end' of Dhaka?" And it offers a hint as to why one of my editors is frustrated with the city: it "suffers from innumerable problems on all fronts." The author then lists a few: toxic air, harmful noise, unsafe drinking water, perennial waterlogging, heavy traffic, very high population density, and the astronomical prices of essentials.
Jatiya Party MP Pir Fazlur Rahman, on the same date, "expressed outrage over the horrible traffic congestion, air and noise pollution in Dhaka" in parliament. I will not deny that there are a few voices, feeble though they may be, who write in a slightly different tone. Among them is Debra Efroymson, whose article in The Daily Star is laudably titled, "Learning to Love Dhaka."
More seriously, do the detractors even ask: How do people live in this city of 20 million-plus? Did they choose Dhaka only out of necessity? Do we ever ask, "What do they love about this megacity?" Well, I do know a thing or two about the hidden treasures of Dhaka. I have lived in different sections of the city, both in the "old town," as we used to call it, and the newer neighbourhoods. I was born in Umesh Dutta Road and spent my early years in Bakshi Bazar, Farashganj, Jyoginagar, Azimpur Colony, Eskaton Gardens, Minto Road, Dhanmondi, Boro Moghbazar, Sobhanbagh, Lalmatia, and Indira Road, and lately in Gulshan. Yes, I have led the life of a jajabor, but also saw the inner workings of the city and the hidden life of its residents. And I ask: How can you not love Dhaka?
I have lived abroad for many years of my life, and I miss the early morning wake-up calls that come in the form of Azaan before Fajr prayers. Regardless of where I spend the night while in Dhaka, the call to prayer wakes me up every morning. There are at least three mosques surrounding my mother's flat, and each of them takes turns in letting the neighbourhood know that it is time to wake up and join the faithful to offer Fajr prayers. My mother once told me she felt like joining the masses by going to a mosque for the morning prayers, and wistfully remembered the time when my father, while they lived in Boro Moghbazar after his retirement, would rush to the mosque every morning as soon as the Azaan was over. These days, in my mother-in-law's flat, I often lie in bed as the prayer calls shift from one direction to the other, rotating from the south to the west and finally to the east.
When I feel desolate in Boston, I walk the streets of Dhaka—in my dreams, of course. In reality, though, I love walking on the streets of Dhaka. I remember a few years ago, during the national elections in December 2008, Dhaka was empty of all traffic, and I walked for miles on a cross-city walkathon from Gulshan to Mirpur cutting through Cantonment. Of course, there was dust, and so were lots of pedestrians like me trying to take in the city, its crumbling buildings, new constructions, the overflowing gutters, trash that we like to throw everywhere. But there was something surreal about having the city all to oneself and not having to compete against the rickshaws, cars, trucks, buses, and all other vehicles. I wonder what it would be like if we had "people's power" and all vehicular traffic was banned.
Every time I visit Dhaka, I start with a long list of things to do and places I need to visit, but more often than not, I fail to accomplish my mission, because getting from Point A to Point B in the city takes some effort—partly because of the busy streets. But a little bit of planning ahead of time helps me get around and avoid the traffic. I must confess that it's the same way when I visit New York City or Sylhet, my father's hometown, and which I sometimes consider my hometown as well. It's almost like being in a frenzy—more like attempting to cover each gate while getting to the finish line in a grand slalom.
My daughter has a similar attachment to New York City, another unliveable city. She did not grow up there, but once she got a taste of Manhattan, Broadway, Soho, Times Square, Central Park, and everything else that New York offers, she became a lifer. But, coming back to Dhaka, what I dream of doing in Dhaka is hanging out in Gausia Market eating phuchka, traversing the old Race Course (Suhrawardy Udyan) on foot, sipping tea at Chittagong Restaurant in front of Dhaka College, watching the boats ply their fare across the emaciated Buriganga, or getting stuck in the car with my mobile phone in water-logged Shantinagar Chourasta. But, that also is one of my beefs about the city. Why can't I get to Motijheel from Moghbazar in less than three hours when I am in a rush?
Dr Abdullah Shibli is an economist and works for Change Healthcare, Inc., an information technology company. He also serves as a senior research fellow at the US-based International Sustainable Development Institute (ISDI).