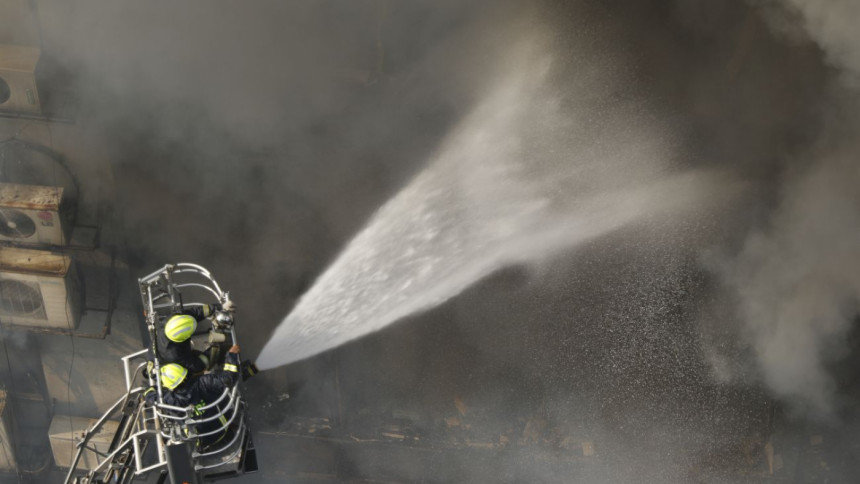 Less than two days after the devastating fire that gutted FR Tower in Banani, city residents woke up to find the DNCC kitchen market had been burnt to the ground. The fire service deserves praise for containing the fire in a few hours that resulted in no loss of life. This isn't the first time a fire has gutted the DNCC market. Indeed, a similar fire broke out in 2017 that resulted in losses to shop owners amounting to Tk 5 billion. It was hoped that fire safety recommendations would have been heeded, but as we are finding out, nothing of the sort took place.
It took the fire service department longer than a few hours to bring the fire under control and that is because of shortage of water. It took the combined efforts of the fire service, army, navy and air force personnel to bring the flames under control. The market did not have any provisions for a steady water supply to fight a fire and that, unfortunately, did not help matters at all. In the 2017 fire incident, 300 shops were gutted causing massive losses, but as we look back at some of the surveys that have been conducted over the years by various bodies, incidents like the DNCC market fire is simply the tip of the iceberg and there are some 1,300 city markets and malls that are at risk of fire.
The fire service conducted a two-month-long survey back in October 2017 and sent alarm bells ringing. It was found that there were 622 extremely risky and 678 risky shopping malls and markets in the capital city. They are deemed risky because none of them have taken the mandatory safety measures to combat a fire. As pointed out recently by the director (operation) of the fire service, "after the 2017 fire, we had made several recommendations to the [DNCC] market authorities regarding fire safety. However, none of those were implemented." The reluctance of the market authorities to invest in safety measures is not difficult to understand, especially in the face of little or no oversight by city authorities to enforce the various codes and laws that are in place, which are supposedly "mandatory" that building and market owners must abide by.
So what does "extremely risky" constitute? These are buildings with no fire-safety provisions, and "risky" entails buildings that have some fire-safety measures installed. What we have in our city are hundreds of buildings that have been operating without fire-safety clearance certificates and licenses. Indeed, going by the survey conducted last October by the fire service department, these establishments include private and government-owned malls, super markets and kitchen markets. When we have government-owned markets and malls not abiding by safety rules, who can blame the private operators?
The DNCC market fell under the "extremely risky" category. The rules are quite clear on what a market should have. The Bangladesh National Building Code, 2006 and Fire Prevention Act 2003 both state that a market must have ample fire extinguishers—the rule of thumb being one fire extinguisher for every 550 metres of space. There have to be enough staircases for people to exit during an emergency. Every market is mandated to have a sufficient pool of water, a diesel pump, an electric pump, a jockey pump, emergency lighting, smoke and heat detectors, fire alarm system and sprinklers. In fact, every market is supposed to have a contingency plan in case of fire and a regime in place that will facilitate the orderly evacuation of people in a time of fire. Sadly, as experts have pointed out repeatedly, most markets have never bothered with these safety measures.
When we talk about ensuring safety compliance, it is not the job of a single agency to ensure laws are being obeyed. While the city corporations and RAJUK obviously have a role to play, the markets are all governed by owners' associations and they must be made liable for ensuring fire and electrical safety of their respective establishments. Whenever a tragedy occurs, there is a plethora of activities promising probes but recommendations fail to materialise while public attention moves on to some other tragedy. Since the authorities are now armed with the fire department survey of 2017, one can start a full audit of buildings and markets built over the last two decades. It is not merely about complying with the building code or the fire safety regulations; we also need to start thinking about changing people's mindset about how to make fire safety drills a regular event in our lives.
One thing that has come through in recent fires is that people were ill-prepared to either tackle the fire on the premises or to exit buildings in an orderly fashion. Establishment owners have been found to use emergency exits and stairways as warehouses which impede movement during an emergency—all in all a general lack of awareness on what to do and what not to in case of a public hazard emergency like fire.
---
Syed Mansur Hashim is Assistant Editor, The Daily Star.
---
Follow

The Daily Star Opinion

on Facebook for the latest opinions, commentaries and analyses by experts and professionals.
To contribute your article or letter to The Daily Star Opinion, see our

guidelines for submission

.
---