World Food Day: Our Food System in a New Normal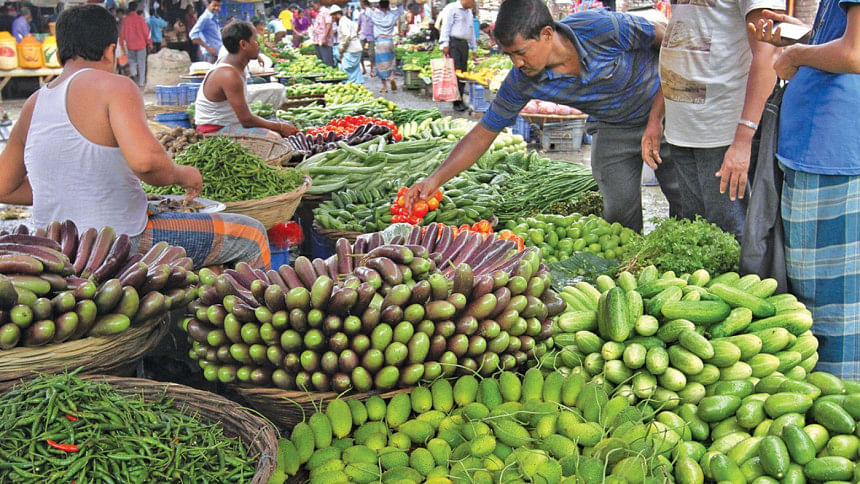 It is an irony that while between 2000 and 2019, the world GDP grew by 260 percent, two billion people still do not have regular access to safe, healthy, and sufficient food—they still do not have food security.
In the middle of the pandemic, the Food and Agriculture Organization of the United Nations (FAO) published the 2020 State of Food Security and Nutrition in the World report which notes that before the pandemic hit the globe, almost 10 percent of the world population (about 750 million people) were facing severe food insecurity. The worst scenario predicts up to 828 million people to be undernourished in 2020; 132 million of them would suffer because of the Covid-19 pandemic.
The pandemic affected our food system and food security primarily within countries, and in different ways. The global food price by and large remained stable. But, at the retail level, different food items saw increased pricing.
Restricted economic activities significantly decreased the earnings of the lower-income groups. This in turn affected their purchasing power leading to a severe food crisis. A study done in July 2020 estimated that 87 percent of vulnerable families in Bangladesh were passing through a nutritional crisis. If the World Bank's latest prediction is right, this pandemic may push an additional 115 million people in the world into extreme poverty in 2020—a rise that did not happen in the last 20 years—increasing social inequality and food insecurity worldwide.
The pandemic also hindered the food supply chain all over the world due to transport restrictions within a country and export-import restrictions between countries. Many producers, especially those that dealt with perishable items such as vegetables, fruits and milk, also lost their businesses due to low prices of the produce.
Moreover, while millions of people go to bed hungry, disruption in food supply increased food waste globally. Before the pandemic, the FAO reported, food waste was responsible for 8 percent of the total global carbon emission. This has been worsened by the pandemic.
To immediately respond to the pandemic-forced food crisis, governments and their agencies established food support systems. The government of Bangladesh, for example, provided food support to tens of millions of its citizens. In April, the government allocated Tk 50 billion to small and medium farmers as soft loan to reduce the negative impact of Covid-19 on agriculture.
All around the world, including Bangladesh, numerous businesses and not-for-profit organisations adopted innovations to reduce food waste, improve the food distribution system, and manage and repurpose extra food. Community-based networks were created to donate food to the people in need, via food banks and charities, especially in the areas where unemployment rose high due to the lockdown.
Bangladesh also faced an unprecedented challenge during the early months of the nationwide lockdown—harvesting boro rice from 4.8 million hectares of land. This urgency prompted the opening of agro-related transports in late April, allowing labourer movement, and ensured emergency purchase and deployment of rice harvesters. The successful harvest and storage initiatives eased the pressure on the country's food grain supply, which was otherwise stressed by panic buying.
This year, there was no flash flood before the boro harvest, which was a blessing for Bangladesh. But it was not the case after the harvest. The super-cyclone Amphan rampaged the south-western part of the country on May 20. It damaged 176 thousand hectares of cropland, washed away 10,000 shrimp farms, and caused heavy damage to infrastructures (totalling Tk 11 billion worth of damage). Between late June and mid-August, devastating monsoon floods put half of the country under water. The ministry of agriculture estimated crop damage worth Tk 13.23 billion.
Despite all odds posed by the pandemic, I saw an encouraging food situation in the country as I listened to the secretary of the ministry of agriculture speaking at a public meeting, organised by Bangladesh Institute of Research and Training on Applied Nutrition (BIRTAN) in Dhaka in early October. This year, for example, Bangladesh is cultivating aus rice in 1.3 million hectares of land and T-aman rice in 5.5 million hectares, both exceeding the regular annual targets. Bangladesh usually cultivates hybrid rice varieties in 0.9 million hectares of land; this year, to overcome the flood damage, 1.2 million hectares have been targeted with the provision to supply free seeds to the farmers.
In 1979, the FAO member countries established October 16 as the World Food Day. Coming in the wake of Covid-19, this year's theme is "Grow, Nourish, Sustain. Together." Over the past four decades, we have achieved a lot by tackling famine, hunger, and malnutrition. But there have been depressing trends that show our fight for global food security is far from over. The global data also indicates that we are going to fail to achieve the second Sustainable Development Goal of zero hunger by 2030, unless drastic actions are taken to improve our food system.
Our experience of maintaining food supply during the pandemic, the grave poverty scenarios due to economic shocks, increasing natural calamities under the changing climate, and socioeconomic and political challenges around food demand (re)defining our food system in the Covid-19's new normal.
We need a food system that will maintain its functions and structures against global shocks like the pandemic, frequent natural disasters, conflicts, economic stresses, and the climate change. It will adapt to the changing situations and transform to respond to the changes as needed. We need a resilient food system.
Our food system should be supportive to the small and medium farmers, on the one hand, and the poor consumers, on the other. Bangladesh superbly reduced poverty from 40 percent in 2005 to 20.5 percent in 2019. By June 2020, Covid-19 pushed the poverty level up to 29.5 percent, according to the General Economic Division of Bangladesh. Our food system needs to appreciate this reality. Our post-pandemic recovery plans and the Eighth Five-Year Plan need to revitalise livelihood opportunities for the poor to bring them out of the poverty trap.
Actions supported by technologies, innovations, and new knowledge are crucial for a resilient food system. Our food production should sustainably manage soil and water, and use chemicals to nurture and protect crops without harming the nature with pollution and greenhouse gas emission. It should use crop improvement technologies—such as biotechnology—to invent crops to cope with diseases, heatwaves, floods, droughts, and salinity, as well as with better nutritional quality.
Appropriate and timely weather information and good early disaster warnings are vital for food production. Our food system needs affordable technologies to reduce food waste in the processes of harvest, storage, and utilisation. We also need advanced tools and techniques to monitor and stabilise food price and to identify and track food safety related crimes. We need innovations to identify the people facing food crisis and to reach out to them without delay.
A plate of food is not only a source of nutrition but also a sculpture created by numerous people—farmers, labourers, suppliers, financers, scientists, agricultural extensionists, sellers, policymakers, cooks, and diners—and by their knowledge, experience, tradition, and devotion. We must not forget to put a human face on a resilient food system.
Dr Haseeb Md Irfanullah is an independent consultant working on environment, climate change, and research systems. His Twitter handle is @hmirfanullah