A torchbearer of our generation
Celebrating the 84th birthday of Prof Serajul Islam Choudhury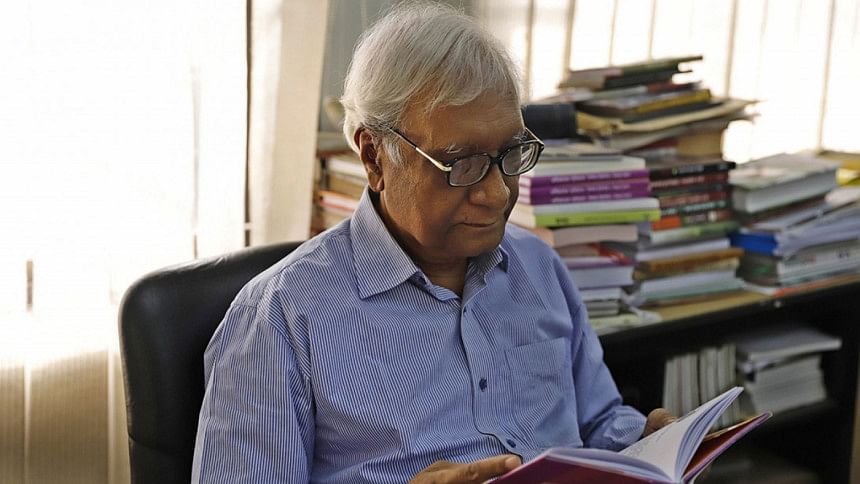 Prof Serajul Islam Choudhury, a luminary in the field of our literature, has been influencing the spheres of politics, education and media for decades now. As a writer and researcher, he has been a role model for many of the brightest minds of our generation. As a public intellectual, he has been the conscience-keeper of this nation, unwavering in his devotion to the socialist dream that had paved the way for the independence of Bangladesh. As a teacher, he remains committed to anyone who wants to listen and think.
In recent times, Bangladesh, like the rest of the world, has been going through a rapid transformation in its social, political and economic spheres, thanks to the debilitating impacts of global capitalism and blind, materialistic pursuits of the people. Serajul Islam Choudhury's philosophy draws on contemporary norms and practices to argue why a radical shift in our current approaches is vital to establish a fair and just society. Reading through his extensive oeuvre, created over five decades, one is at once awed and inspired by the consistency with which he has promoted this vision. His courage, conviction and clarity of thought are unparalleled. He has been a guide that Bangladesh in its upward journey may not always have appreciated, but one that it has always needed.
Born on June 23, 1936, Serajul Islam Choudhury is the author of many books. Some of my favourites are Introducing Nazrul Islam, Ditiyo Bhubon, Aristotle er Kabbo, Amar Pitar Mukh, Shadhinota o Shangshkriti, and Dorja ta Khola. His persuasive eloquence, careful diction, superior analysis as well as unique presentation style set him apart from other writers. He brings a scholar's attentiveness to detail to everything he writes about—in his books, his essays, his newspaper columns. Such is the power of his prose that once you start a book—for example, a leftist reading of certain writers, or a critique of pre-Partition India—it is not possible to put it down. No wonder he is held in such high regard by readers of all hues and colours.
In his intellectual work or public engagements, you see a man cautiously distancing himself from the crowd of celebrity loudmouths of little substance. He has always been the quieter one, always appealing to the better nature of those who like to think and listen.
Personally, as a representative of contemporary literature, I have been always fascinated by the many qualities of Prof Serajul Islam Choudhury, fondly called by his students and admirers as SIC Sir. The individuality of his thoughts, his patriotism, suitably balanced with his internationalism, his selflessness, integrity and unobtrusive nature make him a paragon of intellectual accomplishment. He has established an unmatched foothold in the intellectual landscape of Bangladesh through his teaching and research of various complex subjects related to the history of this land and its people. This unique combination of characteristics is what got me interested in his life and work in the first place.
To me, as to many of my contemporaries, Serajul Islam Choudhury represents the high tower of pro-people activism. He is the one we look up to for direction in our own advocacy work. In Prof Azfar Hussain's words, SIC Sir is "our foremost oppositional intellectual in Bangladesh, one whose words and works continue to speak to the emancipatory struggles of the oppressed around [the] country and the world."
Prof Serajul Islam remains at the forefront of our movement for freedom of speech, human rights, environmental rights and social justice. For most of his active life, he taught at the Department of English in the University of Dhaka, and at the same time he has remained intellectually engaged, continuously writing, editing, translating, researching, organising and leading movements—in a seamless integration of the world of ideas and the world of action. Just what a true nation-builder should do.
A lifelong Marxist, his column under the alias "Gachpathor" was very popular during the eighties. He was also the editor of many magazines including Porikrom, Shahitto Potro, Shaptahik Shomoy, Dhaka Bishshobiddaloy Potrika and Dhaka University Studies. Currently, he edits Notun Diganta.
He is an avid supporter of socialism, which he thinks is the only way to counteract the effects of capitalism. In an interview with The Daily Star, he once said: "The rich and powerful, the venal representatives of the Bangladeshi bourgeoisie, dictate our politics and control the media. Their ascent to, and hold on, power is predicated on the suppression of dissent, while people's fight for their rights gets lost in the urgency to pursue their more immediate needs for food, shelter and so on. This is what capitalism does: it seeks to deflect attention away from the bigger picture, the more pressing issues affecting people's life. It manipulates opinion to support its own agenda. One outcome of the continuation of this system is that the socialists are left with a shrinking space."
Nearly half a century after our independence, our dream for a fair, just society based on the founding principles of our constitution remains unfulfilled. In the long run, I believe it is the thoughts and philosophies of Prof Serajul Islam Choudhury that will serve as an important catalyst in the overall development of our nation and its people. People like him are our assets, to be valued and cherished by this generation and the next, for their scholarship and wisdom can really help build a better society where people are truly emancipated.
Emran Mahfuz is a poet, researcher and the coordinator of Daily Star books.
Email: [email protected].
The article was translated from Bangla by the editorial team at The Daily Star.