Time to break away from traditional exams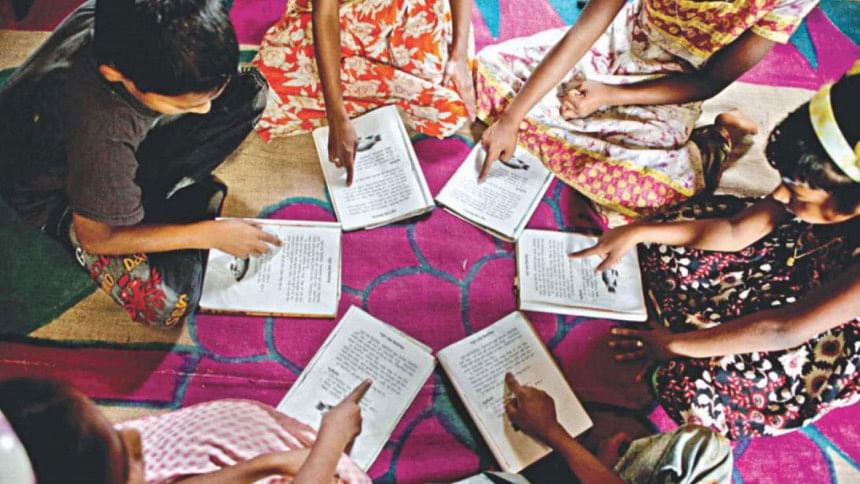 Since the pandemic started in Bangladesh and schools closed on March 17, we've seen the same inconclusive news reports at regular intervals about the situation of school examinations. As of August 12, as an education ministry press release has confirmed yet again, no decision has been taken on Higher Secondary School Certificate (HSC), Junior School Certificate (JSC) and Primary Education Completion (PEC) examinations. Thankfully, the Secondary School Certificate (SSC) exams for 2020 have already been held, but the prolonged school closures and irregular and unequal access to online and TV education have raised concerns regarding the preparations of students planning to sit for SSC exams next year.
While there were rumours that the JSC and PEC exams—scheduled to be held in November 2020—might be cancelled, there have been no confirmations yet. According to a report in this daily, the primary and mass education ministry and the education ministry have sent proposals to the Prime Minister's Office discussing exam cancellations and alternative methods of assessment, but "everything will depend on when schools open". However, the "alternative methods" put forward by the ministries are still very much the same as standardised tests; suggestions include holding regular exams at some point but on a reduced syllabus, or 50-mark multiple choice question exams—a favourite method of assessment in our education system that ends up rewarding students who memorise answers and encourages "either/or" thinking.
Commentators have now started to discuss the worst case scenario—if schools cannot open, exams will not be held at all. But would that be such a bad thing? There are an estimated 3 million PEC examinees, and another 2.5 million students are expected to take the JSC exams. That makes five million children who are experiencing times of unprecedented stress and anxiety, probably the worst that they have ever experienced in their short lives. They will have to deal with the added anxiety of getting through their syllabus and sitting for competitive exams by the end of the year. Could we not come up with less stressful methods of assessment during these difficult times?
For the nearly one million HSC students in Bangladesh, the situation is far more frustrating—their exams were scheduled to be held on April 1 but were postponed in late March when the "general holiday" to stop the spread of coronavirus was announced. Since then, there have been no clear directives for them, except a vague promise that exams would be held when things calmed down. This uncertainty is hanging over the heads of students and their families, who may already be struggling to keep their children in school—a July report by Save the Children warned that almost 10 million children across the world may never return to school after the pandemic, and that children in Bangladesh are at moderate or high risk of dropout (which may cause child marriage numbers to rise as well).
Imagine being an adolescent facing the very real mental pressure of planning for a "good future" and a stable life within limited resources and unlimited expectations. Now, can you imagine going through that while someone you love is suffering from coronavirus, or while your family is struggling to make ends meet?
Even in ordinary times, the pressure of performing well in competitive exams can have negative impacts on mental health, especially for children from disadvantaged backgrounds. British schools have documented how children as young as six told guardians and educators about feeling exam stress and experiencing anxiety. Every year in Bangladesh, we hear sensationalised stories of students committing suicide after not doing well in SSC or HSC exams, and for a time, we discuss the mental strain of intensely competitive examinations on our young people. Despite that, there is very little research and no official data that focuses on the well-being of students (which can be affected by multiple challenges ranging from economic to emotional)—a telling sign of how little importance we put on the mental health of children in Bangladesh.
Countries across the world had scrapped high-pressure, test-based exams for children under 12 long before the pandemic, and in the wake of coronavirus, many exams for older children have been cancelled and replaced with predictive grades based on class performance. So why, after about five months of missed or irregular attendance in classes, are we only just now considering the question of cancelling exams in Bangladesh, especially for younger children? Why not just cancel them and use this time as an opportunity to come up with alternative methods of assessment that encourage students to break out of the traditional methods of education? Why not use predictive grades, encourage students to read and write essays, create individual work projects, and maybe even get students to document their unique experiences of learning during a pandemic, and assess them on that?
Ideally, competitive exams that reward students who memorise from their books should be replaced by more holistic assessments that encourage them to think critically, adapt to specific situations, and engage in problem-solving. The theory of multiple intelligence, put forward by US development psychologist Howard Garner in his 1983 book Frames of Mind: The Theory of Multiple Intelligences, is considered by many to be a guiding principle in modern teaching methods. Garner theorised that people do not just have intellectual capacity but many kinds of intelligences, including musical, interpersonal, spatial-visual, verbal-linguistic and logical-mathematical, which are often overlooked in our exam-based education system.
Educators have also stressed the importance of measuring the emotional intelligence and personality traits of children. In a Medium article, futurist Raya Bidshahri focused on "21st century skills… critical thinking and problem-solving, creativity and imagination, agility and adaptability, collaboration across networks and leading by influence." Critics of standardised tests have pointed out how they fail to measure the progress a child makes during school, or the effort she or he puts into their work.
In Bangladesh, these changes can't happen overnight, especially when the education sector is persistently underfunded and undervalued. Despite the pandemic and its related risks for students, the 2020-21 budget did not receive an increased allocation for education, which is currently at only 2.10 percent of GDP. Nevertheless, we should be worried that discussions on these changes have not properly entered public discourse on education—it took a global pandemic for the Ministry of Primary and Mass Education to even consider cancelling yearly exams for class I, II and III, whereas we have been using standardised tests to assess five to seven year olds since 1972.
However, our inability to consider experimenting with alternative forms of assessment that focus on individual capabilities of students in more personalised classrooms—even during an emergency—doesn't just reflect our top-down, traditional model of education; this inflexible attitude also reveals the culture of discipline and demand for "obedience" that has become the defining feature of our relationships between different generations. While we encourage our children to go to school and aim high, we actively discourage them to think for themselves by trapping them within standardised tests and failing to implement assessments that would ignite their minds and help them to think critically.
In the same breath, teachers tell students to memorise answers instead of asking questions; parents tell children to follow their commands and focus on studies instead of asking questions; bosses tell employees to do as they're told; and the government tells citizens how to behave. These scenarios are all different sides of the same coin—one that is entrenched in hierarchal and traditional norms of behaviour. They are also the reason why we have time and again discussed the future of our students without actually consulting them. If we are to come up with any real solutions on how to assess examinees during the pandemic, the first step we need to take is to stop acting like they're invisible, and ask them for their opinions. We may be surprised by what we end up learning from them.
Shuprova Tasneem is a member of the editorial team at The Daily Star.
Her Twitter handle is @shuprovatasneem.