Are grades all that matter?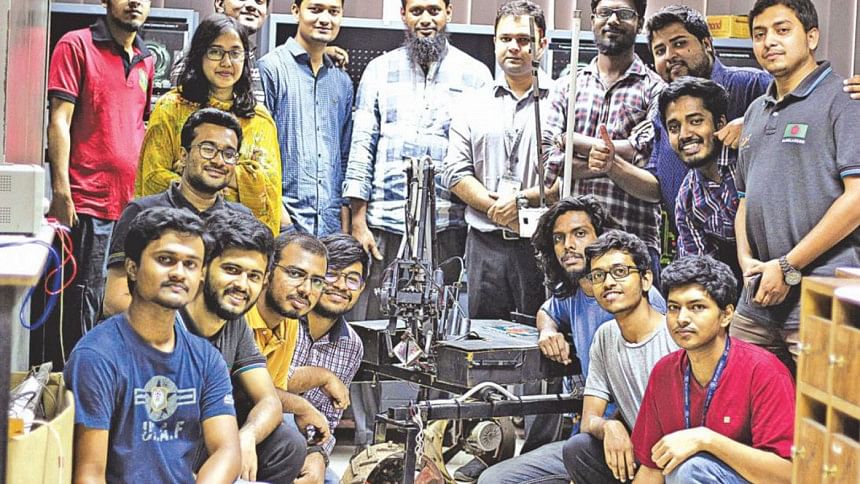 The Academic Experience Project is a faculty-student collaborative work aimed to glean insights about the experiences of tertiary-level students. Each Friday, The Daily Star publishes an op-ed highlighting its findings. This is the eleventh article of the series.
The state of higher education in Bangladesh has been stagnating for a long time, with too much emphasis on grades. This is serving as a source of great displeasure and disappointment for the students who generally feel they have been deprived of holistic and quality education. This situation was corroborated in a recent survey of The Academic Experience Project where a mammoth 73 percent of respondents did not think that higher education makes students competitive for the job market. Similarly, dissatisfaction was also expressed with the quality of the academic programmes and faculties, as well as with the utter lack of co-curricular activities that can enrich students enormously.
The job market, it must be understood, prefers applicants who have a good balance between their grades, combined with co-curricular and service-learning experiences. Lack of club and other social activities denies students the option of partaking in activities beyond the classroom. Many students remain uninformed of the importance of co-curricular activities and spend all of their time studying, worrying or engaging in idle chatter.
In most universities, service-learning opportunities are totally absent. "Service learning is a combination of what we know as formal education and applying that learning in a service-oriented way… (it) requires students to demonstrate their knowledge, thus connecting the cognitive to the emotive and resulting in better learning outcomes. It incorporates personal passions with intellect, empowering students to find their passion and exercise useful ways to engage in real world problems… Students take the ideas they learn about in theory and connect them to real problems in practice, creating viable solutions for long-term transformation in society." (Wikipedia)
Missing also are internship opportunities for the multitude of aspiring students who experience nothing of the world of work while they are studying. As defined (Pomerantz), an internship is a structured experience that relates to a student's major and/or career goal; enhances a student's academic, career, and personal development; is supervised by a professional in the field; is paid or unpaid, part-time or full-time; is mutually agreed upon by the student, supervisor and/or faculty member; and can also be called a Practicum or Co-Op.
The Academic Experience Project showed that students expressed the need for more club activities, as well as practicum opportunities that can bring out the students' latent and hidden talents that they themselves often do not know existed. Not all students are equally academically gifted; some are gifted in other areas such as debating, performing, creative writing, sports, etc. Without club activities, they have no way of exploring their hidden talents and are left to contend with one thing only: studying. Unfortunately, the creative part of their brain remains mostly unexplored and underutilised—a sad and significant loss for their time spent in an academic institution. And practicum is a good way to prepare them as employees or entrepreneurs. 
Many students also felt that career counselling in their universities is non-existent or undeveloped. In fact, most universities don't have anything remotely related to career counselling. The great body of students, even in reputable institutions, have no idea what they will do after they graduate. Some of them don't even find their majors interesting at all, with no recourse to change tracks. When asked about this, a student at the University of Dhaka expressed his disappointment: "I am doing an MBA, but I am not quite sure about its prospects or where I would get the best value. If only there was some scope of counselling, I would have taken an informed decision about my career." Due to the underdeveloped state of career counselling, even students who are academically excellent find that they don't live up to the expectations of the job market. This may explain the large gap between supply and demand of job-related skills in professional fields.
A large percentage of students also felt that counselling for mental health needs immediate attention at their institutions. This has been addressed in detail in an earlier op-ed. On this matter, Alvi, a past student of BUET, expressed his frustration, "As a nation, we don't value mental health as much as we value academic success." Every year, students are committing suicide, inflicting self-harm or going into depression from family pressures, academic stress, peer pressure or relationship issues. They desperately need someone with whom they can have a heart-to-heart conversation to get guidance in tough times.
Overall, there was firm agreement about not having enough activities on campus beyond sitting in lecture-dominated classes and taking exams which mostly test memory and not learning. While the top universities of the world emphasise additional campus and service-learning activities, most universities in Bangladesh choose to disregard them. Students fall into the rut of believing that attaining a high CGPA is all that matters for the job market, or life in general. After four to five years of studying, they find out how badly they have been guided and how poorly their overall potential has been developed.
It's important for the authorities to pay attention to these serious gaps that exist in educating our youth. Questions that arise are: Do we have the professionals who can effectively play leadership roles in these areas to develop meaningful internship programmes, service-learning opportunities, club activities, career counselling roles, and counselling for mental health? If not, can these professionals be developed quickly enough?
Our academic institutions have never seriously attended to the holistic development of our students. With the large and growing number of universities and students, it is these new roles that must be brought into focus to inspire students in diverse ways and attend to their anxieties and concerns. It also points to entirely new areas in which we need to educate and train competent personnel to support broader student needs. These are also new and exciting areas of educational development that have the scope of creating substantial employment opportunities.
A coordinated and holistic approach to higher education is the need of the day. When the administration activates its imagination, and brings about the changes we suggest, the quality of the educational experience will be considerably enhanced and the preparation of our youth to smoothly step into the world of work will be greatly facilitated. We also believe employers will be pleasantly surprised and delighted to recruit from the newly refurbished pool of graduating students.
Sazzad Shahriar is working on his MBA degree at IBA, University of Dhaka. Syed Saad Andaleeb is Distinguished Visiting Professor at IBA, University of Dhaka, and former Vice-Chancellor, BRAC University. For more information on The Academic Experience Project, contact Dr Andaleeb at [email protected].